Five snapshots from the Dolphins-Giants series...
This was the 13th game of the regular season with the Dolphins closing their road schedule at Yankee Stadium. The Dolphins fell behind 6-0, but took advantage of six Giants turnovers to win 23-13 and improve to 13-0 on the season. The Dolphins rushed for 204 yards on the day and got a 34-yard touchdown pass from Earl Morrall to Hall of Famer Paul Warfield. They would complete their perfect regular season the following week against the Colts, closing an important chapter in the only Perfect Season in NFL history.
This game between the Dolphins and Giants actually was a preseason battle, but it became historic nonetheless. Dolphins quarterback Bob Griese became the first quarterback to successfully wear eyeglasses in an NFL game. The Dolphins would beat the Buffalo Bills a week later in their regular season opener on their way to a 10-4 season.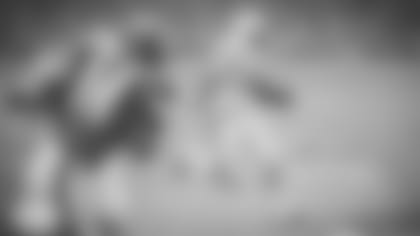 This game at Giants Stadium featured an impressive performance against the New York offense and quarterback Kerry Collins. The Dolphins defense forced four turnovers, including two interceptions by cornerback Patrick Surtain, on the way to a 23-10 victory. The offensive highlight came when wide receiver James McKight scored on a 68-yard run, which is the Dolphins record for longest run by a non-quarterback.
The Dolphins and Giants made history on this day when they played the first NFL regular season game outside of North America. The teams played at London's Wembley Stadium on an overcast day with light rain falling. The Giants, who would go on to win the Super Bowl that season, won a 13-10 decision, but the Dolphins defense shut down quarterback Eli Manning, holding him to 8 completion in 22 attempts for only 59 yards. The Dolphins got their only touchdown on a pass from Cleo Lemon to rookie first-round pick Ted Ginn Jr., but the Giants clinched the victory when they recovered the ensuing onside kick.
The Dolphins and Giants played an entertaining Monday night game before New York pulled out a 31-24 victory at Sun Life Stadium, but it was a memorable evening for Dolphins fans nonetheless. The Dolphins honored the top 50 players in franchise history and wore throwback jerseys styled after the franchise's inaugural season of 1966. It was the first time the Dolphins had worn their throwback uniforms for a home game.