Five snapshots from the Dolphins-Bears series.
This is one of the most famous games in Dolphins history, the magical night when the Chicago Bears came to the Orange Bowl with a 13-0 record and designs on matching the 1972 Dolphins' Perfect Season. Don Shula, Dan Marino and the whole Dolphins team, buoyed by the presence of '72 alums on the sidelines, would have none of it, racing to a 31-10 lead on their way to a convincing 38-24 victory.
On a Monday night when the Dolphins wore all-aqua uniforms and Larry Csonka joined Bob Griese and Marino as Dolphins players to have their jersey retired, Ricky Williams joined some elite company with a brilliant rushing performance. Williams rushed for 216 yards in a 27-9 to join O.J. Simpson and Earl Campbell as the only players in NFL history to have back-to-back 200-yard rushing performances.
The Dolphins seemingly faced a really difficult challenge when they went to Soldier Field with a 1-6 record to face a Bears team that had gotten off to a 7-0 start on the season. But the Dolphins completely dominated that afternoon, thanks largely to a defense that forced six turnovers, including Jason Taylor's interception that he returned 20 yards for a touchdown.
The Dolphins' Thursday night game against the Bears in 2010 wasn't particularly memorable for what happened on the field, but it was a big night nonetheless as former safety Jake Scott and defensive end Bill Stanfill became at halftime the 20th and 21st members to be inducted into the Dolphins Honor Roll. The two also were teammates at the University of Georgia before joining the Dolphins.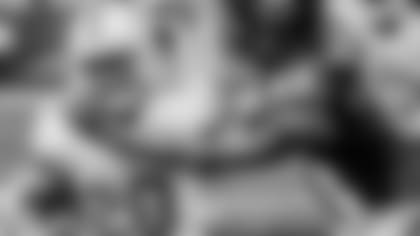 The last meeting against the Bears produced an impressive performance by the Dolphins, as **Ryan Tannehill** had a 123.6 passer rating and a 30-yard run on a fourth-and-1 and the defense came up with three takeaways, including an interception by safety **Reshad Jones** that he returned 50 yards, in a 27-14 victory.