Even though he turned in an impressive rookie season, **Minkah Fitzpatrick** described as "challenging" being asked to play a lot of different roles, often with little notice. But he also understands it could end up being very beneficial in 2019.
"Versatility" is a word that's been mentioned quite often when it comes to the Dolphins defense since the hiring of Brian Flores as head coach, and Fitzpatrick is ready, willing and able to move around and line up at a lot of different spots in the Dolphins secondary.
"As long as I'm out there, I'm going to try my best to just make plays," Fitzpatrick said during an interview on The Audible. "With this system, you have to be versatile. … To be that Pro Bowl type player, I have to be versatile and have to be able to match up with certain types of players and I have to be able to play in the box, I have to cover in the back end."
The 11th overall selection in the 2018 NFL draft, Fitzpatrick started 11 games for the Dolphins last season — five at safety, three as the nickel back, and three at cornerback.
Fitzpatrick, who played in every game, finished the season with 79 tackles, two interceptions and nine passes defensed. His highlight, of course, was his **50-yard interception return for a touchdown** in the Week 15 game against the Minnesota Vikings.
Beyond mere stats, Fitzpatrick's ability to line up at different spots and maintain a consistent level of performance was pretty impressive — especially for a rookie.
Even though he had bounced around on the Alabama defense in college — even lining up at linebacker at times — Fitzpatrick said it wasn't easy.
"I look back on last year and just say it was a challenge," he said. "I was a first-round draft pick by the Miami Dolphins. We didn't really know exactly what was going to happen when I got here, if I was going to play safety, corner, nickel or whatever it may be. And I played every single one of those. And it's not really easy to do that. It was a challenge. It was tough. A lot of it wasn't really planned out. Somebody may have gotten hurt and I had to just use my ability and the coaches and lean on them to dive into that.
"But I think it definitely prepared me … it's not going to get much harder than that. You're never going to be asked to play a whole different position on a Saturday or a Friday … that's not going to get much harder than that. A lot of things were thrown at me. It prepared me. I just feel like this year I'm going to use everything that I learned last year and just apply it."
To prepare himself for all possibilities, Fitzpatrick told reporters this week he has kept his weight at about 204 pounds, which he said was halfway between the weight he'd want to carry as a cornerback and as a safety.
Like his teammates, Fitzpatrick has been using the past few weeks to get to know his new head coach, though he said one thing immediately was obvious.
"He was all business," Fitzpatrick said. "The first point of emphasis that he had, he said, 'I promise you we'll be the best-conditioned team in the NFL.' He's really emphasized that and he's really put that into action. We've been running a whole lot just with the strength staff and even (Tuesday) we conditioned real hard after practice. He's all business. He knows how to win. He knows what it takes to win. He's about it. And I'm real excited about it."
Fitzpatrick said he spent time with family and friends after the end of last season and did some traveling, and also enjoyed taking a break from football.
Remember, it had been nonstop for him since the start of training camp at Alabama in the summer of 2017 because after his final season in college it was all about preparing for the draft.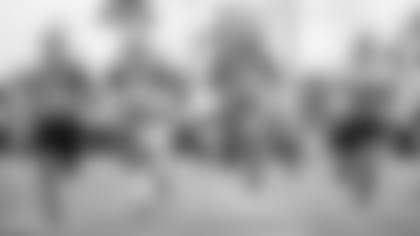 "Going two years straight with no breaks, it's kind of taxing mentally and physically (so it's good) just to step away," Fitzpatrick said. "We all love football, we enjoy the game, but sometimes you've got to step away and be a regular human being. I got to spend time with my family, got my spend time with my friends and just enjoy life a little bit more and just really focus on family. Obviously after like a month of recovering and getting my body back right, I got right back into training, got a routine going. I did a little bit of traveling with my family, but still had a routine.
"This is the best I've felt in a long time. We're going two years straight, all the guys that came straight to the league. We actually had time to actually recover our bodies fully. You could say a week is recovery, but it really isn't. So you have a whole three months to just focus on the little nicks and bruises and the little bumps out, it's real good for your body."
That said, Fitzpatrick was happy to get back to work April 1 for the start of the offseason program and happy to get back on the practice field Tuesday.
He's also looking forward to what's in store for the defense in 2019, knowing he'll be well prepared for whatever responsibility he's given.