It's been a long time since **Patrick Graham** studied chemical engineering and dreamed of a career with the CIA.
His life's work has been all about football for the past 17 years, and he is more than excited about starting a new chapter in that profession.
Graham is ready to take over as Dolphins defensive coordinator after being picked by new Head Coach **Brian Flores** to join his coaching staff.
It's a new challenge for Graham, but one he says he's ready to tackle head on.
And why does Graham feel he's ready?
"It's going to be from the preparation," Graham said. "That's all I can tell you, I'm going to prepare to be ready and when the time comes, it comes. I'm going to be prepared to be ready. That's how I know to be ready. Any other situation I've gotten ready for has been through preparation."
Graham joined the Dolphins after spending 10 years in the NFL, including last season as linebackers coach/run game coordinator for the Green Bay Packers. Prior to that, he was defensive line coach for the New York Giants for two seasons and spent seven years with the New England Patriots after working at three different colleges.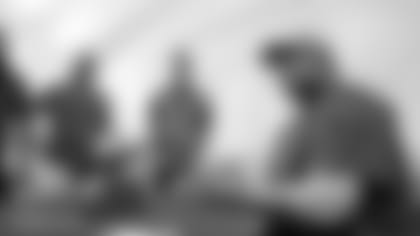 During his time in New England, Graham got the chance to work with Flores, who followed him as linebackers coach in 2016. More than that, the two shared an office and built a relationship that eventually went beyond football.
"Coach Flores is an impressive person," Graham said. "That's all I can tell you. He's an impressive person. I've always thought that about him. Even in those days when you spend all that time together, I've always thought about Coach Flores, that he is an impressive human being. From the time you meet him, you realize there's something different about him."
Of their time in the same office, Graham said one thing that stood out was the printer in the room, which meant a lot of traffic coming in and out.
Like Flores, a safety/linebacker at Boston College, Graham played college football. He was a defensive lineman at Yale, where he earned a bachelor's degree in sociology.
That was part of his circuitous route to the NFL, one that included his thoughts of joining the CIA.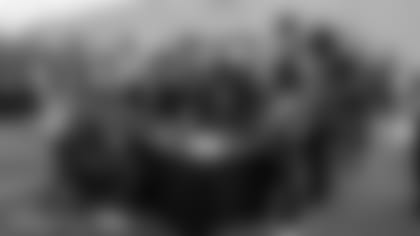 "If you go back and dig it up, there's film of it," Graham said. "My senior year of high school, I wanted to get a chemical engineering degree and go into the CIA.
"Started off with chemical engineering. That didn't go too well. Had to switch it up. My dad told me, he said, 'Listen, the change from engineering to sociology, make sure you're not living here when you graduate.' I said, 'I think I'll be OK.'"
Graham has been more than OK.
"Pat is a Yale guy," Flores said. "He's extremely bright. He is great with the fundamentals and has very strong leadership ability. I can't say enough good things about him. We worked together in New England and I know the type of passion he has and the way he works. We have a lot of the same core values and beliefs from a defensive standpoint."
For his part, Graham was asked how somebody ended up going from Yale to becoming an NFL defensive coordinator.
"Very fortunate to have met some good people in my coaching career," he said. "Got a chance to learn from some of the best. Yale, went to school there, played football there and fell in love with the game even more. After graduating, got into coaching and found my calling."