Charles Harris is confident he'll have success on the field for the Dolphins in his second NFL season for one simple reason. Everything off the field is in place.
The second-year defensive end told reporters in training camp he had a much better outlook on life and being an NFL player than he did at this time last year, and then he went about putting to use some of the lessons he learned.
The result is a Charles Harris ready to make a major contribution in his second NFL season.
"It's just spiritually more than anything, but also in my habits," Harris said this week. "I feel like I'm creating better habits than I did as a rookie. I'm taking care of my body, eating the right things. Had a chef all through camp, learned how to cook for myself. Meal preps Mondays and Wednesdays and Fridays, just doing everything I can to make sure I'm staying up nutritionally and making sure I'm taking care of my body. Massages, yoga, Pilates, a whole bunch of different recovery stuff and making sure I'm doing a lot of cardio, things like that before the game. Really getting into more routine. I'm just doing stuff like that. Small stuff like that is going to ultimately transition to the field and it's going to be good for my entire career."
Beyond a better understanding of how to take care of his body, Harris understands better how to approach his job than he did coming in last year as a rookie first-round pick at the University of Missouri.
Even though the sack numbers weren't there in 2017, both Harris and Head Coach Adam Gase felt he had a solid rookie season. But Harris didn't necessarily get the most out of it, as he explained this summer.
"I'm peaceful," Harris said. "I'm thanking God for my opportunity to be out here and I'm loving the game. I feel like last year I just tried to work. I tried to work, tried to check off things. Every single day I came in, I did a check list. That's all it was. But now I really love the game. I've got that love back. I feel like that's the biggest thing. I want to be out here. Versus last year, I'm like, 'Let's get this thing over with.' Now, it's like I love it now. I got my love back for the game.
"A year ago, Charles Harris was kind of stretched out, kind of in a dark place, but like I said, I just love being out here, love competing, love having the logo on me and everything like that. I love my teammates and everything like that. I love my teammates. That's really all we've got here, too. I love playing for my brothers. I feel like we really are getting closer and closer together and that's a shout-out to the coaches and everybody else that forces us to be together. It's all love now."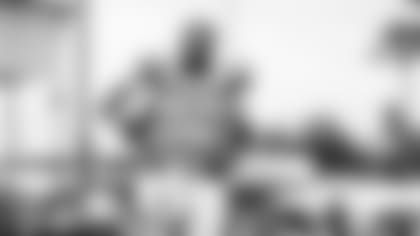 Harris said he underwent a spiritual awakening in the offseason, and it brought a whole new perspective.
"I did a lot football-wise, working out-wise, all of that kind of stuff," Harris said. "I feel like I just got better mentally, spiritually and things like that. Being able to take care of my family, get stuff done off the field and understanding grace and stuff like that. I'm better mentally. Mentally is going to transition everything else.
"Understanding grace, understanding what it actually means worship instead of just work. A lover will always outwork a worker. At first last year, I was just checking boxes every day. I came in, I punched in, I punched out. This year it's like I love it. I love it because I understand what it means to work. This is my work and use it as my worship."
The offseason was uplifting in another way for Harris because of what he was able to do for those close to him and close to home.
First, Harris donated $100,000 to Lincoln Prep, the high school in Kansas City where he starred.
But that paled in comparison to what he was able to do for his mother, Deborah Clark, who is afflicted with multiple sclerosis and is confined to a wheelchair. Harris bought her at house in Tifton, Georgia, for her and her parents, who have been taking care of her. In addition, he bought his mother a wheelchair-accessible car.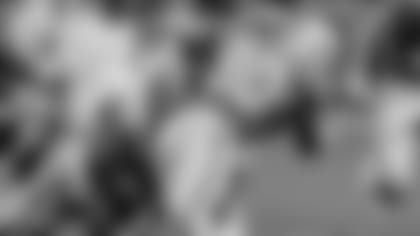 "It was a big accomplishment," Harris said of buying his mother a house. "It was one of my No. 1 goals in the offseason. It was great to get it done."
The donation to Lincoln Prep was just one of many things Harris did in the offseason in terms of giving back and spending time with children.
"I went to KAA, which is Kids Across America," Harris said. "I went out there and stayed with them. I went back to Mizzou and talked to my AIA director Nathan Buxman and all of those guys. I did a lot this offseason. I went down to Texas to a charity event, gave back to Lincoln. There was a lot of stuff I did. A lot of stuff.
"It's like me using what I've already been given. I'm using my talents and not burying them. I feel like last season I buried them. I kind of stayed closed off and cut a lot of friends off, but that's not what I was meant to be. I'm supposed to give back.
"(Donating to Lincoln Prep), that's the same thing. That was my opportunity just to give back. I feel like I was a dead seed last year, not being able to give back while I was in season. I was too busy. That's the big thing about me; I can't take in too much. I can't take in too much without giving back. That was my opportunity to give back to my city, give back to my community. I just wanted to do that. That's what I'm looking forward to this next offseason, just giving back and giving to the kids and using my platform to benefit him."
Harris' teammates definitely noticed a difference when he returned to South Florida for the start of the offseason program.
During training camp, fellow defensive end Andre Branch called him a "monster."
Cameron Wake was equally impressed, if not more.
"I actually think Charles Harris has probably had the best offseason, not just any D-lineman but probably anybody on our team," he said. "He came back in tremendous shape. He's obviously been working on his strength. He's been working on his football and it's showing up on tape. I think that's definitely going to pay off when it becomes time to get after these quarterbacks."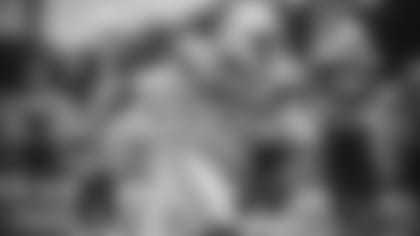 In the season opener against the Tennessee Titans last Sunday, Harris took his turn in the Dolphins' five-player rotation at defensive end that includes newcomer Robert Quinn and veteran William Hayes, along with Branch and Wake.
The idea is for any player on the field at any time to be able to go all out because new defensive line coach Kris Kocurek wants his group to attack, attack and attack some more.
Which is just the way Harris likes it.
"Coach K has simplified a lot of stuff coming into the league I didn't have clarification on," Harris said. "He simplified a lot of things, the scheme is pretty simplified as well. Really, it's just about attacking. When it's like that, that's every defensive end's dream. I look forward to starting and finishing out the season as strong as I can and just attacking for real."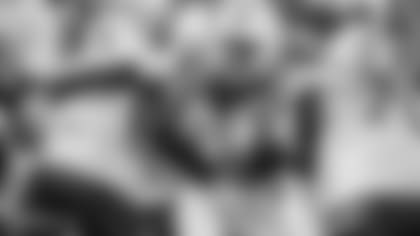 Harris had two sacks and a fumble recovery in his rookie season and he's hoping for bigger numbers in 2018, though he didn't want to share specific statistical goals.
In broader terms, he did say, "Just really practicing habits, practicing good habits," Harris said. "Really everything translates from practice to the field. I just want to be a good teammate, show up every day with a working attitude and do whatever I can to help the team."
Harris understands full well the expectations that come with being a first-round draft pick, but he says it's only pressure if you allow it to become pressure. It's another lesson Harris learned during his rookie season.
He's in his second season now, more confident, more comfortable, more knowledgeable.
"As a rookie, I was in a dark place," he said. "Now I'm cool. Like I said, I understand grace. I understand that everything that happened the way it was, it was for the better of me and my family and everything like that. I understand that everything I do on the field and off the field affects everybody around me. I've got me a community down here being in Florida, being away from home, and that was a big thing. Now I have a community, I've got friends, I have everything I need to get to the top."