The 2019 draft season already has begun, but it takes a big step forward next week with the annual Reese's Senior Bowl in Mobile, Alabama.
New Senior Bowl executive director Jim Nagy joined The Audible this week to touch on a variety of topics involving the game, the prospects who'll be in attendance, as well as Dolphins General Manager Chris Grier.
Nagy joined the Senior Bowl after spending 18 years in the NFL, as an area scout and later a national scout. During his time in the NFL, Nagy was part of three Super Bowl-winning organizations — the Green Bay Packers (Super Bowl XXXI), the New England Patriots (Super Bowl XXXVIII and Super Bowl XXXIX) and the Seattle Seahawks (Super Bowl XLVIII).
Here's what Nagy had to say on various Senior Bowl-related issues:
Nagy took over for Phil Savage, who had run the Senior Bowl since 2012 before leaving to become general manager of the Arizona Hotshots of the new Alliance of American Football. Nagy had spent the past five seasons as Southeast area scout for the Seahawks and already was living in Mobile, which happens to be his wife's hometown. "My son is getting to be high school age and playing high school sports," Nagy said. "The scouting life is a grind. It really is. It's really a grind, to be away from your family as much as the scouts are. This was an opportunity to kind of improve the quality of life for my family and even take on a bigger role than I had just being a scout. It's been great the whole process through and this is kind of the culmination of six months, seven months of a lot of hard work and we can't be more excited to get this thing rolling on Sunday when the players come into town."
Putting together the Senior Bowl rosters
Nagy said the Senior Bowl hired a scouting staff this year for the first time, with four former NFL scouts with 69 combined years of experience coming on board. "It worked out geographically perfect," Nagy said. "The four guys we hired, it really split the country up and divided it up really perfectly. So we were at games every weekend. Sometimes we were at as many as 10 games. I've got two guys that work here in Mobile, young scouting assistants that were with the Chiefs and the Bills this training camp. We really tried to treat this thing like a 33rd NFL personnel department." Nagy said he conferred with personnel people around the NFL after putting together his "big board" of prospects to finalize the Senior Bowl invitations and tweak things if necessary. "That's why we feel so good about our rosters because we did our own work with guys that have been in the league forever, and we also used our relationships in the league to bring these 32 teams the rosters they want to see because, again, this is for them," Nagy said. "We're kind of stewards to the NFL here in Mobile at the Senior Bowl. We want to give the league the players they want to see and just the feedback. A lot of teams opened up about where about what rounds they have players graded in. So we have a really good idea where our guys are going to go. It's a really talented group this year."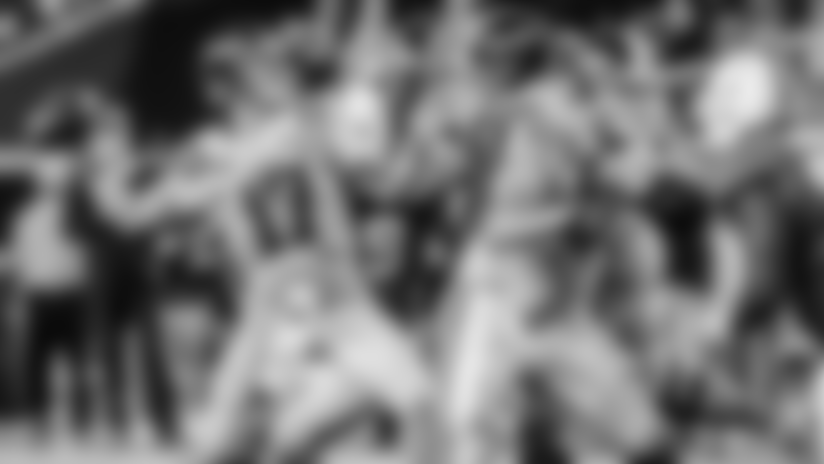 Deep group of quarterbacks
If the Dolphins decide to select a quarterback in the 2019 NFL Draft, there's certainly a good chance it could be one of the nine prospects at the Senior Bowl. The 2018 Senior Bowl featured first overall pick Baker Mayfield and top 10 pick Josh Allen, but Nagy likes the depth of the group this year, particularly after the late addition of University of Buffalo standout Tyree Jackson, who decided to enter the draft instead of becoming a graduate transfer. "That's a group that really came together for us, really happy about it," Nagy said. "From top to bottom, if you need a quarterback … and, again, all these guys, a lot of different flavors. A lot of different skill sets. I think the teams that I'm speaking with that need a quarterback can't wait to get down here because it's such a deep group." Along with Jackson, the quarterbacks at the Senior Bowl this year will be N.C. State's Ryan Finley, Duke's Daniel Jones, Missouri's Drew Lock, Penn State's Trace McSorley, Washington State's Gardner Minshew II, Auburn's Jarrett Stidham, Northwestern's Clayton Thorson and West Virginia's Will Grier. "Trace McSorley, how many games has he played at Penn State," Nagy said. "He's a household name in college football. Daniel Jones and Drew Lock are getting a lot of first-round buzz, and Will Grier, and Jarrett Stidham is really talented. The Auburn season didn't quite go how a lot of fans around our parts down here wanted it to go and I think Jarrett, it didn't go how he wanted it to go. But I think you saw in the bowl game when they put up 56 points in one half and set an all-time bowl record the kind of arm talent Jarrett has."
As a longtime member of the NFL scouting family, Nagy has developed a lot of respect for Grier over the years and he said the Dolphins made a good decision in giving him final say on personnel decisions. "Having Chris calling the shots I think is going to be really big," Nagy said. "He's a really good football man. His dad being a personnel guy himself, Bobby Grier. Giving Chris the reins to take this thing over I think will be great for the Dolphins. … I know that Chris is a convicted guy and I know he's always had his convictions, but now it's his call and his name is going to be on the call. But I know that he's more than ready for it because he wasn't just handed this job after five or six years in the league. He's like me. He started out as an area scout and you just work your way up and he went level to level. He's earned it. Just knowing Chris, he'll do a great job. He's ready for it."
Along with watching prospects compete against high-level competition, the Senior Bowl offers NFL teams the chance to get a firsthand look at some of the players they could be drafting in three months. The Dolphins, for example, drafted three players who took part in the 2018 Senior Bowl: running back Kalen Ballage, and tight ends Mike Gesicki and Durham Smythe. They also claimed Senior Bowl participant Luke Falk off waivers after the quarterback was released by the Tennessee Titans. "I don't want it to sound self-serving because of the chair I'm sitting in now, but I've always been a big believer in this week and this game because it shows so much," Nagy said. "If you come to Mobile with your sleeves rolled up as a scout, there's so many things you can see from the competitiveness in practice and those one-on-one battles and who's really locked in and going for it and who's taking coaching out on the field. You can hear all the coaching points. If you get down by the fence line or you're on the field, you can hear all the coaching points, you can see how the players apply the coaching. You get to interview them for the first time. Rather than just relying on what you're hearing at schools from your sources, which is usually great information —don't get me wrong — but to actually sit in front of a man and hear where he came from and how he was raised and the adversity he's overcome and kind of hearing the player's story through their own mouth, then you can really get a grasp on the person that you're dealing with. If you come into Senior Bowl week ready to work, I think you can really eliminate a lot of the mistakes that teams make when they don't have this week-long access to a player. If you don't have this week-long access, you are relying on a lot of secondhand information and you're not seeing a lot of the things you get to see firsthand here during Senior Bowl week."