As he worked during his first NFL offseason program, Dolphins rookie running back Buddy Howell wanted to keep things simple. There was no worrying about roster spots or depth charts or anything like that. It was all about doing what got him there in the first place.
"Honestly, whenever I go into something, I know I've got to give my all," Howell said. "I gotta work, I gotta be me. That's one thing I always tell people, I'm just going to be Buddy. Buddy is the guy that's going to come in, work hard, do what's best to try to stay on top of his game and be ahead of the game. I just call it Being Buddy because, you know, most people know me for being the big guy, the guy that if you have to ask a question, I'll probably know the answer.
"I'm just doing me, not paying attention to the depth chart because you can't really control that. The only way you can control that is by what you contribute and how you contribute to the team."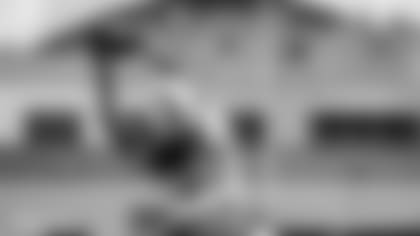 Howell signed with the Dolphins after a successful four-year career at Florida Atlantic University a little ways up the road from where he played his high school football, Coral Gables High.
Yes, that is the same school that produced new Dolphins running back Frank Gore, the veteran who ranks fifth on the NFL's all-time rushing yards list.
At 6-1, 224 pounds, Howell is a bigger back than the 5-9, 212-pound Gore, but he likes to emulate Gore's no-nonsense running style.
"Frank gets to the point," Howell said. "That's the type of back I am. He gets to the point, wastes no time, he stays low. Le'Veon (Bell has) got a little south to his game, but Frank just gets to the point and gets the job done. That's kind of what I model myself behind."
Howell had his best season at FAU as a junior when he played in 12 games with 10 starts and carried the ball 168 times for 833 yards (5.0 average) and 13 touchdowns.
The 2017 season didn't play out the same way, as Howell had 56 fewer rushing attempts even though his average was way up at 6.6. Howell did get more playing time on special teams, which served him well during the spring practices when Special Teams Coordinator Darren Rizzi mentioned him among those who had impressed.
"I felt like me standing on the sideline I was just a waste," Howell said. "So being able to go on special teams and use my big body to dominate opponents, I was happy about it. I didn't really give him any side talk, I was just happy to be a part of the team. That's something I've always been grateful about. I never got selfish. It was frustrating. I'm not going to sit here and say I'm not a human being; it's frustrating not getting the ball sometimes. You've got to get past frustration to have a little fun. Once I got past that, (FAU coach Lane) Kiffin just told me, I'm going to put you on special teams because that's something in the NFL that's going to help you survive. I thank him a lot for that and I'm very grateful that he made that move."
When he played at FAU, Howell officially was recognized as Gregory Howell Jr., but now he's listed as Buddy, a nickname he's had for a while.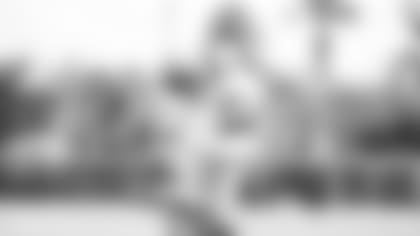 "Everybody kind of knows me by Buddy," he explained. "It just helps me out from a marketing standpoint, exposure. It's tough to forget Buddy. For my part, I just feel that's a good way to market myself, brand myself and become my own trademark. Buddy Howell is easy to come out. It's one name that you really can't forget because it's not too complex."
Of course, the more time Howell can spend in the NFL, the more exposure he'll gain.
He already has been featured in a YouTube documentary, which featured interviews with his youth and high school coaches. In it, Howell talks about his biggest motivation, being able to provide for his mother.
Howell is hoping to achieve that goal the only way he knows how.
"I'm just going to try to make my best impression by just being me and coming out here having fun," he said. "Because it is the game of football, something that I love and I'm grateful to be here. So I'm just going to have fun and do me. Do me, be attentive. Take the tools that I learned from past coaches and past people I learned from in the past and bring them over here and continue taking care of myself, taking care of my body, taking care of my mind, stay out of trouble. Just being me, that's all I can do."