Hard Rock Stadium is where Sam Madison made his name as a standout NFL cornerback during his nine seasons with the Miami Dolphins.
He'll be back there Sunday hoping his first season as an NFL assistant coach ends with a Super Bowl title, and it seems just like the way it's supposed to be.
At this time last year, Madison had just completed his second season working as an assistant coach for St. Thomas Aquinas High in Fort Lauderdale, and also included television commentary work for the Dolphins' postgame show as well as his periodic Dolphins.com series Madison Avenue, where he would ride with a current Dolphins player and talk some football.
That changed when he got a phone call from Kansas City defensive coordinator Steve Spagnuolo, who had coached him in his two seasons with the New York Giants in 2007-08.
South Florida is still home for Madison, and he's back this week hoping to add a Super Bowl title as a coach to the one he earned as a player for the Giants in 2007. Not surprisingly, Madison was perhaps the most popular Chiefs assistant coach during the team's media session at the Super Bowl LIV Opening Night festivities at Marlins Park on Monday.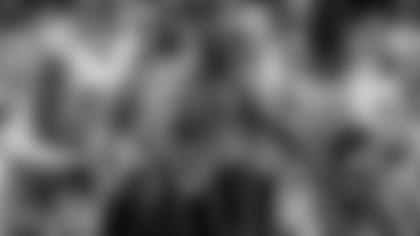 "Unbelievable, man," Madison said. "Even a year ago, I was working with the Super Bowl Committee just trying to get everybody ready for this game. This was never on my radar being able to coach. And then to come back home and play in Miami, a stadium that I played in for nine years, it feels really good. It's awesome."
Madison, who is third on the Dolphins' all-time interceptions list with 31, had gotten a taste of coaching at the NFL level before through several internships, including one for the Dolphins. He also served as a guest coach for his former team.
Truth is, Madison was doing some tutoring all the way back when he was playing with the Dolphins.
"It was something I was kind of thrust into and something that I've always loved," Madison said. "Even when I was here with the Dolphins, being able to work with the younger corners that were coming in because you never know when you're going to go down and you always want your team to win football games. If you go down, you want the next guy to be in it. Being able to teach those younger guys how we play, how it's supposed to be done because we challenge ourselves each and every day, each and every week not to really miss practice, to be ready or a game and then go out there and execute the game plan the right way."
Madison made the Pro Bowl four consecutive seasons with the Dolphins and was a key contributor on a defense that finished in the top six in the league in fewest yards allowed five consecutive seasons.
With the defense leading the way, the Dolphins made the playoffs every year from 1997 through 2001, though they weren't able to get to the big game.
"We had everything but we always fell short," Madison said. "This is any player's dream to play in the Super Bowl. Some guys never have opportunities, some guys have never been to the playoffs. You just work your tail off and however it comes, it comes for you and it just happens this will be my second go-around, one as a coach now and one as a player and being able to win one as a player. So hopefully I'll be able to win another as a coach.
"But I just look back at the years that we were in the top 10, top five in defense just wishing and hoping and praying that we had an opportunity to get Jason (Taylor), Zach (Thomas), Tim Bowens, all of those guys that I played with, (Patrick) Surtain, Brock Marion, all those guys an opportunity to play in one. We just didn't have the firepower. But it still special. It's going to be really special when I walk into that locker room because we'll be in the home locker room."
Madison saw one of his former Dolphins teammates get inducted into the Hall of Fame two years ago when Taylor went into Canton and his first NFL coach, Jimmy Johnson, will join him this summer.
Madison would love nothing more than seeing Thomas also get the nod when the five modern-era 2020 inductees are announced Saturday.
"That's going to be very special," Madison said. "Having JT already in there and the things that Zach has done, just looking at the other guys that's gone in before him, he should have been in a long time ago, but everybody has their time and just to be able to sit here and watch how he's handled it, he's been very good with the situation. Zach is a humble guy. He doesn't really go out on a limb and jump off the dock or anything, but he really deserves it.
"A fifth-round pick and the way that he just worked his tail off, I'm really happy for him and I'm pulling for him. He should get in this year and I'll be there, just like I was there for JT, because that's one of the guys that I really looked up to coming in, just his work ethic. We just made a pact, like I always said, we never really wanted to miss practice, we never really wanted to miss games and we wanted to go out there and have fun when we were on the football field. Those are the type of leaders that you want to play with. I just wish the best for him."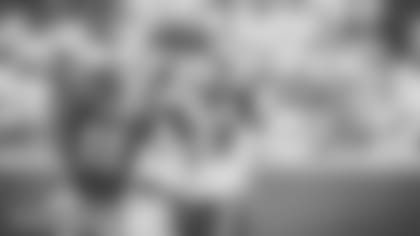 Madison has some gray in his facial hair now, but that's all that's changed from his time with the Dolphins. He's still the same friendly guy with the easy smile.
And he remains loyal to the franchise that gave him his NFL start.
"I love this franchise down here," Madison said. "I'll go leaps and bounds for them with any and everything that they've needed since I've been in New York and came back in the offseason doing all the charity work, charity events. This is always home. It'll always be home and I always will have a special place in my heart for this Dolphins franchise."