David Steinmetz is tough to miss among the Dolphins rookie free agents.
At 6 feet 8, he stands as the second-tallest player along with fellow offensive tackle Sam Young and behind only yet another offensive tackle, Zach Sterup.
"I've always been the biggest guy," Steinmetz said. "I went into high school around 6-4, probably grew an inch every year."
Despite his size, Steinmetz was concerned he hadn't gotten enough attention after three years of playing at the University of Rhode Island, and that's why he decided to transfer to an FBS school to play one year as a graduate transfer.
Steinmetz decided on Purdue after visiting the campus with his parents, though the experience would prove bittersweet.
Between the visit to Purdue and a scheduled trip to visit the University of Illinois, Steinmetz's father, Mark, died of a heart attack at the age of 56.
"The night before we flew out, we were leaving a restaurant and he had a massive heart attack and died," Davis said. "Pretty much after that, we kind of just decided … I kind of shut down recruiting at that point. I was getting phone calls and such, but never really made another visit after that. At that point in time, my dad loved Purdue, my mom loved Purdue, I loved Purdue. I just knew it was the right fit for me."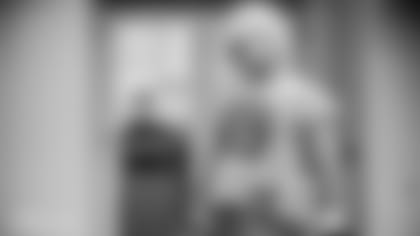 Steinmetz enjoyed a productive final season at Purdue, becoming the only offensive player on the team to earn All-Big Ten recognition from both the league's coaches and the media.
In an interview in November, he paid tribute to his father, saying, "My dad was my No. 1 fan. I know he's been watching over me and I know he would be proud."
Mark Steinmetz undoubtedly would be proud of his son fulfilling his vision when he took him to his first NFL game when David was a child.
That's when the dream of playing in the NFL took hold for David.
"I've always thought about it since I was a kid and I went to my first NFL game," he said. "My dad told me, 'You're going to be playing on this field one day.' And ever since then, I really believed that. And then playing in high school, seeing friends of mine make it to D-I schools and stuff like that, continue on their careers, I just knew I could do it."
The doubts never crept in, even though he did not receive any offers from FBS schools coming out of high school.
Even so, he still felt it made sense for him to play at an FBS school after his time at URI to enhance his NFL prospects.
"In my time at Rhode Island, I knew I needed more of a spotlight and more exposure, so that's kind of why I decided to do the whole grad transfer thing," he said. "Graduated in four years and then just get out of there and make it to a bigger school.
"I always believed in my skill, that's kind of why I wanted to go up. I wanted to prove myself that I could do it. I never really doubted myself or was just afraid of going up a level."
During his Pro Day workout, Steinmetz gave a glimpse of his athletic ability with performances in the broad jump and vertical jump that would have ranked among the top five offensive tackles at the combine.
Besides the obvious agility, Steinmetz is hoping his intangibles also will serve him well at the NFL level.
"I need to show that I know this playbook and I know what I'm doing on the field every snap," he said. "I'm going to show my versatility a lot, too. I can play pretty much any position they want me to play. I've never played center, but if they ask me to, I'll give it a shot. Versatility, my durability, coachability, I think those are all things that are going to really stand out for me."
As part of the Dolphins rookie class, Steinmetz took part in the Special Olympics event inside the bubble at the Baptist Health Training Facility at Nova Southeastern University.
It was a day that Steinmetz thoroughly enjoyed, which makes sense given the fact he did extensive community work when he was younger.
"I started doing Special Olympics when I was in the third grade working with people with special needs," he said. "It kind of carried throughout high school and then doing other things through that, like Best Buddies, and starting fundraisers for my hometown.
"I was at indoor recess and I saw this kid playing Connect Four by himself. I was just sitting there doing nothing, so I went over there and played with him. He had special needs. His aide told me he was a basketball player. At the time, I was too, and I thought that was really cool. So I don't know how it came to be, but I ended up going to one of his practices with him. And then I just kept going and going and going, and I stuck with it until I was probably a sophomore in high school just helping out those kids. I started doing track and stuff like that with them and then doing fundraisers, jump in the freezing cold ocean in the winter. It was all worth it."
Now, David Steinmetz is focused on the task at hand, at that's preparing for his first NFL training camp, where he'll try to beat the odds and earn a roster as an undrafted free agent.
"I've always been the underdog, the guy that's kind of overlooked," he said. "But at the end of the day, I'm always the one making the team and whatnot. I think I have a good shot here as well. I'm just excited to be here to prove myself."
Whatever happens, you can pretty much bet that his father would remain proud of him.