The Super Bowl is coming back to South Florida for a record 11th time, but it will be the first time since the major renovations that turned Hard Rock Stadium into an absolute gem.
Media members got an early look Tuesday at what Hard Rock Stadium will look like Feb. 2 when the Kansas City Chiefs and San Francisco 49ers battle in Super Bowl LIV.
"This is my third Super Bowl in Miami specifically," said Eric Finkelstein, NFL Senior Director of Event Operations. "It's great. The amount of differences even from the last time the Super Bowl was here is amazing to me. The amount of additional club spaces and just the grounds around the site itself are just at a whole other level that is really going to be unbelievable and a special part of what we're going to be doing here on game day."
Preparations are in full swing at Hard Rock Stadium, and the Super Bowl logo and the logo recognizing the 100th anniversary of the NFL already are on the field.
The work has been going on since Jan. 2 and has involved more than 6,000 people, according to Finkelstein.
"A lot of preparation and work has been ongoing for months now in terms of just getting everything ready for what our plan would be for getting everything set up," he said. "We have already built 4.5 miles of fence around the stadium. We have upwards of 6,000 people that have been working behind the scenes to get everything set up. You can hear it around us and there's a lot more work to go. As of today, we feel really good where we are in getting everything prepared and set up.
"A lot of work has happened. We put in a brand new field. We do that most years for Super Bowls. The field that's right behind me is brand new. This will be the first game that it will be used. You'll see this become very Super Bowlesque. The building is great. All the grounds and all the new club spaces that are in this building really make our jobs easier in general, but we will add lots of Chiefs, 49ers décor, logos. Each end zone will be painted for a team."
The game between the Chiefs and 49ers will cap a full week of activities around South Florida that will include the Super Bowl Experience at the Miami Beach Convention Center.
Several Dolphins players are scheduled to be involved in the Super Bowl Experience. The following players will conduct youth clinics: linebacker Jerome Baker on Saturday at 12:45 p.m.; defensive tackle Christian Wikins on Saturday at 4:45 p.m.; and linebacker Mike Hull on Sunday at 12:45 p.m.
Among the many former and current NFL players who will be signing autographs will be Preston Williams (Saturday from 3-5 p.m.); Davon Godchaux (Jan. 29 from 7-8 p.m.); and Dan Marino (Jan. 30 from 4-5 p.m.).
The week of festivities also will include Opening Night at Marlins Park on Monday night when fans will get the chance to stand on the field to watch interviews with every player and coach from each team.
Finkelstein also promised different elements to the Super Bowl this year because of the 100th NFL season.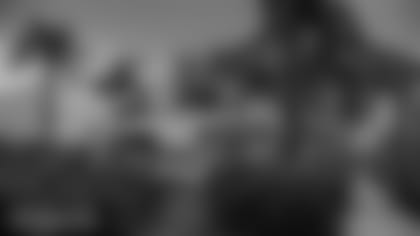 "This year is an extra special Super Bowl," he said. "Not that they all aren't, but this is the 100th, so we will have some additional elements and things going on specifically to celebrate that, which we're really excited about and is going to be something very much worth tuning in for on Super Bowl Sunday."
South Florida had been tied with New Orleans for most Super Bowls, with its first 10 divided equally between the Orange Bowl and Hard Rock Stadium. The 49ers won the first two Super Bowls played at Hard Rock Stadium (under a different name), defeating the Cincinnati Bengals 20-16 in SB XXIII and the San Diego Chargers 49-26 in SB XXIX.
The other two Super Bowls at the stadium featured a 34-19 victory by the Denver Broncos against the Atlanta Falcons in SB XXXIII in John Elway's final game and Peyton Manning's first Super Bowl title, a 29-17 victory by the Indianapolis Colts against the Chicago Bears in SB XLI.
The last Super Bowl in South Florida was SB LVIV, which ended in a 31-17 victory by the New Orleans Saints against the Colts.
"We've been here more than any other city to host the Super Bowl," Finkelstein said. "There's a reason why we keep coming back. It's a perfect setting for what will be a great matchup on (Feb. 2)."