It was another hot spring day in South Florida and the Dolphins were conducting what is known in NFL jargon as an Organized Team Activity. After a simple passing drill, quarterback Ryan Tannehill made it a point to pull rookie tight end Mike Gesicki aside to tell him exactly how he should be running a certain route.
Later in the spring, it was running back Kenyan Drake spending time after practice with rookie Kalen Ballage after what had been a tough day for the fourth-round pick from Arizona State.
The 2018 draft is growing ever smaller in the rearview mirror for the Dolphins' rookie class as they continue discovering two important facts: one, making an impact in the NFL takes a lot of hard work; two, they will get help along the way from not only their coaches but their new teammates as well.
"A lot of the older guys are really good about it," Gesicki said between spring practices. "Everybody in the tight end room has been great helping everybody out, and then some older guys, specifically Ryan Tannehill has been a huge help for me, grabbing me before, after practice, at lunch, whenever it is. He doesn't have to do that kind of stuff, but I think he's shown the leadership that he has and how much he cares about this team."
When he spoke to reporters days after the video showing Drake helping him and encouraging him after practice, Ballage referred to his new teammate as "a big brother."
It's all part of a support system put in place by the Dolphins to help their rookies, drafted or undrafted, have the best chance to succeed — as a football player and in life.
For Ballage, Gesicki and every Dolphins rookie, learning an NFL offensive or defensive playbook and adjusting to a whole other level of football is only part of the equation.
Life as an NFL rookie is much different than college life off the field as well. That's why Head Coach Adam Gase isn't so much concerned about X's and O's during the rookie minicamp as getting his players a head start on their transition.
So instead of having practice with all the rookies, drafted or undrafted, along with players invited for tryouts, the Dolphins put an off-the-field slant on their rookie minicamp. Yes, there are classroom sessions, but those are complemented by discussions on real-life lessons.
Former Dolphins players even are brought in to share their own personal experiences.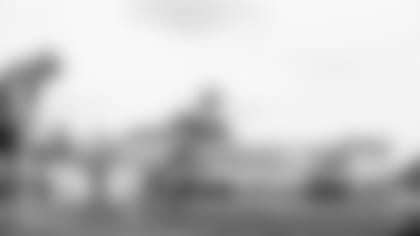 "When the rookies arrive, what we want to do is expedite their maturity and how we do that is give them the wisdom and knowledge and information we know can transform their life throughout their entire professional career," said Kaleb Thornhill, the Dolphins Director of Player Engagement. "But we always believe it's a great start as a rookie to understand what it means to be a professional, how do they conduct themselves knowing that this is their first job and that their time is going to be of the essence. We're working both on and off the field in terms of not only physically (how do they get their body right?), mentally (how do they study?), but also all the things regarding everything outside of the field, whether it's relationships, whether that's understanding their finances from basic credit to budgeting. We took them through an exercise where it was their first time creating a budget. So to understand cash flow knowing that they're going to come about this money very quickly is preparing them and filling up their tool box before they need to use it. I think that's the important part of the Rookie Success Program.
"We know what they're going to encounter. We can predict that. We can analyze that. It's about getting them the information so they can act quicker than anybody to become a professional faster. Eighty-one percent of our rookies, this is their first job, so they have to understand what that requires to become an ultimate pro. So our job is to really bring in presenters and people that we trust that we know can pour into their lives and speak into their lives so they can take action and implement those things so they can do right both on and off the field and leverage this opportunity."
Ultimately, the Dolphins rookies are here because of their football skills, and the ability to perform on the field is going to determine how big a part of the organization they can become and how long they will be members of the team.
The recently completed OTAs, sandwiched around a three-day minicamp, provided their first opportunity to show what they could do on the field against NFL competition. It was a difficult assignment because at this stage rookies' heads are spinning from trying to absorb an awful lot of information in a short amount of time.
"It's hard," Defensive Coordinator Matt Burke said. "We put a lot on them. We throw them in the fire pretty quick. The way the rules are now, they don't really get here until we're already a few weeks into our offseason program. It's hard for them to kind of catch up and we don't really slow down for them. So there's always those moments where they're making their mistakes. We really just ask that they learn from their mistakes. Sometimes that's easier said than done.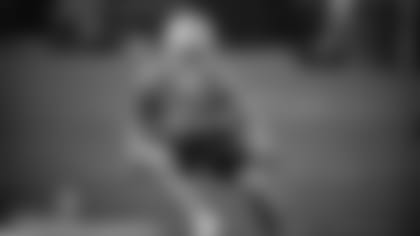 "Again, we really want to put them in the fire and test them out and find out if they can perform under pressure and how quickly they can get caught up with vets that have had a four-, five-week head start on what we're doing. There's always sort of trial and error and ups and downs with the rookies, and you just want to see progress and see them working at their craft and getting closer to where we need them to be to contribute."
Though there were mistakes made, the rookies pretty much all had their moments during the spring practices.
Gesicki had a couple of highlight-reel type catches where he snagged the ball with one outstretched hand; Ballage had a diving catch in the end zone; seventh-round pick Jason Sanders made pretty much all of his field goal attempts during practices open to the media; and Fitzpatrick came up with a couple of interceptions.
"I just do my job," Fitzpatrick said. "The pick just came off … I just was breaking on the ball, I actually got the pick. I was happy I got it because once you get that first pick, it's just like, all right, I'm good, I can just be myself, fly around, do what I gotta do. I was just trying to establish myself as one of the best players on the team. I'm not putting any extra pressure or burden on myself. I'm just doing my job, doing what I gotta do to prove that I am worthy of one of those titles."
Before OTAs start, NFL teams are allowed to hold one rookie minicamp, and it can be conducted the weekend after the draft and the weekend after that. The Dolphins chose the later date, May 11-13.
Before that, though, the Dolphins hosted not their draft picks, but their parents.
"We feel it's important to educate their entire ecosystem on the transition into the NFL," Thornhill said. "These young men coming in, their heroes are their family members. They're going to rely on them for support and guidance and we always feel as an entire organization from our owner on down that we educate the parents first, give them the information on finances, on what to expect throughout the season, where the rookies struggle the most because we have that data. So it's important for us to develop the parents and their ecosystem first because we know they're going to play a big part in their son's success.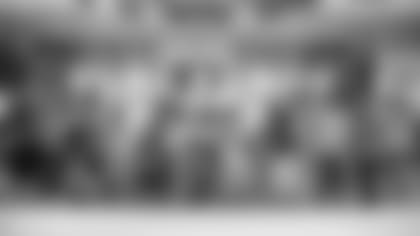 "When the rookies first arrive, the thrill on their face just to know that over time their whole time has been dedicated to this dream and they have reached it, but at the same time it's a blank canvass. It's almost like that walk-on again. No matter if you got drafted or undrafted, but the excitement of these guys to want to dive into the playbook, meet their coaches, establish that bond, understand their community, where they live. Their excitement to be here in South Florida and part of an organization where Steve Ross has unleashed unlimited resources to help them become a pro both on and off the field, but the excitement of them just being a part of this team is a dream come true and it's amazing to watch them. It was amazing to see their parents and the excitement and the gratitude for us pouring into them and wanting to help them win holistically."
Gesicki, for one, was grateful for the parents weekend.
"The Miami Dolphins are obviously an unbelievable organization," he said. "Bringing my parents down and everybody else's parents down to just have like a little orientation, be able to meet the coaching staff, be able to see the facility, that kind of show the first-class mentality that they have. It's not only for the parents, it's also when you get down here you can kind of see how professional everybody is."
Waiting for that phone call from an NFL team during draft weekend is equal parts excitement and high-level stress for all college football stars, and so it was for the eight players who would become 2018 Dolphins draft picks and the other 13 who later would join the organization as rookie free agents.
For Fitzpatrick, there was an added element to the proceedings, the fact that he received and accepted an invitation to attend the draft at AT&T Stadium in Arlington, Texas. Fitzpatrick was invited because the consensus among scouts and draft analysts was that he was a sure-fire first-round pick.
Not that he was taking anything for granted.
"The experience was awesome," Fitzpatrick said. "I was out there with my family, a couple of my coaches from high school, my DB trainer. We were just out there sitting in the green room at the table. It was just a waiting game. Waiting to hear your name called. You know you can be picked up by anybody and you can be passed up by anybody. I was just talking to everybody, talking to my coaches, talking to Coach (Nick) Saban, talking to my parents. Just having conversations and trying to keep my mind off the whole waiting process. It was a good experience after hearing my name called, number 11, going to the Dolphins. I was happy. I was excited to get down here."
Likewise, Gesicki was surrounded by family and friends when the Dolphins called him to tell him they were making him their second-round selection.
"Just having the people that were always there for me, my family, my friends, everybody that's always been there to support me from the time that I was in high school until that night, I wanted to share that moment with them," Gesicki said. "It was a great experience, something really cool that not only myself but everybody else got to experience as well."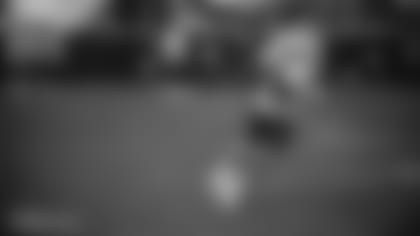 Fitzpatrick and Gesicki knew immediately the Dolphins were calling during the draft when they saw the 954 number pop up on their phone.
For Gesicki, he had a feeling he might end up in South Florida after the Dolphins hosted him for one of their pre-draft visits.
"I knew that the Dolphins were definitely a team that was interested in me," Gesicki said. "I took a visit down here in the pre-draft process. My phone rang and I saw Fort Lauderdale, Florida. I was so excited. I knew the situation that I was coming into. Obviously you've been working your whole life for that one moment, so to finally be able to experience that, enjoy that with my family and my friends, people really close to me and then a couple of days later, get out here and get to work."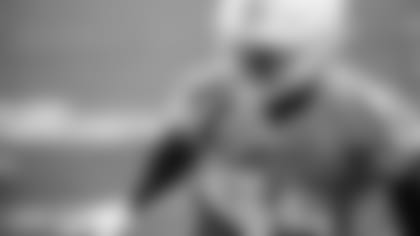 The Dolphins rookies are in the middle of a month-long break before they report for training camp in July, but it would be a mistake to call it time off.
This will be a time for them to not only keep up with their conditioning to continue dealing with the South Florida weather — particularly for someone like New Jersey native Gesicki or Ohio native Quentin Poling, one of two seventh-round selections — but also continue to hit the playbook.
"The learning part for the rookies is probably the most difficult part," Associate Head Coach/Special Teams Coordinator Darren Rizzi said. "Everyone is coming from different systems and terminologies are different, the lingo is different, and just learning a new playbook, learning how we do things here. You may come from somewhere else and you did practice completely different. So just kind of getting into the swing of things. You're only allowed out here for 10 OTAs and then with our minicamp it's about 12 or 13 practices (in the spring), so once we kind of get that foundation for the rookies, they can kind of go into the month where they have off and really study the playbook so when they come back they feel a lot more comfortable."
When training camp opens in late July, there will be some changes from OTAs, the most obvious being the presence of pads and the inclusion of one-on-one drills. What will remain the same is that rookies will be wearing helmets minus the Dolphins logo on each side.
It's part of life as an NFL rookie, a journey that is challenging but also can be awfully rewarding.