Zach Thomas is a finalist for induction into the Pro Football of Hall of Fame and there are some clear reasons why he should become the 11th member of the Dolphins to earn his place in Canton.
Drafted as a highly productive but undersized linebacker out of Texas Tech University in 1996, Thomas was the model of consistency and productivity for more than a decade.
Thomas played 12 of his NFL 13 seasons with the Dolphins before finishing out his career with one year with the Dallas Cowboys.
In those 12 years, Thomas was the heart and soul of a Dolphins defense that was the strength of the team.
Taking advantage of his relentless approach to film study, Thomas always found himself in the middle of the action.
In his 168 games with the Dolphins — all of them starts — Thomas averaged a remarkable 9.7 tackles, according to pro-football-reference.com. That's an average of 155 for every 16 games.
In all of the 10 seasons when he played at least 12 games, Thomas finished with at least 128 total tackles. He topped 150 tackles six times, leading the NFL in that category twice (in 2002 with 156 and in 2006 with 165).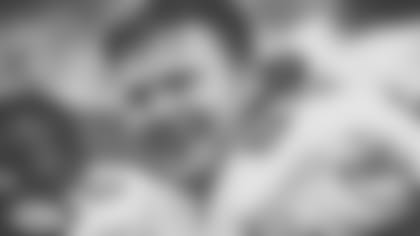 But it wasn't just the tackles.
Thomas also made big plays for the Dolphins defense.
He ended up with 17 interceptions in his career, including three in 1996, 1998 and 2003. He forced 16 fumbles and recovered eight, and also had 20.5 sacks.
His stat sheet filled up nicely, but that doesn't factor in the intangibles he brought to the Dolphins defense.
He was the centerpiece of the Dolphins defenses Head Coach Jimmy Johnson built after arriving in 1996.
Thomas' impact was immediate, evidenced by him earning a starting job as a rookie and leading to the release of established veteran Jack Del Rio, who would go on to become an NFL head coach.
With Thomas leading the way — with major contributions from Hall of Famer Jason Taylor — the Dolphins defense finished in the top 10 in fewest yards allowed an impressive seven consecutive seasons (1998-2004). Five times during Thomas' career, the Dolphins were in the top five.
Thomas' brilliance was recognized, as he earned eight Pro Bowl invitations and was named an All-Pro five times.
Longtime Jets center Kevin Mawae went up against Thomas many times during his career, which ended with his induction into the Hall of Fame last year.
And during his induction speech, while mentioning all the teammates, coaches and other influential people he encountered, to talk about Thomas.
It was one Hall of Famer saying one of his rivals belonged in the Hall of Fame with him.
"Zach Thomas was my nemesis," Mawae said about three-quarters into his 27-minute Hall of Fame speech. "My first year with the Jets before my first game we played against each other, (Coach) Bill Parcells told me in front of my entire team, 'If you don't block Thomas, we won't win the game,' and for the next 16 matchups I never forgot that.
"Zach was one of, if not the smartest player I ever faced. He loved the game, had fun when he played and brought the best out of me. When people ask me who's not in the Hall of Fame and that I think should be here, it's an easy one for me: number 54 from the Miami Dolphins."
Another endorsement of Thomas came after the list of semifinalist was released, and it came from NFL.com writer Adam Rank.
He ranked the 25 semifinalists and put Thomas at number 4, behind only former Steelers safety Troy Polamalu, former Broncos safety Steve Atwater and former 49ers inside linebacker Patrick Willis.
This is what Rank wrote about Thomas: "I mentioned this last year, but Thomas has been overlooked for way too long. He was a five-time first-team All-Pro — and made the second team twice, as well. The 2000s were loaded with standout inside linebackers, including Hall of Famers Derrick Brooks, Ray Lewis and Brian Urlacher. But Thomas fits in nicely with them. Like when Curt Hennig joined the nWo."
Since Hall of Fame voters often look for comparable players in evaluating a player's candidacy, maybe the best case for Thomas is how he compares with former Chicago Bears great Brian Urlacher.
Urlacher was a 6-foot-4, 258-pound can't-miss prospect who was selected ninth overall in the 2000 NFL draft.
Thomas was a 5-foot-11, 228-pound college star whose size limitations made him anything but a sure thing in the NFL, which is why he lasted until the fifth round of that 1996 draft.
Urlacher's career was deemed impressive enough that he was elected to the Hall of Fame in his first year of eligibility.
Thomas has been eligible for the Hall of Fame since 2014, only became a semifinalist in 2019, and never has been a finalist.
In 182 career games, Urlacher had 1,354 total tackles, 22 interceptions, 41.5 sacks , 11 forced fumbles, 15 fumble recoveries, 4 defensive touchdowns and 138 tackles for loss. Urlacher made the Pro Bowl eight times and was a four-time All-Pro selection.
In 184 games, Thomas had 1,727 tackles, 17 interceptions, 20.5 sacks, 16 forced fumbles, 8 fumble recoveries, 4 touchdowns and 74 tackles for loss (though those stats weren't kept before 1999). Thomas made the Pro Bowl eight times and was a five-time All-Pro selection.
If somebody wants to use Urlacher playing in a Super Bowl while Thomas didn't as an argument against Thomas' candidacy, we'd counter that by pointing out Thomas went to the playoffs five times in his 12 seasons with the Dolphins compared to four times in 13 seasons for Urlacher with the Bears.
Here's another (important) argument in Thomas' favor: The Dolphins defense ranked in the top 10 in total yards allowed eight times in 12 seasons with Thomas; the Chicago defense with Urlacher ranked in the top 10 only three times.
Again, Urlacher was a first-ballot Hall of Fame selection.
Stats show, honors show, impact shows Thomas should be joining him — and the other 10 former Dolphins — in Canton.