Wide receiver **DeVante Parker** continues to practice with the goal of returning to action in what has been a frustrating 2018 season for him.
"It's going pretty well," Parker said Thursday. "I'm just happy to be back out there moving around again."
Parker has missed four of the first five games, the first two because of a finger injury and the last two because of a quadriceps injury. He says his family has been a big help in terms of moral support and he's not thinking about season goals or anything other than continuing to try getting healthy.
"I'm just taking it one day at a time, just working my way back into it," he said.
Offensive coordinator Dowell Loggains said one specific play in Parker's only appearance in 2018 — a 36-yard catch that sparked the Dolphins' comeback from a 17-7 deficit — showed his value to the offense.
"The one thing I'll say about DeVante and it showed up in the Oakland game is the length," Loggains said. "And we needed that go route. I don't know if we win that game if he doesn't catch that go route for us. You miss that, just the bigger body. That's what he brings. A bigger body with speed that does a good job getting off the press. Sometimes when you don't create as much separation, your length allows you to still be open."
Ballage backers: Rookie running back **Kalen Ballage** was active the past two games after being inactive for the first three, and it looks like we should get used to it. The fourth-round pick from Arizona State has been making steady progress in practice, both on offense and special teams. "We're taking it one week at a time," Gase said. "He's doing a good job. Whatever he's asked to do, he does it full speed. That's a big man running. I've enjoyed it seeing him develop on special teams as well. He's taken a lot of pride in it. Because of the way that room is designed, where all those guys have done special teams or play special teams right now except for Frank (Gore), you better bring it in that area because all those guys are watching." Offensive coordinator Dowell Loggains also expressed his satisfaction with Ballage's progress, while Associate Head Coach/Special Teams Coordinator Darren Rizzi said he had a key block at the point of attack on **Jakeem Grant's** 71-yard punt return for a touchdown. "Ballage has done a really good job to this point of becoming a pro," Loggains said. "He's not there yet, but he's starting to learn how to practice. And it take a while as a rookie to come in and learn the system. And we're starting to feel comfortable with him, he's starting to feel comfortable with the system, and as he continue to grow, his role will grown and sometimes there's going to be plays that get called in a game that are for him and sometimes you don't get to them but you have them. But as long as we can have him active and he's doing his job on special teams and he can help the offense, we're going to try to find a way to use him."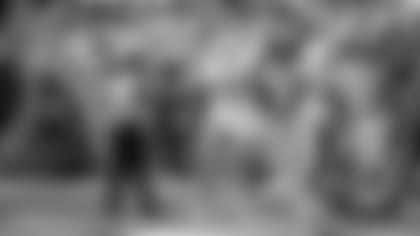 Linebackers step up: **Raekwon McMillan** and **Jerome Baker** both had perhaps their best game of the season last Sunday against Cincinnati, not far from their college home of Columbus, Ohio. When asked what difference he saw in them against the Bengals, Gase couldn't help but quip: "I don't know, I was giving them a hard time, saying, we've got to play in Ohio every week." Gase then turned serious: "I thought both of them played fast and they did a good job of executing what (defensive coordinator) Matt (Burke) was calling. And when those two guys are doing that, that changes the whole dynamic of what we're doing because now that ball is not getting past that second level if it does squirt through in the run game. And they're really good in pass coverage."
Drake's big block: Perhaps the best offensive play for the Dolphins last weekend was **Kenyan Drake's** 18-yard gain on a screen pass on third-and-16 when the Dolphins were leading 17-10. It was impressive from start to finish by Drake, who delivered a knockdown chip block before leaking out behind the line of scrimmage and working his way to the first-down marker. "It's probably one of the best plays I've ever seen," Gase said. "He chipped a guy and he's the check-down, gets his head around and then he did a great job of getting north, accelerating through, made three guys miss, gets the first down. It was a great play at a big moment of the game." That play was a great example of the kind of playmaking ability that Drake possesses.
Fans of Fangio: The Bears have a whole new look on offense under new head coach Matt Nagy, who brought with him some of the same concepts used by Andy Reid in Kansas City. But the defense still looks the same because defensive coordinator Vic Fangio is back for a fourth season. He's in his 19th year as an NFL defensive coordinator, and two of the offensive coordinators he worked with in Chicago were Adam Gase (2015) and Dolphins offensive coordinator Dowell Loggains (2016-17). He's tough," Gase said. "He's very tough to go against. He's extremely smart and he's seen a lot of football. Our guys need to worry about executing what we're doing and we can't worry about what they're doing. Vic knows what he's doing, I'll just say that." Another member of the Dolphins who has been on the same team with Fangio is running back **Frank Gore**. They were together in San Francisco from 2011-14. "He's a great coach," Gore said. "I know he's going to get those boys ready to play."