Long-snapper **John Denney** reached a milestone Thursday when he turned 40 years old.
When he lines up against the Minnesota Vikings on Sunday, Denney will become the second player to appear in a game for the Dolphins at the age of 40. The first was quarterback Earl Morrall, who retired with the Dolphins in 1976 at the age of 42.
Denney will become the 62nd player in the NFL history to play at 40 years, and the sixth active player to accomplish the feat. Denney will join Patriots quarterback Tom Brady as the only 40-something non-kickers in the NFL.
The Dolphins marked Denney's birthday by bringing a cake into the team meeting room.
"(Associate Head Coach/Special Teams Coordinator Darren Rizzi) Rizz made us sing Happy Birthday and gave him a little bit of (stuff) for that," special teams standout **Mike Hull** said. "It was pretty funny. It's amazing he's able to still be in the league and do what he does at age 40. It's really great. … It's crazy. He's older than probably a good percentage of the coaches on our staff. It's pretty amazing."
"That's one of the adjustments coming from college to here is that you're not all within the same age anymore," Sanders said. "This is life now. You got 20-, 19-, 21-year-olds coming in and playing with 30-, 35-, 40-year-olds — I mean, not many 40-year-olds but 30, 31s. It's fun, though. You got John that's got a lot of experience, especially workout regimens and whatnot. What we do on Wednesdays and Thursdays, John usually just takes us on the ropes and that's where we go."
Brandon's big day: There was a boxing championship belt at **Brandon Bolden's** locker in recognition for his outstanding work in the victory against his former team, the New England Patriots, but it had nothing to do with his two rushing touchdowns. No, this was for his work on special teams, as he earned the weekly recognition for that group. Bolden was credited with one tackle and one assist on special teams, to go along with touchdown runs of 54 and 6 yards on his only two rushing attempts. So Bolden was asked whether he thought he had a better day on offense or special teams. "I actually had a pretty solid special teams game," he said. "They credited me two tackles … there's not many days you get two touchdowns and two tackles. There were just a bunch of twos for me Sunday. It's kind of a what and what. I kind of went out there and I wanted to make an impact in either way I was out there. I feel like that goal was accomplished."
Redemption on the road: The Dolphins haven't been as successful on the road than at home this season, but Sunday would be a great time to start turning things around. "That's the NFL," quarterback **Ryan Tannehill** said. "Obviously it's something that we need to improve upon. We haven't played up to our standards on the road. We had a couple of opportunities but we haven't been able to finish it off. It's definitely something we look forward to correcting this week." Head Coach Adam Gase said the Dolphins have made different tweaks to their routine for road games in an effort to find a solution and are constantly looking for things that could help. As they did for the road games against Houston and Green Bay, the Dolphins will travel to Minnesota two days before the game.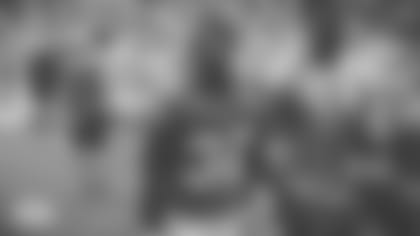 Davis debut: Rookie cornerback **Jalen Davis** not only made his NFL debut Sunday, he also got a snap on defense while also contributing on special teams. Davis suited up against New England after being promoted from the practice squad to replace Dee Delaney, who has since being re-signed to the practice squad. "It was great," Davis said. "It's something I want to do every Sunday. I love the energy, love the passion around the guys. It was great." Davis, an undrafted free agent from Utah State, had been on the practice squad since the start of the season and said he was confident it was a matter of time before he was promoted to the active roster. As for his thoughts before his first NFL regular season game: "I'm just ready for it. I'm ready for this. That's all that was going through my head. I'm ready for this. I was comfortable."
Friendly rivalry: The best player on the Minnesota defense just might be defensive end Danielle Hunter, who leads the Vikings in sacks with 12.5. One Dolphins player very familiar with him is **Davon Godchaux**, who's not only a former teammate at LSU but a good friend. "That's my partner," Godchaux said. "That's my guy. We're going to switch jerseys after the game. I talked to him. He's having a great season. I'm excited to see him." Godchaux said he didn't have to say anything to Dolphins offensive line coach Jeremiah Washburn about Hunter because he already knows how good he is. While he won't be going head-to-head against him, Godchaux does see a matchup between his group and Hunter's group. "I feel like our D-line has to outplay their D-line because their D-line is going to come out and play fast, play physical," Godchaux said. "We have to do the same thing."