The Dolphins may be out of playoff contention as they look to their season finale against the Buffalo Bills on Sunday, but it will be business as usual for Head Coach Adam Gase.
That means the Dolphins will be playing to win and going with their regular lineup, a change from last season when Gase decided to use backup quarterback **David Fales** for most of the finale.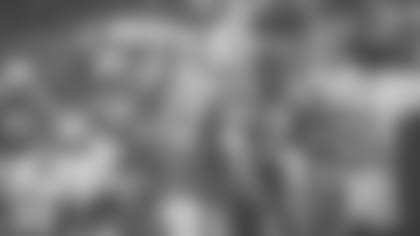 Gase didn't hesitate Monday in saying that **Ryan Tannehill** would start at quarterback against Buffalo.
"I'm not looking ahead to anything right now," Gase said. "I'm looking at Buffalo. That's the way the league is. I can't worry about next season, offseason, all that type of stuff. We need to finish this season out the right way, which is we've got to go on a road trip, go play a team that knows us well, that we know well, and it's going to be a tough game because they're going to want to play well in their last home game and we have to be prepared. We've got three days to get ready and we've got to go to work."
X factor: Cornerback **Xavien Howard** missed his third consecutive game Sunday because of the knee injury he sustained in the first game against Buffalo back on Dec. 2, but in keeping with the idea of trying to win the season finale, Gase said Howard will play next Sunday if he's ready to go. Howard practiced on a limited basis all last week, and Gase said the team felt more optimistic about his ability to play against Jacksonville during the week than on Saturday or Sunday.
Schedule update: The Bills will go into the season finale against the Dolphins coming off a loss against New England that assured Miami of a second-place finish in the AFC East. That brought a little more clarity to the Dolphins' list of opponents for 2019. Along with predetermined home games against the three division opponents plus Cincinnati, Baltimore, Philadelphia and Washington, the Dolphins also will face at Hard Rock Stadium the second-place finisher from the AFC West—either the Kansas City Chiefs or the L.A. Chargers. Along with road games against the Bills, Jets and Patriots plus Cleveland, Pittsburgh, Dallas and the Giants, the Dolphins will travel to face the second-place finisher in the AFC South.
Physical and technical: Gase said after the game Sunday that Jacksonville was more physical than the Dolphins, and he expounded on that topic in his weekly day-after press conference. "We didn't play the way that we needed to play for that game," Gase said. "We didn't play as physical. We needed to make sure that we played at the top of our game against what those guys were, that defensive line. We had to go out, we had to run the ball a certain way. We had to make sure our double teams were good. We couldn't get moved on those. We had to make sure we were the ones moving them. And we started out the game better than what we finished the game. Like, we executed our double teams. When you got two guys hitting one guy, you're going to get movement and then when we're kind of taking bad angles and we're getting split because we're not hitting at the same time, then it was bad. And it cost us because our running backs were getting hit in the backfield. A lot of times I know you want to say it's personnel and, really, a lot of it is fundamentals, techniques, things like that. That's what can help you. That's what helps you overcome when you're playing guys that might be a little more talented than you, but we didn't do that yesterday. That's why we won some games here is because we've used the things that we've talked about in practice, in meetings and sometimes we don't always do it."
Davis' development: The performance of rookie cornerback **Jalen Davis** in his third NFL game was one of the highlights for the Dolphins on Sunday, but Gase said it wasn't a major surprise to his coaches. Davis had a sack and a forced fumble against the Jaguars while playing 19 snaps on defense. "He's one of those guys you watch him in training camp practice, he is one of those guys that just gives you everything he has," Gase said. "He's not afraid of anything. He'll go out there, he'll execute the defense. He'll play aggressive. He's not the biggest guy that we've got, but he's aggressive and he can make plays, he can tackle, he can get PBUs, he can get picks, he has really good ball skills. He plays multiple positions. He was a guy that we were excited to see get an opportunity."