Linebacker **Jerome Baker** has been recognized for his pick-six against the New York Jets.
Baker was named Tuesday as one of five finalists for the Pepsi NFL Rookie of the Week.
Baker returned a Sam Darnold interception 25 yards in the fourth quarter for the only touchdown in the Dolphins' 13-6 victory against the Jets. It was the first pick-six by a Dolphins rookie linebacker since 1996 when Zach Thomas did it against the Houston Oilers.
A third-round pick from Ohio State, Baker finished the Jets game with four tackles and one assist.
The other nominees for the Week 9 award are Chicago linebacker Roquan Smith, Cleveland running back Nick Chubb, Atlanta wide receiver Calvin Ridley and Cleveland quarterback Baker Mayfield.
Fans can vote for Baker **HERE** through Friday at 3 p.m. The Pepsi NFL Rookie of the Week will be announced Friday on "NFL Total Access"on NFL Network and on NFL.com.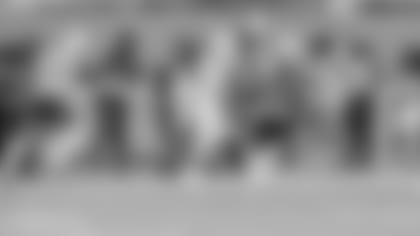 In the community: As part of its Teamwork at Work initiative, the Dolphins held its third Football Unites Cultural Tour on Tuesday. The Football Unites Cultural Tour is an opportunity for Football Unites grantees, Miami Dolphins players, alumni and staff to learn more about the cultures that make up South Florida. The visit Tuesday took guests to Little Haiti and Liberty City. The guests included members of 5000 Role Models, the Miami Gardens, North Miami and North Miami Beach Police Athletic League (PAL), Pridelines, NOBLE, as well as adult participants of Football Unites.
TV talk: As a reminder, the Dolphins game at Green Bay on Sunday was moved from 1 to 4:25 p.m. as a result of flex scheduling. It will be the first Sunday game for the Dolphins this season not kicking off at 1 p.m. Kevin Harlan, Rich Gannon and Steve Tasker will call the action for CBS.
Weather watch: The Dolphins could be seeing some snow in that game in Green Bay, based on the early forecast from AccuWeather. The forecast for Sunday, as of early Tuesday evening, called for a high of 38 degrees and a low of 27, with mostly cloudy skies and snow flurries.