Before flying to South Florida on Sunday morning, new Dolphins quarterback Josh Rosen participated in Larry Fitzgerald's charity softball game in Arizona.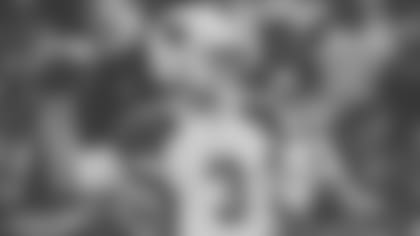 According to the Arizona Republic, Rosen stayed in Arizona one extra day to live up to his commitment to the charity softball game.
"I think that's just a testament to who he is as a man," Fitzgerald told the newspaper. "He could have very easily gone down to Miami already, or just said, 'Hey, I'm not gonna do it,' but it shows you his commitment, his character, and just friendship. I'm very fortunate to call him a friend. Looking forward to seeing him do great things in Miami."
As has become tradition around the NFL, the Dolphins had several guests make the official announcements of draft picks Saturday. TackleCancer participant and cancer survivor **Sonia Rodriguez announced the fifth-round selection of linebacker Andrew Van Ginkel** from Wisconsin from inside the bubble at the Baptist Health Training Facility at Nova Southeastern University and was followed by Women of Tomorrow graduates Kaiya and Rachel — flanked by other members of the Dolphins' FOOTBALL UNITES™ initiative — making the call for sixth-round pick Isaiah Prince from Ohio State.
While team officials were busy with the 2019 draft over the past three days, other members of the organizations and volunteers gathered for some community work. Under the Dolphins Huddle for 100 umbrella, teams of volunteers packed hygiene kits for the homeless, took part in the Special Olympics' Law Enforcement Torch Run, and helped make senior boxes for older adults struggling to put food on the table.
Former Dolphins tackle Richmond Webb flew to Nashville to announce the Dolphins' second-round pick Friday night, but that pick never happened because it was used in the trade to acquire quarterback Josh Rosen. So current running back Kenyan Drake made sure to include Webb when it came his time to announce the third-round pick, so they were together at the podium to reveal the selection of Wisconsin offensive lineman Michael Deiter.
Running back Chandler Cox became the seventh Auburn player drafted by the Dolphins when he was taken 233rd overall in the seventh round. The last time Miami had taken an Auburn player was in 2006 when they selected WR Devin Aromashodu — in the seventh round, with the 233rd overall pick. The selections of Cox and Myles Gaskin in the seventh round marked the first time since 2008 that the Dolphins took two running backs in the same draft. They chosen Jalen Parmele in Round 5 and Lex Hilliard in Round 6 in that 2008 draft. The selection of OL Michael Deiter in Round 3 and LB Andrew Van Ginkel in Round 5 marked the first time since 2013 the Dolphins took two players from one school in the same draft. The Dolphins selected LB Jelani Jenkins and RB Mike Gillislee from the University of Florida in 2013.