Wide receiver **Kenny Stills** handled a couple of different roles last Sunday and he's ready to do it again against the Buffalo Bills if called upon.
After **Danny Amendola** sustained a knee injury, Stills moved from his outside receiver position into the slot and later was asked to field a punt, something he said Wednesday he hadn't done since his days at the University of Oklahoma.
Head Coach Adam Gase said it would be "a bonus" if it turned out Amendola was able to play against the Bills, so the logical assumption is that Stills again will be in the slot and used as a punt returner.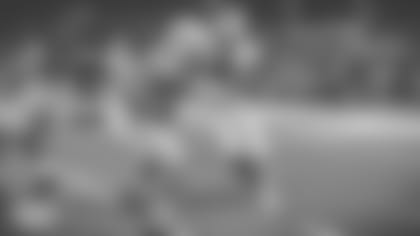 "I feel like throughout my career I have experience on the inside and the outside," Stills said. "If you look at charts of where I've caught balls, in particular last year, a lot of it was coming from the slot. I take pride in knowing all of the positions and doing whatever they ask me to do, so when a guy goes down, you've got to go out there and put yourself in position to make plays. I feel like I can get open from anywhere. It's just a matter of protecting and getting the ball out there."
Stills had nine punt returns during his time at Oklahoma, all of them coming in his freshman and sophomore years. He fair-caught the one punt he fielded against the Colts last Sunday.
But Stills said Wednesday he's been fielding punts his whole life.
"Yeah, it's funny; my dad texted me after the game and he said, 'Good job fielding punts' and just reminding me that I've been doing that since I was a little kid," said Stills, whose father played six seasons (1985-90) in the NFL. "I really remember from the time I've ever been on the field and my dad being a coach, just kind of running out there and catching punts. It didn't matter if it was when he was coaching the XFL or NFL Europe or wherever. I was always out (there), the young kid on the field catching punts. For me, it's fun to be back there. Hopefully this week I get an opportunity to kind of make something shake and actually return the ball."
O'Leary observation: Tight end **Nick O'Leary** will be facing Sunday the team with which he spent his first three NFL seasons before joining the Dolphins in September, but he told a reporter this was just another game for him. That much should have been expected from O'Leary, whose stoic nature has been well documented since he arrived in South Florida. That was reinforced when Head Coach Adam Gase was asked Wednesday whether he noticed anything different this week with O'Leary getting ready to face the team that waived him Sept. 1. "I mean," Gase said with a smile, "I haven't noticed any change in him since the day he got here." O'Leary has seven catches for 77 yards and a touchdown in seven games (four starts) with the Dolphins and Gase says he's been pleased with his work. "He keeps doing a good job in the run game," Gase said. "He's been open in the pass game; the ball just hasn't gone to him. He's done a really good job. His blocking has really been strong for us, helped us in the run game a lot. Pass protection same thing. When we throw him the ball, he's reliable."
QB conversation: Gase has stayed true to his declaration early in the season that he was planning on keeping three quarterbacks on the active roster all season, and he said Wednesday he never considered deviating from the plan this year despite all the roster changes necessitated by injuries. "I don't look at it as a luxury," Gase said. "That's what we're going to do. If we find guys we like, we're going to keep trying to develop them and spend as much time with those guys as we can. The last three years we've lost quarterbacks. We just gotta keep finding guys that we like and try to develop them. I don't know how to explain it. It just kind of worked out to where it hasn't been really a discussion or a worry." **Ryan Tannehill** and **Brock Osweiler** have seen action this season, while **David Fales** has yet to play. **Luke Falk** was a fourth quarterback on the active roster before he was placed on injured reserve with a wrist injury. Gase says he's liked what he's seen from Fales in practice. "To me, I like David's anticipation. I like the way his brain works, the way he sees things. He like what he does in practice, what we see every day. I like the way that he just keeps coming along, just keeps working."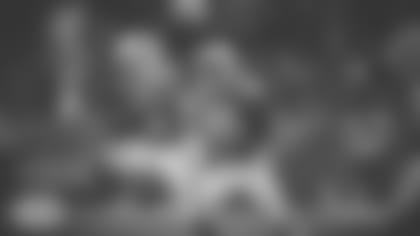 Harris hustle: Defensive end **Charles Harris** made his return to the lineup against the Colts and played 31 snaps. Gase said he was happy with the 2017 first-round pick's performance in contributing beyond stats. "I thought he did a good job," Gase said. "He played with great energy. He was playing fast. There's a lot of good things … he did a lot of the dirty work, which is something we've noticed, especially at practice. We're seeing him doing a lot of things in the run game that looks really good. He's been very reliable. Since he's been back, he seems stronger, he seems thicker. I know he spent a lot of time in the weight room when he was hurt because he couldn't do anything as far as running as much as he wanted to. He was real excited to get back and every game … he's a high-energy guy for us."
QB kudos: Cornerback **Xavien Howard** got two picks off Colts quarterback Andrew Luck, which was one more interception than Luck had thrown in his previous four games combined. So Luck made it a point to reach out to Howard after the game. "He was like, 'Man, where did you get your hands from?' " Howard said Wednesday. "We just started laughing, joking up like that, but he gave me props after the game." Luck joined Trevor Siemian, Tom Brady and Derek Carr as quarterbacks intercepted twice in the same game by Howard.