**Minkah Fitzpatrick** showed the ability as a rookie to contribute at different spots in the secondary, and he's prepared to do it again next season.
He was asked point blank after the second practice of the voluntary minicamp Wednesday his preference for what he'd like to be this year and his answer was simple: "A football player."
Fitzpatrick got snaps at safety, cornerback and as the nickel corner during what was an impressive 2018 season for the former first-round pick from the University of Alabama.
The Dolphins have made no declarations about Fitzpatrick's position for 2019, though it's expected they'll use multiple looks and alignments.
"It's still the second day," Fitzpatrick said. "This is the second day that I've been working with these coaches out in the field. They don't even know us as players yet. They only have film on us. They haven't put our hands on us at all for real. Nobody has any idea of where they're playing or what we're doing. We don't know the defense that we're running. We're just out there trying to learn the basics and the fundamentals of everything before we get our positions set in stone. And anyways, the defense that we run, everybody has to move around. I don't think anybody in the secondary is just going to be sitting at one spot."
However he ends up being used, Fitzpatrick figures he'll be more effective because of what he learned as a rookie last season.
"Last year I just learned so much that I'm just applying everything that I learned," he said. "It's just learning, growing and everything like that. I'm just applying everything that I learned last year because last year, I stepped into the game and I didn't know what to expect. I was just soaking everything in and just absorbing everything. Now this year, it's just applying it and move forward and growing every single day."
One day after **Ryan Fitzpatrick** spoke to the media, it was Minkah Fitzpatrick's turn to discuss the whole "Fitzmagic" thing.
"It was funny," Minkah said. "The whole thing was just funny and everything like that. Some people made it into a bigger deal than what it needed to be. We both made a joke about it. I call him cousin and he calls me cousin and stuff like that. It's funny. We're just both out there and going to play the best we can and that's it."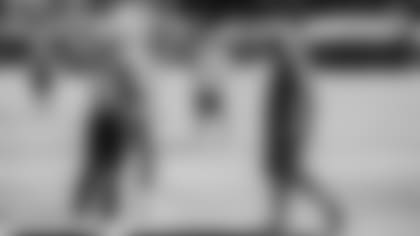 With veteran Frank Gore and Brandon Bolden leaving the Dolphins in the offseason via free agency, **Kenyan Drake** finds himself the old man at running back at the start of the offseason program — at the ripe old age of 25 years old.
Drake says his one season with the ageless Gore gave him a different perspective on things.
"I feel like having Frank come in here last year and him being 35, 36 this year, it kind of just gave me the opportunity to look at somebody that epitomizes longevity," Drake said. "To be able to stay healthy, eat right, take care of everything I need to take care of from a personal standpoint, professional standpoint, I feel like I can play in this league for a long time. I just want to take that step each and every day."
Heading into his fourth NFL season, Drake says he's confident and comfortable because of the experience he has gained.
That said, he wasn't talking about goals Wednesday beyond making the most of every day.
"Right now, I'm just trying to continue to work on April (17th)," he said. "That's the thing I'm working for.
"I take advantage of the opportunity of being in this league for four years. (I have) been able to stay healthy, take care of my body. New coaching staff coming in, so it's almost like a clean slate to get a new offense under my belt, continue to build my repertoire of knowledge for football in general. I'm definitely confident in and comfortable in the position I'm in because now I'm getting my routine down. I'm able to take that extra step and understand that people are going to make mistakes right now, but as long as you don't make the same mistake twice and continue to build upon everything that you want to work toward and get everything straight."
Though he's the veteran at running back these days, Drake doesn't necessarily equate his role as a mentor to what Gore represented last year.
"I appreciate everything that Frank did," Drake said. "I'm just trying to make sure at the end of the day I'm putting myself as Kenyan Drake, the opportunity for people to see me as not necessarily what Frank did or anybody else did just putting my stuff on … and helping this team win games."
The status of wide receiver **DeVante Parker** was a topic of conversation heading into the offseason, but it was cleared up when he signed a new two-year contract through the 2020 season.
"I was excited for them just to have confidence in me again, have trust in me and faith in me to be able to sign me back again," Parker said Wednesday.
The 2015 first-round pick has shown flashes of brilliance during his time with the Dolphins, though he has been slowed by injuries.
Parker says he's completely healthy and looking to reward the Dolphins' faith in him. From his standpoint, he explained why he wanted to return to the Dolphins.
"I just love the atmosphere, the fans and everyone out here," he said. "There's a good group of guys here. I'm just glad I was able to be here again.
"It is a fresh start. We've got new coaches. It's just another opportunity for me."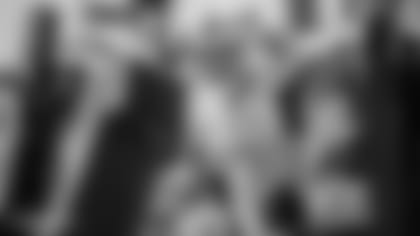 **Jesse Davis** played every offensive snap for the Dolphins last season, all of them at guard, and he's ready to build on that season in 2019.
"It's been great," Davis said. "I've been here the whole offseason working out at the facility around everybody here. I'm healthy, nothing is banged up, so we're doing good."Jesse Davis played every offensive snap for the Dolphins last season, all of them at guard, and he's ready to build on that season in 2019.
Before starting all 16 games at right guard last season, Davis started games at right and left guard and right tackle in 2017, and he's ready to line up wherever he's asked in 2019.
All he wants to do is continue to get better, which he says is the next step in his career.
"To get a starting spot right now and just improve every day, take in what they are teaching us here," Davis said. "Just every day I'm trying to improve. That's my No. 1 goal."