Instead, the big Dolphins defensive tackle will just show you. He'll show you his arms. He'll show you the tattoos.
"You see it right here, I got the fleur de lis," Taylor says while sitting at his locker after practice. "I got the Louisiana map with the date that Hurricane Katrina hit. That tells you a lot about me. I got the skyline on my arm. When you mention New Orleans, I think you're mentioning me."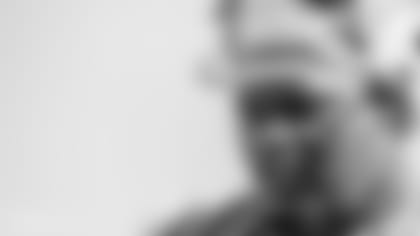 The date Hurricane Katrina hit and ravaged New Orleans and affected the lives of so many, Vincent Taylor among them, was Aug. 29, 2005. That means the Dolphins' preseason game at the Mercedes-Benz Superdome on Thursday night will come on the 14th anniversary of an event that Taylor says impacted his life to the degree that it rarely leaves his mind and has shaped the person he has become.
The Dolphins playing at New Orleans is always going to be significant for Taylor. That the game will be played on the same date as Hurricane Katrina hit his beloved hometown makes it that much more meaningful.
"Man, I'm excited," Taylor said Tuesday. "I know this microphone can't pick up how excited I am. I'm so excited to go back home. Anybody that knows me knows that I'm a New Orleans dude, and New Orleans is a place I really care for. Born and raised.
"To be going back to play a game, I ain't just going back to play a game, I'm going back on the anniversary of Hurricane Katrina. For me, that's just a sign from God. No matter what may happen, that just goes to show how God's got my life set up. I'm looking forward to it."
For Dolphins fans unfamiliar with Taylor's connection to Katrina, he was an 11-year-old boy living in New Orleans on that fateful day.
The day before the storm arrived, Taylor joined his parents in a room on the 10th floor of the DoubleTree Hotel, which allowed his mother and other employees to bring their families for safety.
While they indeed were physically unharmed by the storm, the Taylors' house was destroyed by Katrina and their neighborhood flooded after the levees broke. So they eventually drove to San Antonio, Texas, to start a new life there.
In eighth grade, Taylor got his first tattoo. It was the one that featured the date Hurricane Katrina hit New Orleans.
Taylor would go on to star at James Madison High School in San Antonio before heading to Oklahoma State University. He became a starter at OSU as a redshirt sophomore in 2015, which would become a memorable season for what happened at the end.
After finishing the regular season with a 10-2 record, the Cowboys were invited to play in the Sugar Bowl. At the Superdome. In New Orleans.
"It was emotional," Taylor said. "I remember going in there. They were just laying the paint down with the logo in the middle. No lie, I went to the middle of the field and kissed it, just knowing … for me to be from here and then go come back to play a game, that was my first time playing in the Superdome. Just playing in that Superdome and know how much the city means to me, I think words really can't explain how excited I am to go back home."
Taylor ended up playing three years at Oklahoma State after redshirting in 2013, and his parents wound up moving back to New Orleans during his final year in college.
Vincent says he goes back to New Orleans whenever he gets the chance, but no matter where he is, Hurricane Katrina is never far from his mind.
"That made me who I am today," Taylor said. "I tell my people, no matter what, if we can make it through Katrina, we can make it through anything. No matter what may happen, whether it's good or bad, if I can go through Katrina, I could go through anything. Katrina made me who I am today.
"Say, I'm having a bad day … or not even a bad day, but I'm about to face a challenge that I know is about to stand in my way, I just think about everything I've been through. Like I said, it's just here right here (pointing at his arm), so it's with me all the time."
After arriving in New Orleans with the Dolphins on Wednesday, Taylor met with a group of about 15-20 elementary and middle school students from the New Orleans NOBLE (National Organization of Black Law Enforcement Executives) organization to take pictures and distribute backpacks, though Taylor said he also was going to see to it that the kids ended up with tickets to the game Thursday night — "That's me giving back to the city," Taylor said.
It's the last preseason game for the Dolphins, but one that holds a lot of meaning for Taylor.
"The most important thing to me is really going home and see my family, go out there with my teammates, execute the game plan," Taylor said. "It's going to be exciting to go back. I can't wait. My family is going to be there. But I'm more excited for the city. Just to be back in the city on the anniversary of Hurricane Katrina, everything that took place in that building, I think it's going to be exciting for the city as a whole."