While most of the pro football world was focused on the NFL Combine last week in Indianapolis, about 30 players from the Miami Dolphins spent four days taking part in a different kind of combine.
A combine about planning for what's next, about making the right decisions and about the importance of finding the correct path once their football days are over.
In Indianapolis it was about the present, here in South Florida it was about the future.
Both carry with them enormous significance.
For the third straight year, Dolphins owner Stephen Ross hosted a Dolphins Business Combine for his players. It was held last Monday through Thursday. The first two business combines took place in New York, this one at a variety of venues across South Florida. I was fortunate to be able to attend much of the combine. What I saw through those four days was a real commitment by this organization to do right for their players with one specific goal in mind: Help them successfully make that difficult transition when they take off that uniform for the final time.
This in so many ways was an extraordinary week. So many areas of importance were emphasized. So many local businesses stepped up to offer their advice and expertise. There were some inspiring speakers, plenty of lessons to be learned, and you could see on the faces of the players how seriously they approached these sessions.
"Give the Dolphins plenty of credit for coming up with this idea," said cornerback **Xavien Howard**. "As players, we know deep down we can't play forever. This helps us prepare. This gives us great insight into some of the options we'll have down the road."
Added former first-round pick **Minkah Fitzpatrick**: "We have to learn what the business world is all about. I want to be able to take care of my family long after my career is over. I want to make good decisions because they will impact many people. I just tried to soak everything in."
I can't tell you how many times over the years I have covered players who lost everything they earned in football whether it was through bad investments, frivolous spending or uncertain career paths. There are sad stories everywhere. Many of them never surfaced. See, these players knew all about football game plans, but it was life's game plan where they fell woefully short.
Ross is determined to change that, to give his players every opportunity to prepare for a journey that doesn't include packed stadiums and blinding spotlights. More than anything else, the Dolphins Business Combine was about planting seeds and hoping that someday they sprout into something beneficial.
"Any organization works best when the people know that the head of the organization cares about them." Stephen Ross
This, when you wrap it all up, was about caring.
"Any organization works best when the people know that the head of the organization cares about them," Ross said. "I thought it was incumbent on me and a responsibility that I had to show them the opportunities they can have when they finish their careers.
"I think every team should do this and it is a very important initiative that all owners should follow."
Couldn't agree more. We often have a tendency to lose sight of the human beings inside the helmet. It's so easy to place them on some gaudy pedestal and judge them by what they accomplish on a sun-splashed Sunday afternoon and nothing else. But these football careers, for the most part, are very short and these players will have the majority of their lives in front of them. Those years after football will ultimately help define who they are.
"I want to be ready," said running back **Kenyan Drake**. "You're going to make mistakes along the way, but you want to make as few as them as you can. This type of learning experience will definitely help."
---
---
Day 1: Ross Welcomes the Players
The four-day combine began last Monday morning in a room off the lobby of the Costa Hollywood Beach Resort. The 30 or so players in attendance represented every corner of this team from wise old veterans like **Cam Wake** and **John Denney** to promising twenty-somethings like Howard and Fitzpatrick. The room was packed, most of the players were dressed in their business best and many of them were taking careful notes.
The event was coordinated by the team's Player Engagement Department, led by Kaleb Thornhill and assisted by Yves Batoba and they deserve plenty of the credit for making it work.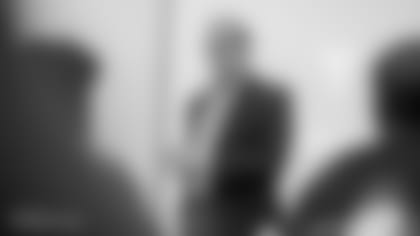 "It's all about helping these players long term," said Thornhill. "As an organization, we feel like it is part of our responsibility."
Ross spent a few minutes talking to the players. "I hope I can help you guys when you're no longer playing, how you win in life after," Ross said.
On Monday alone, the players received insight about growing a successful business from Warren Thompson of Thompson Hospitality; about the art of networking from Kurt Richardson, an NFL and NCAA consultant; about building strategies for making deals from Ken Shropshire of the Global Sports Institute at Arizona State University and about financial empowerment from Goldman Sachs. They ended the day with a tour of the American Airlines Arena from former Heat players Shane Battier and Alonzo Mourning, who also shared their thoughts about life after playing pro sports.
"For an owner to have this much pride in his team is phenomenal," said Thompson, who has built a conglomerate of successful food franchises.
---
---
Days 2-3: Exploring Deep Dives
Tuesday and Wednesday were centered on what the team calls "Deep Dives." The players were broken down into small groups and each group visited a different South Florida business or entity, learning how it operates, what the various roles and responsibilities are and the ingredients necessary to be successful.
I was with the group on Tuesday visiting the Jason Taylor Foundation in Weston where the players got to learn about starting a non-profit organization, about the importance of giving back and about the path that Taylor embarked on to help show his gratitude to the South Florida community.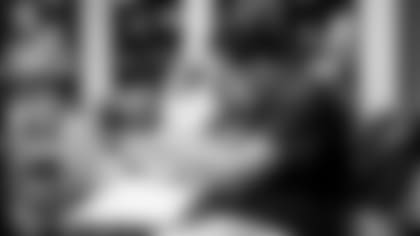 **Kenny Stills**, John Denney and Minkah Fitzpatrick listened to a presentation by the foundation's Executive Director Seth Levit and you could tell they were embracing the possibilities of starting a foundation. Stills would be a natural as the team's two-time nominee for NFL Man of the Year, Denney will be entering his 15th season and rarely misses a team charity event and Fitzpatrick, now entering his second year, clearly has some long-term aspirations in this area.
The three players, and then another group of players on Wednesday, learned all about mission statements and fundraising and even about the importance of having the right board of directors.
While this was going on, in a nearby building, several players were visiting The Ultimate Sports Institute and Fitness Center, hearing words of advice from former Dolphins' running back Terry Kirby. Whether it was there or at some of the other businesses that contributed, the players gained some valuable insight.
---
---
Day 4: Business Combine Blitz
Then there was Dolphins Business Combine Blitz, a daylong event held last Thursday on the club level at Hard Rock Stadium where players were divided into six teams and were given an envelope early on that contained a business description. The challenge then for each team was organizing into roles related to that business in categories like operations, sales, marketing and finance.
After that, it was about creating a presentation and practicing for the main event later in the day when each team got 4-6 minutes to present their business to the judges who then had three minutes to ask questions.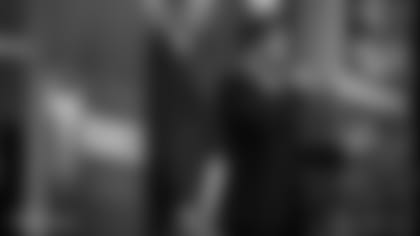 This was great stuff. There were funny moments like cornerback **Bobby McCain** pretending he was a little woozy to help pitch a new anti-hangover drink called "Hang." There was running back Kenyan Drake and offensive lineman **Issac Asiata** coming up with some wild poses for a new camera app called "Clix." There was Cam Wake pitching personalized cleats and defensive end **Charles Harris** showing us his lighter and more relaxed side in a presentation about an online training app.
And there was even some serious moments that also spoke so much about the caring nature of these players: Tight end **Durham Smythe**, along with Xavien Howard, defensive tackle **Vincent Taylor** and quarterback **Luke Falk**, introduced "Spotlight" an app for men to help deal with stress reduction and crisis management while punter **Matt Haack** led a group pitching a company called "Rexharge," an app for athletes to deal with mental health assessment and treatment.
It was clear by these presentations and by the way these players handled themselves, the way they responded to some challenging questions, that they fully embraced this process and its potential importance to their lives.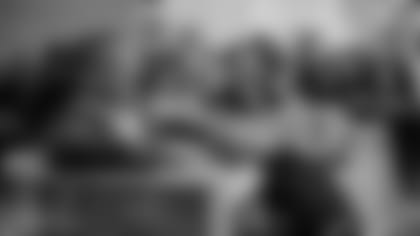 The judges? They included Dolphins Vice Chairman, President and CEO Tom Garfinkel, Matt Higgins co-founder of RSE Ventures and a Vice Chairman of the Dolphins; Jessica Goldman Srebnick, the CEO of Goldman Properties and, among many things, the vision behind Miami's Wynwood Walls and former Dolphins great and Hall of Famer Jason Taylor.
After some careful deliberation, the group that came up with "Spotlight" was the unanimous winner and even Higgins suggested that, with a little refining, he'd go to his checkbook for a company with that type of purpose and vision.
"Actually I was blown away by the quality of all of the pitches," Higgins said.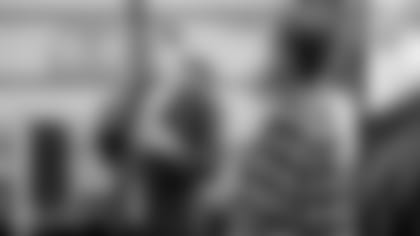 When the Dolphins Business Combine Blitz ended, the team hosted a networking event at the stadium where the players could mingle with some of the impressive people they had met during the business combine, no doubt trying to further build relationships that do not come with an expiration date.
See in so many ways these four days were just the beginning, a brief taste of life after football, an introduction into of the complexities of the real world and some of the life-altering decisions these players will have to make.
There are no guarantees. There never are. But at least now those players smart enough to attend the 2019 Dolphins Business Combine have a pretty good head start.