One of the most encouraging signs of this team through six games is the abundance of young players whose career paths are clearly on the upswing. This is so important as the search for long-term pieces continues.
We saw undeniable evidence of this in last Sunday's game at Buffalo and while the bottom line will always remain wins and losses, the growth of these players will ultimately have so much to do with how this season is framed. We're not talking about players who in previous years have shown us their upside; we're talking about players who are doing it this season.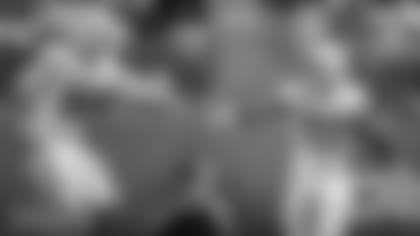 Let's take a closer look, in no specific order, at where the arrow is pointing up:
Tight end Mike Gesicki: Over the past two games, Gesicki has taken a quantum leap in his career, literally with an acrobatic 30-yard catch against the Chargers and then with another strong performance – four catches for 41 yards -- against the Bills. He also had a 20-yard catch negated by penalty. It isn't that Gesicki is getting open as much as he is making tough catches in crowded spaces. Bottom Line: This is what he was drafted for and this is what we are now getting.
Running back Mark Walton: One of the pleasant surprises of this team. Walton was signed in minicamp and has worked his way up the depth chart. He has started the last two games and has played well, even showing an ability to make tough yards up the middle. He is the only running back currently averaging more than four yards a carry (4.6). Bottom Line: He has earned this role and it sure looks like he's going to be there for a while.
Linebacker Vince Biegel: Who knew the Dolphins would be getting a player of this caliber in the trade that sent Kiko Alonso to the Saints? Biegel, in just his third season, has been productive both on special teams and on defense in passing situations. Against the Bills, he was in on 34 of 56 defensive snaps, so it's clear where his arrow is pointing. Bottom Line: This is an extremely talented, high- energy player who has a chance to be a long-term solution in a variety of roles.
Wide receiver Preston Williams: Is it possible the Dolphins have found a future No. 1 receiver in this undrafted rookie out of Colorado State? Williams leads the team with 23 receptions, averaging 13.7 yards a catch, and between his speed and size (6-5, 218) he is difficult to defend. His 34-yard catch against the Bills was, so far, his signature moment. Bottom Line: If he continues to improve the way he has over the first half dozen games, Williams has a chance to be special.
Defensive end Taco Charlton: This is a case of the Dolphins seizing every opportunity to bring in young talent with significant upsides. Charlton was a No. 1 pick of the Cowboys three years ago and, for whatever reason, it just didn't work out. A change of scenery seems to have done wonders as Charlton is now an every down player and leading the team with three sacks. Bottom Line: Charlton has impressive pass rushing skills and could potentially fill a long-term need for this defense.
Wide receiver DeVante Parker: The Dolphins decided to bring Parker back this season and the decision now sure looks like a wise one. For the first time in his career, Parker has remained healthy for a prolonged period and the result has been touchdowns in three straight games. Bottom Line: There's a reason he was a No. 1 pick and, although there have been some well-documented struggles throughout his career, all indications are that's now in the past. The challenge for Parker is sustaining.
Guard/center Evan Boehm: Acquired by the Dolphins in late August in a trade with Indianapolis, this is a fourth-year player who is versatile, highly intelligent and potentially here for a long time. He got his first start at center against the Bills and didn't miss a beat filling for veteran Daniel Kilgore. Bottom Line: Boehm checks so many of the boxes this team is looking for and can very well be an important part of the fabric of this team moving forward.
Linebacker Raekwon McMillan: Injured early in the summer, McMillan has returned to full health and is back in the starting lineup. He still has a ways to go, evidenced by a missed tackle early on against the Bills. But then there are plays like him stuffing Adrian Peterson for no gain on the first defensive snap against the Redskins and you see the player he could become. "I'm ready to take my career to another level," he recently told me. Bottom Line: He has been playing well, especially against the run, and must now show he can be equally effective in pass coverage.
I'm hopeful this list will continue to grow as the season progresses. Some are already on the cusp of making it. Others are waiting for their moment, perhaps this Monday night in Pittsburgh. Bottom Line: If what we've seen through the first six games can continue over the final 10, the Dolphins will have some important pieces in place moving forward and that, in so many ways, is what this season is about.