The Dolphins offense produced its best performance of the season by pretty much every measure against the Buffalo Bills on Sunday, and a good part of the credit has to go to the offensive line.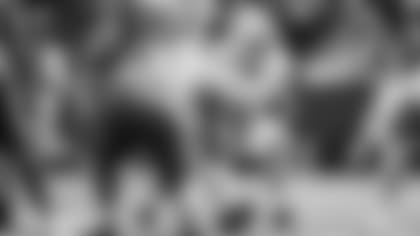 And what made the O-line's effort even more impressive is that the Dolphins opened with their fifth different combination in six games.
The Dolphins set season highs offensively in points (21) third-down conversions (7), third-down conversion percentage (53.9), total yards (381), first downs (24), rushing yards (109), net passing yards (272), and time of possession (33:31).
"Overall, as an offensive line, I think we played pretty well," Boehm said. "Like always, there's a couple of plays that we always want to have back and see what went wrong here and what we need to do better in certain situations. You go to the sack category, we didn't let up any sacks (of Fitzpatrick). That's a big plus. Fitz helped us out with scrambling and doing what Fitz does, but I think overall our pass pro wasn't too bad. But like always, there's always corrections that need to be made."
It should be noted that the Dolphins' production Sunday came against what has been one of the best defenses in the NFL this season.
The way Boehm sees it, the progress of the offensive line is only normal considering all the moving parts.
Rookie left guard Michael Deiter is the only offensive lineman to have started every game at the same spot for the Dolphins, though he finished the Dallas game in Week 3 at left tackle after Jesse Davis left with an elbow injury.
"I think we're all starting to get a lot more comfortable with each other," Boehm said. "It's another brand new offensive line that went out there and played in the sixth game of the season. We had a pretty good week of practice with the chemistry of the offensive line. Jesse and Shaq, they've probably played together in preseason or OTAs or something like that. Deiter and J-Webb (J'Marcus Webb), I think they did pretty well on the left side and sticking me in the middle.
"I'm just trying to help this team win and do the things necessary to help this team win. We're getting closer and closer and closer, but we're doing something that's not good enough still and we've got to figure that out and figure out how in the offensive line room set this team and push that boulder over the hill and get that first W."
One thing for sure, the offensive line continued to take steps in the right direction against Buffalo.