Ryan Fitzpatrick has never been shy about saying he enjoys going after an oncoming defender once in a while because it makes him feels like he's really playing football.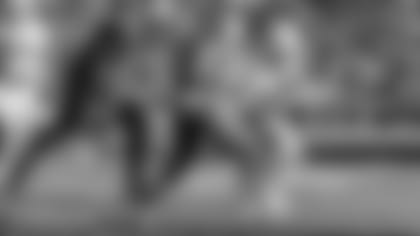 The Dolphins quarterback was at it again at the end of his 11-yard scramble against the Buffalo Bills on Sunday, taking on safety Micah Hyde as he was reaching the goal line.
While it might not be the most prudent thing to do for an NFL quarterback, his coaches and teammates love that competitiveness.
Head Coach Brian Flores said it in his day-after-the-game press conference Monday and offensive coordinator Chad O'Shea echoed those sentiments in his weekly media session Tuesday.
"It brings energy to the team, it really does," O'Shea said. "I think it's contagious when Fitz does that. Obviously the health of our team is the most important and for him to be in harm's way sometimes you look out there and you don't want to be in that position, but it's certainly something that shows his toughness, shows his competitive style of play and I think it really helps our team when Fitz does what he does."
The touchdown, which brought Miami to within 24-21 right after the two-minute warning, was unique in a different way in that it was the longest TD run by a Dolphins quarterback since 2001 when Jay Fiedler had an 18-yard run — also against Buffalo but that time in Miami.
Fitzpatrick's touchdown was part of a solid performance for the veteran quarterback, who passed for a season-high 282 yards, including a 35-yard completion to Preston Williams and a 12-yard touchdown to DeVante Parker.
Fitzpatrick also wasn't sacked. O'Shea said the offensive line certainly deserved some of the credit for that statistic, but Fitzpatrick helped out as well.
"It's a combination of a lot of things," O'Shea said. "Certainly we were fortunate in this last game that we had really good protection from the offensive line, but I also think that Fitz does a really nice job of playing on time in the pass game and has great awareness and understanding of when he needs to get the ball out. I think that his knowledge and understanding of the defense scheme that he's facing is very helpful in anticipation of getting the ball out when he needs to. … Fitz has kind of an inner clock and just a good feel for when to do the ball out and when to scramble."
Fitzpatrick finished the game with six rushing attempts for 13 yards, but his total was misleading because he was charged with a 10-yard loss on the play when Jordan Phillips tackled him before he had a chance to complete a handoff.
Along with the touchdown scramble, Fitzpatrick had a nice 12-yard scramble to convert a third-and-6 situation in the second half.
With some nice throws mixed in, yes, the Dolphins got a little dose of Fitzmagic last Sunday.
"I think that's also something that's really contagious through the team," O'Shea said. "His ability to kind of play off schedule some and make some plays on his own is something he's always had the ability to do. I know it's something the team gets riled up and rallies around him when he does that, and that's one of the traits you really like about Fitz."