Eric Rowe made his sixth start of the season against the Buffalo Bills on Sunday, but this time he was back at a position he hadn't played since college.
With Reshad Jones missing the game because of a chest injury, Rowe moved from cornerback to safety, a position he hadn't played since his days at the University of Utah.
"It wasn't like a unique challenge because I played safety in college," Rowe said Monday. "I got recruited for safety in college. So it was like going back to my old ways. The only difference was just a little more communication on the defense. But I felt really good out there."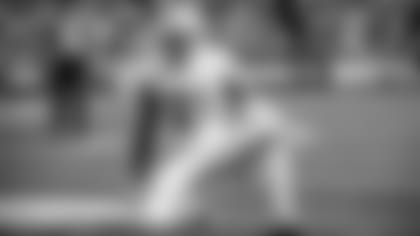 For the third consecutive game, Rowe played every snap on defense for the Dolphins.
Through six games, Rowe leads with 390 defensive snaps, which is 96.8 percent of the team's snaps.
In the first five games, though, Rowe lined up at cornerback.
He admitted he had to remind himself to think like a safety at times against the Bills.
"Yeah, like covering tight ends is a lot different than covering receivers," Rowe said. "I think earlier in practice I was covering the tight ends like receivers and that wasn't working, then I remembered how I used to do it, then got to it.
"Really, you've got to hit 'em, don't let them run free. And then just gotta remember to keep my pad level low because generally they're slower so I would tend to like rise up and that's when they push off, so I just had to stay lower so when they do push off, I have some force with me."
Rowe ended up leading the Dolphins with five initial tackles, his best play coming when he pushed Buffalo tight end Dawson Knox out of the bounds to limit him to a 2-yard gain after he caught a shovel pass from quarterback Josh Allen.
Rowe said he felt more and more comfortable at safety as the game progressed, and gladly will line up there again if he's asked.
The bottom line is trying to help the team win. Rowe said the Dolphins had a solid defensive performance against Buffalo, though there certainly were mistakes to correct.
"I feel like we left it all out there," Rowe said. "Besides general mistakes, missed tackles, some penalties that kind of hurt us, I think we played well except we've just got to get some turnovers to help the offense out.
"We had the lead. It's like we're inching toward the win; we've just got to get over that hump."