The former Carol City High and University of Miami wide receiver has found himself playing an increasingly more prominent role in his first season with the Dolphins, and the rewards have come in different forms.
Hurns has started three of the past four games, and he's coming off his two most productive outings with four catches against the Buffalo Bills and four more against the Cleveland Browns.
Hurns has stepped up after the injury to rookie Preston Williams, while at the same time getting more and more comfortable with the offensive scheme, which he had to learn on the fly after signing with the Dolphins on the second day of training camp.
"I feel like I am (making progress), especially as far as me these last few weeks," Hurns said during an interview with The Audible. "You could see I've been doing a lot better. It's just getting familiar with the offense. As far as me, I was kind of put in a tough position. I came in like the second day of training camp, so I had to learn the offense like on the run.
"But now I'm starting to get it down pat and getting a feel for it, and also a feel for Fitz (Ryan Fitzpatrick). With Preston going down, a lot of us had to step up and take more reps. With that comes a lot of responsibility. The main thing from a receiving standpoint, you've got to know what you have so your quarterback has trust in you and when it comes down to it, make your plays."
One of the plays Hurns made against Cleveland last Sunday was to complete the catch when he was wide open in the end zone in the final minute to give Fitzpatrick his 200th NFL touchdown pass.
It was Hurns' second touchdown of the season, the first coming in the Monday night game at Pittsburgh on Oct. 28.
Clearly, this last one had more significance, particularly given how much Hurns has enjoyed playing with Fitzpatrick this season.
"That was one of the things at the moment I had no idea, but once we got to the sideline he told me that was his 200th touchdown pass," Hurns said. "That's another fun thing about playing with Fitz. A play is never over. They say Fitzmagic, but he's a guy that's trying to create more opportunities, whether it's a play broken down, he's looking upfield or sometimes he's scrambling. He's played ball for a long time and also throwing a lot of touchdowns, we all know the type of player he is. That helps us out a lot, especially when sometimes things don't go as planned.
"When you've got a guy like that, you fight for him. That's a guy who we've seen taking a lot of hits, whatever it is, he got interceptions from as far as tipped passes or me fumbling the ball, whatever it is, this is a guy who never complains. He comes in each and every week and we do what we have to do. On top of that, how he runs the huddle and things like that, he brings that kind of poise to everyone. He makes jokes and things like that. He's the same guy each and every day, whether he has success or failure. That speaks volumes, especially for us being a young unit."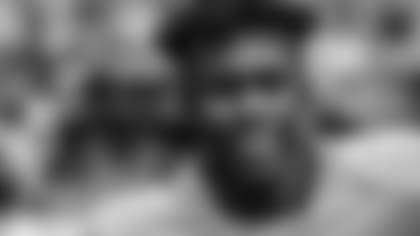 Hurns, who turned 28 on Nov. 12, has made enough of an impression on the Dolphins this season that they signed him to a contract extension through the 2021 season.
The extension, which came Nov. 16, served as a nice and unexpected late birthday present.
"For them to come out, especially like I didn't have much stats, or them to do it in the middle of the season, it just came out of nowhere," Hurns said. "But it showed the trust that they have in me, what they think of me. As far as for me, I've just got to return the favor, go out there each and every day and just continue to do what I do."