The 23rd edition of Fins Weekend brought more golfing, get-togethers, fishing and fun, with the focus once again on helping out the South Florida community.
The largest gathering of Dolphins players, coaches, alumni and cheerleaders, a group headed by General Manager Chris Grier and Head Coach Brian Flores, converged on Miami Beach on Saturday for Fins Weekend to benefit the Miami Dolphins Foundation's impact in education with an emphasis on scholarship and mentoring.
After taking part in the fishing tournament — and later proudly showing off his catch — Flores spoke to the fans attending the Saturday Night Party at Miami Marine Stadium.
"Education is near and dear to my heart," Flores said. "It really is. And the importance of education is what we're here for tonight. My parents, they're immigrants from Honduras. They came to this country looking for a better opportunity for me and my four brothers. Education was the foundation of everything that my mom and my father stood for. The fact that we're here tonight with raising money to help mentor, to help educate, to help lead young people in this world I think is incredible."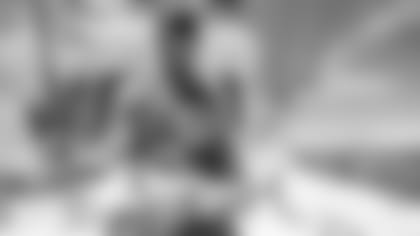 Flores then kicked off the auction at the party by putting up four big four pregame passes to a 2019 Dolphins home game and the opportunity to serve as Fins Weekend honorary captain.
Nat Moore, Senior Vice President for Special Projects and Alumni Relations and Advisor to the CEO, is an avid golfer who enjoys the competition the sport provides. But the former Dolphins wide receiver was out on the course Saturday to help the organization give back.
"Education, giving kids a chance to better themselves, a chance to get jobs, and the mentoring that we do, that's what this week is all about," he said. "It's about education, it's about mentoring, about raising money to help kids help themselves."
The festivities began early Saturday morning with the Fins Weekend Fishing Tournament at Miami Beach Marina. Boats took to the seas angling to capture the largest kingfish, dolphin, wahoo and tuna. The Weigh-In presented by Hooters South Florida followed.
"It's cool to get out on the water, get into the sun and just kind of meet people and do a little fishing," Deiter said. "I like to do both, but I would say I like to fish a little bit more than I like to golf. And I've never fished on the ocean, so I wanted to get that checked off."
The offensive lineman from the University of Wisconsin has gotten a taste since joining the Dolphins of the organization's commitment to community involvement, with Fins Weekend just the latest example.
"It's huge," he said. "The impression is that we're going to be a huge part of the community, do everything I can to help. The coolest thing is they just spend time with people in the community. We're doing a lot of great stuff and all that, but the coolest thing you can do is just be around people, talk to them and find out what the community is all about and just kind of build relationships outside of the locker room. That's pretty cool and it's cool that they make that a priority."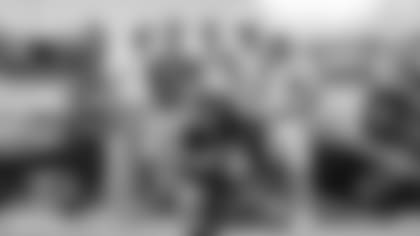 About an hour after lines were in the water for the fishing tournament, a shotgun was fired, prompting the start of the Fins Weekend Golf Tournament presented by South Florida Ford. Threesomes golfed at Miami Beach Golf Club with a Dolphins current or former player or coach. Team SunTrust Bank and team members John Griffin, Bill Stagner and Dolphins quarterback **Jake Rudock** took home the first-place prize — a flight on the team charter for a 2019 Dolphins away game.
"I'm always happy to be a part of what we're doing here," Stills said. "Support the Miami Dolphins Foundation and be a part of things we do."
After the golf tournament, participants reveled in the Fins Weekend Saturday Night Party at Miami Marine Stadium. Guests gathered to enjoy a live band, local fare, games, live auction and a fireworks show.
The winners of the Fins Weekend Fishing Tournament also were announced, with Team Naked Taco and members John Bell, Josh Coe, Ralph Pagano and Scott Shane reigning as the first-place finishers. They will join Team SunTrust Golf Tournament winners on the Dolphins charter to an away game.
As it turned, though, everybody was a winner on this day, most notably those who will benefit from the proceeds. 
"Fins Weekend is about our South Florida community coming together to raise money for education causes while having a great time doing it," Chairman Jeff Peck said. "The commitment has made this decades-long tradition strongly supported not only through the full organization of the Miami Dolphins, but embraced by the South Florida community to really make a significant and long-term impact on our youth."
"At the Miami Dolphins Foundation, our mission is to level the playing field through the power of teamwork to inspire a healthier, more educated and united South Florida community," said Miami Dolphins Foundation Executive Director Jennifer Jehn said. "As the hometown team, we take our community responsibility seriously and use all the resources we can to make an impact. Fins Weekend is #TeamworkAtWork, it's our players, alumni, coaches, staff, cheer and the community coming together to create a brighter future for our youth."