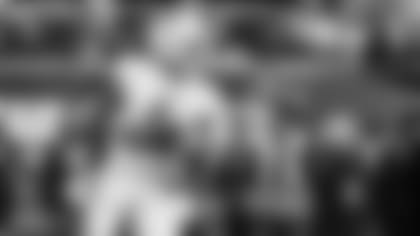 The former Dolphins seventh-round pick who has bounced on and off the active roster for the past two years was called on to contribute after wide receivers DeVante Parker and Albert Wilson both left the Jets game with a concussion and delivered a breakout performance.
After catching two passes in his first five NFL games, Ford got his most extended playing time against the Jets and came up with six receptions for 92 yards.
Ford said his mind-set was simple when his role suddenly expanded.
"Just to stay ready," he said. "That has been my mind-set this entire year, to be ready when my number is called."
Ford played 55 offensive snaps against the Jets, which was almost as many as he had played (60) previously in the NFL.
But while his previous action was limited, his learning and attention to detail was far from it, as quarterback Ryan Fitzpatrick explained after the game.
"Isaiah has been on the active (roster) and off, on the practice squad and up and down," Fitzpatrick said. "He's worked so hard. He's a guy we have so much faith in as quarterbacks because whenever anybody has a question, sometimes when coaches have questions, we'll go back to Isaiah and say, 'What is this signal? What is this route?' and he knows everything. I was happy to see him get out there and get an opportunity to catch some balls and really take advantage of it and make the most out of it today.
"There are times when I ask Isaiah questions about the offense, that's how smart the kid is."
Remember, this is coming from somebody who — as everybody should know by now — went to Harvard.
Ford attended Virginia Tech and was selected in the 2017 NFL draft. But his rookie season ended with a preseason knee injury and since then he has been signed to the practice squad three times before being promoted to the active roster each time.
He began this season on the practice squad despite a strong showing in training camp, was promoted to the active roster Sept. 25, waived Oct. 30, re-signed to the practice squad two days later and promoted again to the active roster Nov. 27.
"You kind of sign up for this," Ford said after his latest promotion to the active roster. "When you get in this profession, the biggest thing is to take everything one day at a time, one meeting at a time, one play at a time we're out there, and to prepare like you're the starter, because at some point you're expecting that to happen where you're going to have to step into a role and play and you want to be prepared when it happens.
"I think I have a pretty good feel for what I'm responsible for, what I'm supposed to do and how I'm supposed to do it, things like that. And then just me mentally, I'm a lot more mature in terms of the obstacles and the adversity that I've had to overcome."
Above all else, Ford has always known to stay ready.
That's why his 92-yard performance, which ranked fourth for the Dolphins this season behind 159- and 135-yard games by DeVante Parker and a 95-yard game by Mike Gesicki, came as little surprise to him.
"I've had confidence in myself the entire time that I can play at this level," he said. "I know I can go on the field and help our team win."