**Josh Rosen** made clear in his first press conference as a member of the Miami Dolphins that he still considers himself a franchise quarterback. He's ready to start showing his new team that's just what they got when they traded for him.
"It's just kind of another opportunity," Rosen said Monday when he met the media after flying in from Arizona. "Very rarely do you get a second chance to make a first impression, so (I'm) trying to get off to the right foot with all these guys here, meet my teammates, trying to break down this playbook as quickly as you can and just get off on the right foot."
The acquisition of Rosen for a 2019 second-round pick and a fifth-round selection in 2020 came 5½ weeks after the Dolphins signed veteran **Ryan Fitzpatrick** as an unrestricted free agent.
Rosen confirmed what Head Coach Brian Flores said after the draft Saturday, that Rosen would not be handed the starting job just because of his draft status.
"Coach Flores said we don't really have any starter right now," Rosen said. "And I think that's healthy, have good competition everywhere. Whether I was the first or seventh-string I wouldn't change what I did every day.
"They just wanted me to come in and compete. I'm excited and ready for it. At the end of the day I just want to come in and play football and compete and have fun. The timing on when I play or not or if, that's not up to me. It's kind of similar to the situation the last couple of days. I just control what I can control and take each day by day."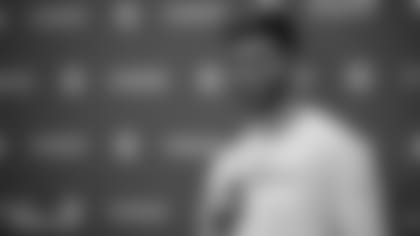 The trade with the Dolphins came after the Cardinals made Heisman Trophy winner Kyler Murray the first overall pick Thursday night, making Arizona the second team after the 1982-83 Baltimore Colts to draft quarterbacks in the first round in consecutive years.
After Murray was drafted and it became apparent that Rosen would be drafted, he said it was like going through his draft experience all over again, complete with speaking on the phone with Dolphins General Manager Chris Grier, Flores and Offensive Coordinator Chad O'Shea.
Rosen stayed in Arizona through the weekend to live up to his commitment to Larry Fitzgerald's charity softball game, and it was clear by the tone in Rosen's voice as he spoke about his former Cardinals teammate just what "Uncle Larry" means to him.
Rosen arrived in South Florida early Sunday night.
"Probably the last two or three days were pretty hectic," he said. "Moving, coming over here. At least for the first three months of this year (things) were pretty normal. Had a fun offseason, went back to school, went back to Arizona, working out, just trying to be the best player you can be. Business stuff happens, so ended up in Miami, couldn't be more excited to be here and hopefully hit the ground running."
Rosen played 14 games with 13 starts as a rookie for Arizona last year and said he learned a lot, both off the field and in terms of X's and O's.
He says he's ready to prove himself.
"You have to have the mentality that you're trying out every single day," he said. "I think you hear quotes from the GOATs like Tom (Brady) and Peyton (Manning) and they're saying that every year someone is trying to come in and even if they're not they try to act like they are. Every single day, they try to earn the respect of their teammates every single day, which they already have. Every single day they try to earn the praise of their coaches, which they already have. Whether that's true or not I'm going to have that kind of mindset. Like it's my job every day, every hour, and every minute, to prove that I'm the guy."