**Raekwon McMillan** joined his teammates for the start of the offseason program Monday in a much different place than he was at this time last year.
And he can't wait to see what that leads to heading into the 2019 season.
McMillan was still working his way back from his 2017 season-ending ACL injury when the Dolphins convened for their offseason program last year. But now with the injury in the past, he was able to work out the way he wanted prior to rejoining his teammates—and he has a full year of NFL game experience behind him.
"Last year coming off the injury it was really tough," McMillan said **during an appearance on The Audible**. "I was trying to get a feel for the game and come off the injury at the same time, but this offseason I did a great job of doing more rehab and coming in and making sure that every muscle in my right leg was just as strong as the left leg. I'm more versatile as a player and I'm not just a first- and second-down linebacker. I can actually go out there on third downs and make plays as well."
After McMillan spent his rookie season on injured reserve, the Dolphins' second-round pick in the 2017 NFL Draft finished second on the team in tackles last year with 105, behind only veteran linebacker **Kiko Alonso**.
What was clear to everyone, his former coaches and himself included, is that McMillan got significantly better as the season progressed.
In the Dolphins' first eight games, McMillan had seven or more tackles twice (Weeks 7 and 8); he reached that number six times in the final eight games, with a high of 10 in the Week 16 game against the Jacksonville Jaguars. In addition, four of McMillan's five tackles for loss came in the second half of the season.
Table inside Article

| Raekwon McMillan | Games with 7+ tackles | Total Tackles | TFL | Forced Fumbles |
| --- | --- | --- | --- | --- |
| Weeks 1-8 | 2 | 47 | 1 | 1 |
| Weeks 9-17 | 6 | 58 | 4 | 1 |
"It was two totally different players, just very hesitant, very slow, not really triggering my first game," McMillan said. "But the game against Jacksonville, I feel like I played how I should have been playing the whole season.
"The knowledge I gained throughout the season last year, I started off kind of slow, but as the season progressed, I kind of got a feel for how the game speed was going and how intelligent the players were, where you were going to try to attack us as a defense and as a team and what we can do throughout the week to enhance our knowledge and keep it from happening."
McMillan and his teammates have been getting their first work experiences this week with new Head Coach Brian Flores and his staff, including new defensive coordinator Patrick Graham and new linebackers coach Rob Leonard.
"Coach Flo, he came in and gave us this speech, he came in and just implemented the things that he would tolerate and things that he wouldn't tolerate as a head coach," McMillan said. "He wasn't real pushy, real shovy with it, just told me his expectations for this team and his staff and how he's going to coach things and how everything is going to go.
"Coach Graham is a very energetic guy. He came in and basically did the same thing Coach Flo did and gave us his expectations as a defense. You can tell he's real loose as a coach. He wants his players to go out there and play fast and play energetic and be confident in what you're doing and then Coach Leonard, a very smart, smart coach. I've only had two days with him, but getting to know him, he seems like a real good guy."
While his coaches are new, McMillan is gearing up for another season with 2018 fellow starting linebackers Kiko Alonso and **Jerome Baker**, who also was his teammate at Ohio State University.
The three of them will face the challenge of learning and mastering a new defense in 2019, but McMillan says playing alongside familiar faces will make the task easier.
"We've got experience with each other out there on the field," McMillan said. "And any guy that has experience with somebody, even though you're changing the defense, changing concepts, you can pick up on it faster and you can play faster as players.
"It was great seeing both of us (Baker and McMillan) progress as players. It was a big learning curve for both of us, but I feel like toward the end of the season we got things rolling for both of us and hopefully we can progress off that this season."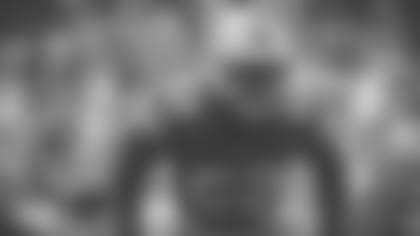 When he wasn't working out, McMillan spent time since the end of last season traveling to visit family and friends in places like New York, California, Ohio and his native Georgia.
He's planning for a much longer trip during the players' time off between the end of the offseason program and the start of training camp in late July, with target destinations including Africa and Bali.
This is a good time in McMillan's life. He's happy, healthy, excited about this next season, and doing what he loves.
"This is all I ever wanted to be," McMillan said. "I can't be more blessed or more happy to be in the position I am. I wouldn't trade it for anything in the world."