The Dolphins got some good news on the injury front Wednesday when cornerback **Bobby McCain** was removed from the concussion protocol.
McCain wasn't even listed on the first injury report of the week, which means he will not have to miss a game after being injured in the second half of the game against the Green Bay Packers two Sundays ago.
"It's football, so things happen," McCain said. " (I'm) good to go and I'll be ready this week. The bye week was big for us. (It gives you) a little extra time to get your body right. Like I said, I don't want to miss time. I don't want to miss a game. I'm happy to be back."
McCain will try to help the Dolphins slow down a Colts offense that has been a big reason behind Indianapolis' four-game winning streak.
"They're a good team," McCain said. "I know (Andrew Luck) hasn't been sacked in a little while, so you try and get some smoke in his face. He's a good player. He's a good quarterback. He was out for a little while with his injury but now you can see he's back on track with what he's doing. It's a good challenge, a good opportunity for us to go up there and play well and get a W."
Giving thanks: Head Coach Adam Gase decided to break from tradition this year and juggled his practice schedule so his players could enjoy a full day off on Thanksgiving. Players came to the practice facility on Thanksgiving morning last year, but Gase just swapped the day off this week from Tuesday to Thursday. His players were grateful. "First time ever and it's the best thing ever," defensive end **Andre Branch** said. "I finally get to be home with my family on Thanksgiving, the full Thanksgiving. I haven't had that in a long time. So for me it's a blessing." McCain shared Branch's enthusiasm. "That's big," he said. "We appreciate it. They know how important it is and we know how important it is for this team, just being with their families. We have a lot of guys that are married, have kids. Not me personally, but a lot of guys that are married and have kids want to be with their family on Thanksgiving. That's a good deal for us."
Food for thought: Since food is on every player's agenda for Thanksgiving, Branch was asked which of his teammates could eat the most at a single sitting and he called it a tie between newly acquired defensive tackle Sylvester Williams and guard Isaac Asiata. Branch was asked whether he would rank in the top 10: "On this team? I'm not top 10. And I can eat. But we've got some hound dogs, man." Wide receiver Kenny Stills couldn't pick a clear favorite other than to say it probably would be a defensive lineman, though he surprised every reporter around him when he added: "I could hold my own with them. I wouldn't be feeling good, but I could hold my own with them."
Jakeem's dream: **Jakeem Grant's** season is over after the Achilles injury he sustained in the game against Green Bay, but the wide receiver already is looking ahead to 2019. That much was obvious in a Twitter post on Grant's feed Wednesday: "All I want is greatness. That's all I've ever wanted. That's why the Comeback Season is going to be my greatest achievement to date. Let's go get it." The message ends with a prayer emoji and is accompanied by a video of Grant's 2018 highlights.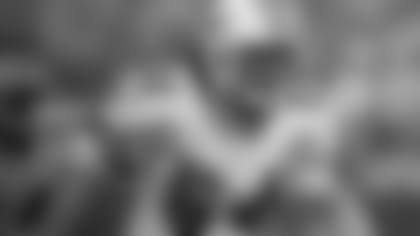 Call to the Hall: In case you missed it, former Dolphins linebacker Zach Thomas and former Dolphins Head Coach Jimmy Johnson were announced Tuesday night among the **semifinalists for the 2019 Pro Football Hall of Fame class**. It's the first time Thomas, whose career ended in 2008, is a semifinalist. Among Thomas' career highlights, he was a seven-time Pro Bowl selection and a five-team first-team All-Pro. Thomas is hoping to join Don Shula, Nick Buoniconti, Larry Csonka, Bob Griese, Jim Langer, Larry Little, Dan Marino, Dwight Stephenson, Jason Taylor and Paul Warfield as Dolphins Hall of Famers, along with five other Hall of Famers who spent some time in Miami — Bobby Beathard, Cris Carter, Bill Parcells, Junior Seau and Thurman Thomas. There probably wouldn't be much argument that Thomas, selected in the 1996 NFL Draft, was the Dolphins' best fifth-round pick in franchise history.
Kicking kudos: For any kicker around the NFL, Colts veteran Adam Vinatieri serves as a great inspiration as he continues to produce at the age of 45. That certainly goes for **Jason Sanders**, who was 10 months old when Vinatieri kicked in his first NFL regular season game in 1996. "My mind-set is just one kick, one Sunday at a time," Sanders said. "I can't be kicking next Sunday if I'm not kicking today. From there, it's just one year at a time. I'm sure Adam Vinatieri when he first started kicking, he wasn't thinking about playing for 20-something years. He was just thinking about that week and that goal he had. He's been doing it for such a long time. The outside fans and people don't really know how much stress it is each year. To do it for 20-something years is something special."