The Dolphins took to the practice field for the first time in 2019 on Tuesday.
It was the first day of their three-day voluntary veteran minicamp, which is available only to NFL teams with new head coaches.
"I'm glad to be back out here," linebacker **Raekwon McMillan** said. "I feel like we just left off the field in January, but that's the beauty of NFL football. We're right back to it and right back working with a new coach, a new staff and a whole new thing going on out here. We're just glad to be out here.
The Dolphins began the offseason program April 1, but the two-week Phase One featured rehabilitation and strength and conditioning, but no on-field work.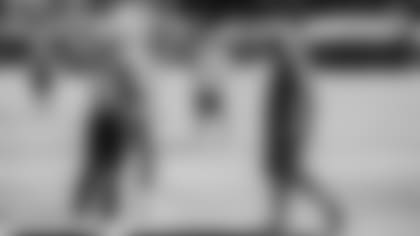 Head Coach Brian Flores explained his message to the team heading into the minicamp.
"Let's focus on improving," he said. "Let's focus on technique. Let's focus on our fundamentals. And let's establish a practice tempo that will be … again, practice execution becomes game reality. I really firmly believe that. That's something I've learned over the years. So, let's establish a practice routine, establish practice habits and focus on improvement. That's probably four or five bullet points, but that was the crux of our conversation this morning.
"I think every day counts. I think every day is a day to improve and a day to get better. I think any situation or any time we can improve is the difference between getting fourth-and-1 and not getting fourth-and-1. I think this counts. I'm excited about it and hopefully we can win today."
"Definitely we've got to learn to walk before we can start running," he said. "It's nice to get this extra work out here and start installing the very basics of our offense and our defense and our special teams stuff. We've got a long way to go obviously, but in terms of the attention to detail right now and the effort, all of that is good. But it's always good on day one. We've just got to continue to stay with it and continue to get better with it each day."
Fitzpatrick had a lighthearted conversation with the media after practice that included topics such as birthday cakes, his hot-and-cold stretches, and the other Fitzpatrick on the Dolphins roster (Minkah).
When a reporter prefaced a question about inconsistency by pointing out Fitzpatrick has had stretches where he seemingly can do no wrong, Fitzpatrick chimed in: "I appreciate you putting it that way."
Fitzpatrick then said he actually enjoys fighting adversity when things aren't going so well.
Then there were questions about his conditioning, brought about by an unflattering Twitter photo. This is where the birthday cakes come into play.
"I would say I'm in peak offseason form. I think two weeks ago I was in peak offseason form," he said. "The thing with me is I have seven kids, so in January we have three birthdays. We've got a family birthday party, which includes cake, and then we've got a friend's birthday party which includes cake. So, that's six times in January. We've got three birthdays in March — March 1, March 6 and March 11 — which again, that's a tough stretch. That's cake six out of 10 or 11 days. Then we've got an April birthday. So, it doesn't slow down.
"But now that the birthdays are behind me, and I think I'm going to try to go from peak offseason form maybe down to peak in-season form, I'll be OK."
That prompted Fitzpatrick to fake ignorance.
"I don't know what you're referring to," Fitzpatrick said. "No, we kind of smiled at each other when we met. It was a cheesy line, but I'll say it again: I think there's enough magic to go around, especially being on different sides of the ball."
Center **Daniel Kilgore** was back on the practice field Tuesday for the first time since he sustained a season-ending pectoral injury against the New England Patriots in Week 4 last season.
Kilgore said he has no limitations and "everything is full go."
Acquired from the San Francisco 49ers in a trade last March, Kilgore pointed out he will be playing for his sixth head coach in nine NFL seasons.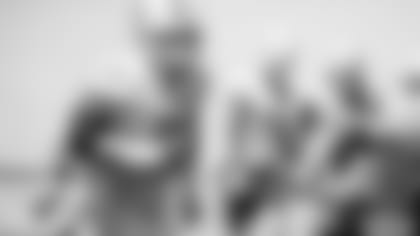 "I approach every year when there is a change the same way," he said. "You've got to win these guys over. That was my goal last March when I got traded here. For me, it's always been the same story. You've got to fight your (butt) off. You've got to show them that you're wanting to play and just do your job.
"You do what they ask you to do, no matter what it is. For me, I've been the utility guy. I've rotated in at guard, center obviously, fullback in my early years. You gotta do whatever they want you to do, let your work speak for itself and what you do in the classroom and take it to the field."
While he'll be playing for a new head coach, Kilgore also is working with a former assistant — offensive line coach Pat Flaherty.
The two were together with the 49ers in 2016 when Kilgore started all 13 games he played before ending the season on injured reserve.
New offensive lineman **Chris Reed** also has worked with Flaherty in the past, spending the last two seasons together with the Jacksonville Jaguars.
"I'm kind of familiar with his coaching style and his techniques," Kilgore said. "It's been a good transition. But as far as technique and stuff, it's still football at the end of the day. You're still trying to move the ball down the field."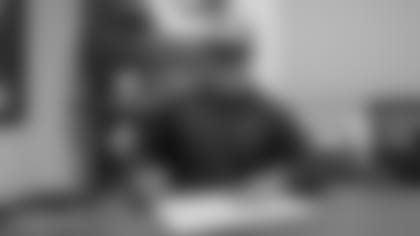 Queiroz Neto has a background in judo that combined with his 6-4, 325-pound frame makes him an intriguing prospect.
"I think this is a great time for him to be here because it's strictly fundamentals, it's strictly technique," Flores said. " It's the most basic part of football, where you're laying a foundation down. I talked to him yesterday and I said, 'This is a great time for you to be here.' He'll be working hand placement (and) footwork). He'll learn the basics of our defense from that standpoint. I'm excited to have him. He's a good-looking young kid. He's been here a day. The time I spent with him, he seems like he's eager to learn, he's eager to put in a lot of effort and we'll try to maximize his potential, which I think there is something there."
**Reshad Jones** was absent from practice Tuesday, but Flores indicated he has been in constant communication with the veteran safety and pointed out that this is a voluntary minicamp.
Flores said there were a "few factors" involved in Jones' decisions, including the safety undergoing shoulder surgery in February.
"I would say that Reshad, he's obviously rehabbing his shoulder and he's training," Flores said. "He's been here, he looks good, he's been in all the meetings. That's been good. I think he's learning all the terminology and learning the defense and that's been good. It's part of the process."