**Cameron Wake** provided the strongest indication yet Friday that he wants to keep playing beyond this season.
The veteran defensive end, who will be wrapping up his 10th NFL season with the game against the Buffalo Bills on Sunday, also made it clear that his preference would be to remain with the Dolphins and eventually end his career with the organization.
After saying last week he would decide in the offseason whether he'd want to play in 2019, Wake was asked Friday whether he wanted to keep playing or he had not decided yet.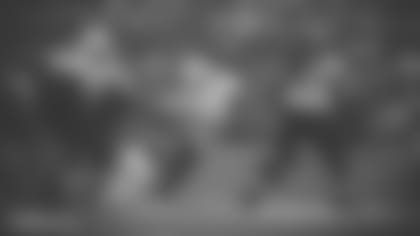 "I would think that I'd probably be good to go next year," Wake said.
Then Wake was asked whether his preference was to remain with the Dolphins.
"I would like to be," he said. "Probably a little bit out of my hands, a little bit in my hands. So stay tuned, I guess."
Wake will turn 37 in January, but Head Coach Adam Gase and defensive coordinator Matt Burke both have praised his performance.
Burke said Thursday he definitely would want to have Wake on his team again, and Gase discussed Wake's future before the defensive end spoke to the media Friday.
"I think that's going to be really up to him," Gase said. "He does such a great job taking care of his body. I feel like we're smart with him with how we practice him and how we try to manage the game early in the season so he can be ready to go this last part.
"It's going to come down to what he wants to do. If he wants to go another year, I don't think anybody is going to be really up in arms with him wanting to go another season or another two seasons or whatever it ends up being."
Jersey swap: Wake didn't look like himself at practice Friday … because he swapped jerseys with cornerback **Xavien Howard** and was wearing 25 instead of his customary 91. "I've been figuring I'd be trying to make some different plays out there (at cornerback), line up on some of these receivers and beat them up," Wake joked. "Just having fun. Last technical padded day. Just enjoying the last few days with the guys." Wake said he picked Howard to swap jerseys because he was the closest to him and also because it was a nod to the two of them helping each other on every play, Wake with his pass rush and Howard with his pass coverage.
Kudos for Kyle: The Bills announced via Twitter on Friday that defensive tackle Kyle Williams will be retiring after the season finale against the Dolphins. After coming out of LSU as a fifth-round pick, Williams spent his entire 13-year NFL career with the Bills and earned five Pro Bowl invitations. He also earned the respect of Dolphins defensive tackle **Davon Godchaux**, also a fifth-round pick from LSU. Godchaux tweeted this Friday: "Much respect to a legend!! Thank you Kyle for being what this game is about." Before the Dolphins faced Buffalo on Dec. 2, Godchaux shared a story of meeting Williams in Baton Rouge. "That's my guy," Godchaux said. "When I first saw Kyle, it was a funny story. I was a junior at LSU when I first saw Kyle and I said 'Man, this guy is a football player?' He had a collared shirt on and he looked like a guy who was just working like a mechanic. But I respect him so much and the things he's done in Buffalo—Pro Bowl, All Pro. It speaks for itself. (He was) a fifth-round draft pick. It speaks for itself."
LSU lineage: Long before Godchaux met Williams, Gase spent a lot of time with him because his final year as an assistant at LSU (2002) was Williams' freshman year at that school. To say Gase has a lot of respect for Williams would be putting it mildly, and there's one trait he sees in Williams that he thinks Godchaux also possesses. "His knowledge of the game is just huge," Gase said of Williams. "That's why Godchaux is a guy that we're so high on because I don't know if it's LSU or what, but he has the same kind of computer in his brain where he remembers all this stuff and he can do the right thing in real time and remember what he's faced before."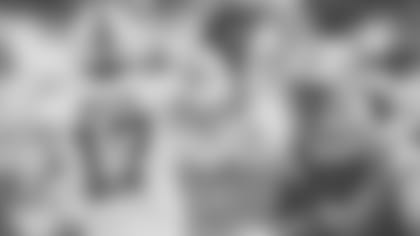 Season finales: Some interesting tidbits that stand out regarding the Dolphins and regular season finales include the game at Buffalo ending a streak of five finales at home. The last road finale came in 2012 at New England. … The Dolphins are closing with the Bills for the seventh time, but this is the first time the game will be in Buffalo. … The Dolphins last faced the Bills in a season finale in 2001, though that game had been postponed from Sept. 16 because of the events of 9/11. … The Dolphins have faced the Bills fewer times in a season finales than the other two AFC East opponents, New England (14) and the Jets (12). … The Dolphins are 26-26 in season finales.
Eyes on Allen: The Dolphins will go into the season finale well aware of the scrambling ability of Bills quarterback Josh Allen. He had 135 rushing yards in the Dec. 2 game at Hard Rock Stadium, the highest total by an NFL quarterback since 2014. "I told my coaches the last time we played them it felt like a college football game," linebacker **Raekwon McMillan** said. "He's out there running around with the ball in his hands, making plays." McMillan said Allen reminded him a bit of Tennessee quarterback Marcus Mariota, who he has faced both in college and the NFL, though, as McMillan pointed out, Allen is much bigger. "I played so many great quarterbacks (in college), but he's special because of how big he is," rookie linebacker **Jerome Baker** said. "That's what kind of separates him. He can run and it seems like he's 7 feet tall. He can scramble and just stiff-arm you, and you're still not close to him. He's probably in a class on his own because his sheer size is different."
Haack attack: Punter **Matt Haack** will go into the season finale looking to extend his single-season franchise record for punts inside the 20. Haack broke Brandon Fields' record of 33 set in 2013 with his third and last punt inside the 20 against the Jacksonville Jaguars last Sunday. Haack is third in the NFL this season in punts inside the 20, trailing only Tress Way of the Washington Redskins (39) and Logan Cook of the Jacksonville Jaguars (36). "Having the opportunity to pin your opponent down inside the 20-yard line and the ball not go in the end zone or come up short or whatever I think really gives us the ability to keep a team down there, pin them down, flip the field position," said Associate Head Coach/Special Teams Coordinator Darren Rizzi. "It was something we worked on a lot during OTAs, something we worked on a lot during training camp. To Matt's credit, he's done a heck of a job in that area of the field. Give our gunners credit too, getting down the field, forcing fair catches, keeping the ball out of the end zone, things like that."
Durable Davis: Guard **Jesse Davis** has the chance Sunday to accomplish a really impressive feat—play every offensive snap of the season. Davis has played all 859 offensive snaps through the first 15 games. The last Dolphins player to play every snap in a season for his unit was safety **Reshad Jones**, who did it on defense in 2013. For those keeping score, linebacker **Kiko Alonso** has played the most snaps on defense this season with 960 and Walt Aikens has played the most special teams snaps with 351.