For Parker, it was no big deal.
The 2015 first-round pick out of Louisville has shown flashes of brilliance before and he has plenty of confidence in his ability if he can stay healthy.
"I know my ability, what I can do when I'm healthy, what I bring to the table," Parker said. "My confidence level has always been the same. I know what I can do, what I bring to the table."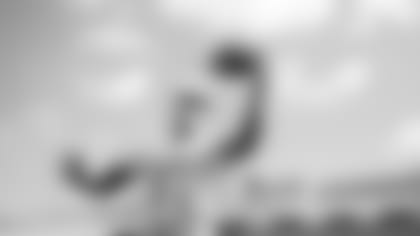 Parker had 24 catches in 11 games in 2018 after catching 56 and 57 the previous two seasons.
He says the key for him is very simple.
"Staying healthy," Parker said. "That's it. I can play."
Parker said his game plan for being able to maximize his potential this year and beyond is very simple.
"Just keep doing what I've been doing," he said. "Staying on top of my body, eating right, doing the little things."
One of the long touchdown passes from Fitzpatrick to Parker came on the first play of a two-minute drill when Parker got behind the defense.
Fitzpatrick said he told Parker when he first saw the wide receiver at the Dolphins practice facility Thursday that the two would hook up on a long ball.
The veteran quarterback later talked about his deep passing.
"Personally, I've made a lot of progress in that area in the last few years," Fitzpatrick said. "It has really started to show up for me. Some of it is mentality, a lot of it is the guys I'm throwing to and some unbelievable playmakers and a lot of it is just communication, expectation before the ball even gets thrown of what we want from those guys and how they expect the ball. There's a lot of things that go into it, but certainly something that I've really improved on as my career has gone on."
Of Fitzpatrick's 18 career touchdown passes of 50 yards or longer, five of them came last season when he played for the Tampa Bay Buccaneers.
The College Football Hall of Fame announced this week its candidates for the Class of 2020, and the list includes several players with ties to the Dolphins.
Among the candidates are former Dolphins running back Keith Byars (Ohio State), DE Kevin Carter (Florida), LB Marco Coleman (Georgia Tech), LB E.J. Junior (Alabama), QB Cade McNown (UCLA), CB Troy Vincent (Wisconsin) and Boomer Grigsby, who was a linebacker at Illinois State but briefly played fullback for the Dolphins in 2005. Also among the candidates is former Oklahoma quarterback Josh Heupel, who never played for the Dolphins but was a sixth-round pick of the team in 2001.
The Class of 2020 will be announced next January before the BCS national championship game.
The Class of 2019, which will be inducted in December, includes former Dolphins cornerback Terrell Buckley, who starred at Florida State.
The Dolphins continued their tradition of hosting high school teams at practice, with the visitors Wednesday coming from St. Andrews School and Barbara Goleman High School.
Quarterback Ryan Fitzpatrick on the progress the Dolphins have made throughout the offseason program:
"We're headed in the right direction, but I think everybody also understands the work that's in front of us and the fact that we're not even close to being where we need to be."