Monday morning brought a welcome sight when No. 14 emerged from the Dolphins training facility to hit the practice field. Quarterback Ryan Fitzpatrick is no stranger to adversity during a storied 16-year NFL career; but Saturday's news that his mother – Lori Fitzpatrick – had passed away presents an entirely different hurdle for the Miami signal-caller to conquer.
It also presented an opportunity for a few of his teammates to talk about what Miami's most experienced player brings to the organization.
"Ryan is a guy who I have a lot of respect for and who I love," Christian Wilkins said. "He's like a big brother – a lot older brother – to me. He's been a great friend and just a great guy to be around – a great leader for us. I got to meet his sons and his kids and we're pretty cool, so really I just reached out to him. I shot him a text. I let him know that I'm there for him and I love him, and things like that."
Wilkins competes against Fitzpatrick every day in practice. For tight end Mike Gesicki, sharing the huddle a 16-year veteran of the NFL offers plenty of advantages.
"He's seen it all. He knows what's going to happen before it happens," Gesicki said. "Today we ran a play in practice and I came in motion across him, and I just asked him, 'hey man, what do you think the coverage?' He just told me what the coverage is right away and I knew exactly how to run my route and caught the ball down the field."
Entering his third year, Gesicki says he's feeling comfortable with his role in the offense for a variety of reasons. Chief among them, the continuity on the offensive side of the ball.
"It's good playing with the same receivers outside, the same quarterback back there, all of that kind of stuff," Gesicki said. "Just that chemistry and that continuity. I think sometimes when I'm running a route, 'Fitz' (Ryan Fitzpatrick) kind of knows where I'm going to be, or I know what he's thinking pre-snap. Just that chemistry, just that comfort level, I think it's going to continue to grow."
That chemistry developed and matured down the stretch last season as Gesicki caught 20 passes for 248 yards and four touchdowns in the month of December.
Fitzpatrick was back for the Dolphins Monday in his red no-contact jersey.
Xavien Howard was on the practice field again today. He came off the COVID-19 and physically unable to perform lists last week. Brian Flores discussed the status of his lockdown corner on Monday:
"He's conditioning. Those techniques, the footwork, the hand placement -- he needs to work on those techniques, work against the receivers, work with his teammates on communication," Flores said. "I think a lot of people just kind of take those things for granted. I know he doesn't. I know he's working diligently to get in and get those reps."
The Dolphins made a change to the roster Monday morning when they waived linebacker James Crawford and signed wide receiver Andy Jones.
Jones had been waived by Miami on April 20, 2020. He spent two stints on Miami's practice squad during the 2019 season. Jones has also spent time with Detroit (2017-19), Houston (2017) and Dallas (2016-17). He originally entered the NFL as an undrafted college free agent with Dallas on May 6, 2016. During his career, Jones has played in 11 games with three starts, totaling 11 receptions for 80 yards (7.3 avg.) and one touchdown.
Saturday scrimmage evaluation
"I'd have to see the film to be honest with you," Brian Flores said after Saturday's scrimmage.
Monday, Flores answered the imminently looming question about what he saw when he reviewed the tape.
"Defensively, just communication," Flores said. "There were a couple of instances where we had the wrong amount of people on the field, so we've got to get that cleaned up. But I thought they played hard."
Coach continued discussing the quarterback play, the offensive line, and the work of the specialists in the kicking game.
"From an offensive line standpoint, we made a few moves there," Flores said. "We played Robert Hunt with some different guys; we played Solomon (Kindley) with some different guys. It was good to get Hunt up there with some of those more veteran players, so that was good. I thought he played well. I thought the line as a whole played well. I thought our specialists played well. I think (Matt) Haack had a couple of really good punts. Jason (Sanders) kicked the ball well. We got some good snaps out of Blake (Ferguson)."
Clayton Fejedelem came down with one of two interceptions for the defense during the scrimmage and broke the play down on Monday.
"I was post high safety there," Fejedelem said. "I was just able to get a good read off of the quarterback, go up in the air, high-point the ball and defensively our job is to get the ball back for our offense or score in our case; so that was a big play. It got us off the field and kept us moving defensively."
Fellow safety Eric Rowe went above the rim for the other interception. He was matched up with Gesicki on that play and the tight end talked about the value Rowe and the rest of the safety room has covering tight ends.
"(Rowe has) done a good job playing physical, using his hands. I think that's helped me as well moving forward, just being aware of different moves at the line of scrimmage that I have to be aware of, being ready to use my hands, getting off press coverage," Gesicki said. "I think that entire room, the safeties have done a good job on the tight ends.
Both Christian Wilkins and Brian Flores donned the Dolphins 'Vote' t-shirt for their Monday media availabilities.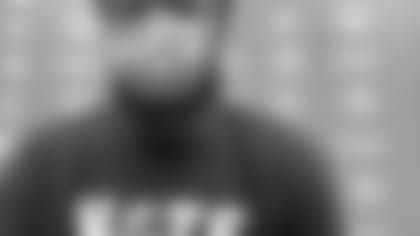 Flores fielded a variety of questions from his own self-deprecating comments about his recruiting ability to the perceived delight he gets from watching Raekwon Davis every day in practice.
Coach was asked about some photos on the official team gallery of him smiling in the background while Davis occupied the foreground.
"Yeah, I don't know if Raekwon would say that," Flores said with a laugh and an unabashed grin. "You might want to ask him if I'm always smiling at him. If someone catches a picture at the right time and Raekwon happens to be in the area – it's a good picture. I've gotten it sent to me a few times. I could see where someone could get a few laughs at it. I'm not sure Raekwon feels like I look at him with that much admiration on a daily basis. You should ask him though. (laughter) Or any of the rookies, to be honest with you."
Fejedelem helped corroborate the competition and demanding nature of playing for Brian Flores' version of the Miami Dolphins during his media availability.
"The guys here are here for a reason," Fejedelem said. "We have a very young staff. It's not only that football is a job. Football is a lot of our lives – our passions – and if you're not accountable and if you're not willing to do whatever it takes here, this isn't the building for you."