The Dolphins had a special visitor at practice Tuesday when former U.S. women's national soccer team coach Jill Ellis dropped by, fresh off guiding her squad to the 2019 FIFA World Cup title.
After watching practice, Ellis addressed the team before breaking down the huddle.
"It was great to see her out here," wide receiver Brice Butler said. "They've been winning championships for a long time and just to get a piece of that, a reflection of that, out here on our practice field, it was great."
Ellis' message to the Dolphins players focused on hard work and preparation and competing against the best. "Iron sharpens iron," she said.
Ellis is a resident of Palmetto Bay in Miami-Dade County and said she was looking forward to going to a game at Hard Rock Stadium.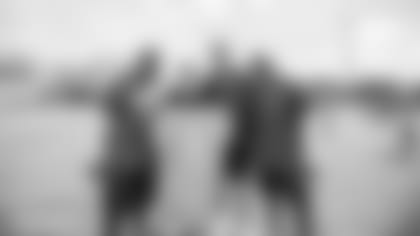 After she spoke to the team, she was presented by Head Coach Brian Flores with a Dolphins jersey with the number 1 and her name.
Rookie defensive tackle Christian Wilkins made it a point to pose for a picture with Ellis.
"That was awesome," Wilkins said. "That's pretty cool. Obviously what they were able to do, Team USA, was special. They were so much fun to watch and that's not an easy thing to accomplish being the best in the world at something. I'm sure that starts with great leadership, it starts at the top with coaching, and it was just awesome to meet her. I had to give her a big hug and get my picture with her."
Fans attending practice may have noticed offensive and defensive linemen wearing knee braces, and Head Coach Brian Flores says there's a reason behind that.
The bottom line is that it's the coach's call.
"I think nothing is more important than the health of the team," he said. "I think knee braces obviously protect the players from the lower extremity injuries. That's really what that's about. I realize players would rather not wear them. I've worn them before. They're for protection, just like shoulder pads and a helmet are for protection. If I told them to go out there and play without a helmet, I think they'd fight me on that. So I'll fight them on the knee braces. I think it's for their protection. It's for their safety, it's for the health of the team.
"I think it's hard for them (because) it may be a little bit … not awkward, but restrictive in some cases. Whether or not we wear them in a game is yet to be determined, but at the end of the day it's about their safety. It's about player safety. That's extremely important to me and I think at the end of the day, if you have the players' best interests in mind, they'll — for the most part — do what you ask them."
Defensive tackle Akeem Spence said wearing a knee brace at practice has been an adjustment.
"Wearing knee braces out to practice, it's all new to some of us," Spence said. "It's been excruciatingly hot, but it's something that we have to do and it helps with our stances and our plays. It makes sense in the long run."
NFL teams traditionally use their front-line players for only limited action in preseason openers, but Flores said Tuesday that might not necessarily be the case for the Dolphins when they face the Atlanta Falcons at Hard Rock Stadium on Thursday night.
"I think everyone has to be ready to play for an extended period of time," he said. "We'll see how the game goes. We have a plan for some players but I would tell these guys, and I've told them, that everyone has to be ready for an extended period of time. There's no '(these are) your three plays and then you're out.' There's no set parameters as far as the substitution process from that standpoint. I think they all know that it could be three plays, it could be 30 plays, it could be 50 plays. We'll see how the game goes."
Flores is a lot more concerned about how well his players perform than he is about how long they perform.
"If you slate somebody for three plays and they have three mental errors, I don't think it's time for that person to come out. You never know how the game is going to go. To lock in a specific '10 plays for you, 12 plays for you,' I don't think that's realistic. It's a good thought process and we have a plan from that standpoint as far as who we want to play a certain number of snaps, but we'll see how those snaps go. If they go well, maybe we'll keep them going and keep the momentum going. If they don't, maybe we just want to take them out. Maybe they're slated for 15 snaps and three look so bad that I don't want to see it anymore. That happens too."
Looking ahead, the third — or next-to-last — preseason game is considered the "dress rehearsal" for the start of the regular season, but even then Flores said that might not necessarily be the case for the Dolphins.
"In a perfect world, yes," he said. "The world's not perfect, as we know. … Right now, I would say that's probably the plan is to try to make it a dress rehearsal, but things change. They do. So I wouldn't put too much stock into what happens in that third game."
Flores mentioned Saturday he had wanted for his team to be able to go to Hard Rock Stadium to get a quick look before the preseason opener, and it turns out that's now been taken care of.
"It went well," Flores said. "We went in, saw the locker rooms. (There are) a lot of guys who haven't seen it. We saw the locker room, the weight room, the meal room, walked the field a little bit, coaches' booth. I thought that was important for us to see as a team. Glad we snuck it in."
The Dolphins had visitors again at practice Tuesday, this time members of the True North Classical Academy in Miami, and two teams from Gold Coast Pop Warner — the Deerfield Beach Packer Rattlers and the Boca Raton Braves.
Also visiting were members of His House Children's Home in Miami.
As has be the case with every team invited this summer, the players and coaches received a tour of the Baptist Health Training Facility at Nova Southeastern University, listened to a character development talk, watched practice and met with current coaches and players on the field, and had lunch.
After practice, the Pop Warner teams did some conditioning drills and scrimmaged.