Yesterday's win gives Miami six of the last eight over New England at Hard Rock Stadium dating back to 2013. The rivalry covers more than 50 years and 100 games between these two AFC East foes.
Dolphins linebacker Kyle Van Noy was on the other side of this rivalry from 2016-2019. Now, in his first year in Miami, this win means a little more for the veteran-most member of the Dolphins defense.
Sports Illustrated's Albert Breer told the story of the Dolphins avenging a Week 1 loss, which stuck in the craw of the former Patriot.
When I asked again about Miami being upset with how the Patriots carried themselves late in that win, Cam Newton's Week 1 debut in New England, Van Noy didn't skip a beat.
"I think it's been 99 days," Van Noy said.
Van Noy has helped usher in an era of Miami defense that has consistently been atop the leaderboard in several key categories all season long.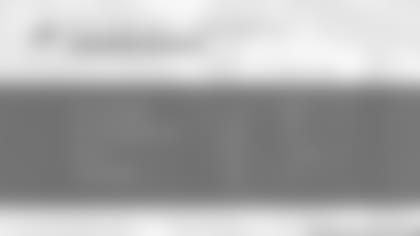 Offensively, it was all about the Dolphins' youth. The six first-year players to start the game (offensive linemen Austin Jackson, Solomon Kindley and Robert Hunt, wide receiver Lynn Bowden Jr., running back Salvon Ahmed and quarterback Tua Tagovailoa), marked the first time since 2018 an NFL team featured rookies making up more than 50 percent of the starting offensive lineup.
Since the insertion of Tagovailoa as starter in Week 8, the Dolphins are 6-2 (one of those wins courtesy of a Ryan Fitzpatrick start in Week 12 at the Jets). One added element Tagovailoa brings to the Miami offense is his inherent, intangible ability to see the field and make big plays in big moments.
Brian Baldinger of the NFL Network raved about Tagovailoa's 3-yard rushing touchdown, which gave Miami a lead in the early stages of the fourth quarter.
Earlier in the game, the Dolphins faced the same situation – third-and-goal from the 3-yard-line. Patriots pressure arrived forcing Tagovailoa to throw just his second interception of the season amid a collapsing pocket.
The New England blitz arrived in similar fashion on the touchdown run. This time, the No. 5 pick in the 2020 NFL Draft eluded the free rusher, laid down a juke move on another, and found the goal line for the first of his two rushing touchdowns. Tagovailoa's ability to apply lessons from previous mistakes within the same game earned some praise from NFL.com's Week 15 recap story.
2)The continued development of Tua Tagovailoa is as intriguing as it is entertaining, largely because it's happening in real time. Tagovailoa threw an interception from New England's 3-yard line early in the first quarter, and then found himself in a similar situation early in the fourth while facing a two-point deficit. Instead of letting another one rip into a crowded area of the field, Tagovailoa pulled the ball down, escaped a blitzing J.C. Jackson and ran it in himself for a score, his first of two on the ground. That type of instant education and application is very encouraging for those on the Tua Train, and while he's insulated by an effective running game and stingy defense, Tagovailoa has room to learn -- and he's passing the tests.
For his efforts, Tagovailoa earned the top Pro Football Focus grade by a rookie QB against a Bill Belichick coached defense since 2013.
Tagovailoa made big plays in the clutch moments, but it was the Miami running game that stole the headlines. The 250 rushing yards were the most by a Dolphins team since a 2016 overtime victory in Buffalo on Christmas Eve.
We go back to the tape with Brian Baldinger, who raved about the rookies on the offensive line, Miami's ability to mix inside and outside runs, and the work of tight ends Durham Smythe and Adam Shaheen in the absence of Mike Gesicki (shoulder).
Matt Breida averaged 7.2 yards a clip with 86 rushing yards on 12 carries. Patrick Laird chipped in with 20 yards on two carries including a pivotal 12-yard run on third-and-8 late in the third quarter. The run extended a drive that would result in the aforementioned Tagovailoa touchdown scramble, which gave Miami a lead they would not relinquish.
Head Coach Brian Flores says that was perhaps his favorite play of the entire game.
"I think it's honestly one of my favorite plays in the game," Flores said. "They play some multiple fronts there. Let's call it dime, 7- and 8-DB packages. Chan (Gailey) felt like there was an opportunity to stick a run in there and we got it. We blocked it up well. (Michael) Deiter came around and pulled on the safety, who was in a linebacker-kind-of-position. Laird made a real good run and picked up a first down there. I thought it was a really, really nice call by Chan."
"I think everyone stepped up and did their job really well," center Ted Karras said. "As an o-line, we had a hat on a hat and got to the second level. Our backs had great vision and hit the hole fast, and then our tight ends Adam and Durham had some key blocks that sprung us to some big gains. We've been working on that for a long time and it felt good to get a bunch of yards on the ground."
It was rookie running back Salvon Ahmed who led the day with a season-high 122 yards on the ground. Ahmed, an undrafted rookie out of the University of Washington, joined Miami on August 26 after being claimed off waivers from San Francisco. He got his first call up to the active roster from the practice squad on October 9.
Ahmed serves as a microcosm of the Dolphins' ability to find production in all forms of player acquisitions. Four of Miami's top five players in yards-from-scrimmage this season were unavailable Sunday. The 208 rushing yards from Ahmed and Breida came from a waiver wire claim and the trade of a fifth-round draft to the 49ers this offseason.
The tight end production that Baldinger broke down in the earlier video helped spring Dolphins backs to the tune of 75 rushing yards on eight attempts combined off the left or right end, per PFF. Smythe also produced a career-high 40 receiving yards while Shaheen added 15 yards through the air. The pair equates to a fourth-round draft choice in 2018 and a conditional draft pick trade this summer with the Chicago Bears.
All of this is to say that Miami is getting production from all sources. Trent Dilfer said, via The Herd with Colin Cowherd, that that is a sign of a great coach and program.
Pro Bowl Teams Unveiled Tonight
The Pro Bowl teams will be announced tonight at 7 PM. Find out which of your Miami Dolphins made the squad with our corresponding Pro Bowl announcement story on MiamiDolphins.com.