Quarterback **Ryan Tannehill** targeted the game against the Colts for his return to action when he spoke to the media two weeks ago. And he hit his target.
Head Coach Adam Gase announced Tuesday that Tannehill will be back behind under center Sunday for the first time since he sustained a shoulder injury against the Cincinnati Bengals on Oct. 7.
Gase said he felt "really good" about Tannehill's return to the lineup and explained the reason this way: "Because he's done a good job of rehabbing. I think the training staff has been very smart of going through his procedure and working out some of the earlier kinks where he got fatigued and sore. (They) did a good job of shutting him down and then building him back up. I think he's had a good week through the bye week and then being able to practice today and make all of the throws he needs to make."
In five starts this season, Tannehill has completed 65.9 percent of his passes for 972 yards with eight touchdowns, five interceptions and with a passer rating of 92.9.
Tannehill said he had no plans of holding back at all in his first start in six weeks.
"I feel confident," he said. "I've made all the throws that I feel I'm going to need to make."
Tannehill said he wasn't totally pain-free but that the stabbing pain that was there before is gone.
Gase said the decision to go with Tannehill against the Colts was made before the Dolphins had a walk-through Monday night.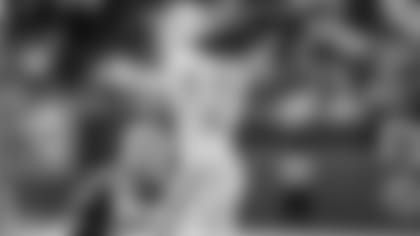 Butler did it: New Dolphins wide receiver **Brice Butler** make a good first impression in his inaugural practice after signing with the team. Tannehill gave him kudos in his press conference for a couple of plays he made. Asked about Tannehill's comments, Butler revealed he wasn't totally foreign to Gase's offensive system. "I felt pretty good," Butler said. "I think the biggest thing was me getting used to the weather at this time of the year. Obviously in Dallas it's hot, but not right now. I'm just getting used to that. In Arizona, I ran a similar offense under (former Offensive Coordinator) Mike McCoy. A lot of the terminology is the same, which is great. (It) has been allowing me to play fast early. Obviously I don't know nothing yet, really. I'm pretty sure as we keep going, I'll have to keep learning. I might mess up in practice a few times. Obviously that's what you practice for. I'm just trying to learn as much as I can." McCoy was the offensive
Seeing red: Wide receiver **DeVante Parker** and **Kenyan Drake**, who both are nursing shoulder injuries, practiced Tuesday wearing a red (non-contact jersey). "You're going to get me in trouble with this because they're not happy about wearing the red jerseys," Gase joked. "The fact that they're out there and they're working is good. We just wanted to make sure that nobody … with them practicing, somebody thuds them up and it just sets us back. I think going through individual and then getting some team snaps, that was good." The Dolphins will release their first injury report of the week after practice Wednesday.
Confident Carroo: **Leonte Carroo** made several big plays in the Dolphins' last game before the bye, and he could be in line for more playing time because of all the injuries at wide receiver. Carroo, who spent the first half of the season on the practice squad, is more than ready for the challenge. "I'm excited," he said. "I'm very excited. It's something I feel I've been waiting for. I'm ready. I feel like I got better this year. Going against Bobby (McCain) and X (**Xavien Howard**) has prepared me and I'm ready to go against anybody. I'm confident and I feel I can perform at a high level." Against Green Bay two Sundays ago, Carroo recovered a fumble on a punt return, ran 14 yards for a first down on a fake punt, and had a 20-yard reception. "It felt good to go out there and make a couple plays, but this was something the Dolphins knew I could do and I knew I could do. It's just a matter of going out there and performing. It's a great opportunity for me to finish these last couple of weeks strong and do anything I can to help this team get to the playoffs."
He knows the score: The wild Monday night game between the Rams and Chiefs, which ended with a 54-51 L.A. victory naturally was a hot topic Tuesday, and Gase was asked whether he ever saw a team score 50 points and lose. "No," Gase responded. "Close. I saw it. Close. I saw Dallas score 48 (points) and lose." Gase was asked what game he was referencing. "Against somebody," he said. "Somebody in this room. (laughter)" Yep, it was Gase, who was the Denver Broncos offensive coordinator when they defeated the Cowboys 51-48 in Week 5 of the 2013 season.