Total Team Football
Dolphins quarterback Tua Tagovailoa has five passing touchdowns without an interception in his first three starts, all victories for Miami. Per ESPN Stats and Info, that mark is tied for the third-most passing touchdowns in a quarterback's first three starts without throwing an interception since 1950.
While Tagovailoa has provided a jolt to the Miami offense with his precision throws and timely plays against pressure, it's Head Coach Brian Flores' entire operation that has elevated its level of play.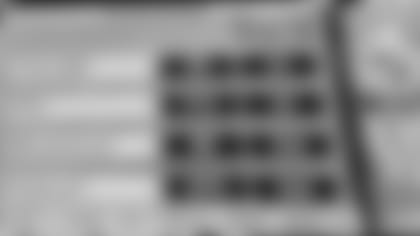 On the recent episode of the Move the Sticks Podcast, Daniel Jeremiah, Bucky Brooks and Rhett Lewis broke down Miami's victory. Jeremiah, a collegiate quarterback at Appalachian State, discussed the challenges of a multiple defense for a young signal caller and the amoeba package of Flores and Defensive Coordinator Josh Boyer.
Accurate, Mechanically Clean Quarterbacking
Even with the production from the other 52 players on the roster, Tagovailoa is carving out a reputation early in his NFL career – the same reputation that followed him through his days at Saint Louis School in Honolulu and at college in Tuscaloosa.
"It's hard to coach accuracy," Dolphins Offensive Coordinator Chan Gailey said. "You can teach anticipation a little bit but a guy has to believe it." (Tua) is doing what we hoped he would do. He's taking care of the football and he's making some plays. I think it's slowed down for him each week."
NFL Network's Brian Baldinger produces educational film reviews each week, and the Dolphins have recently caught his eye. This week, he looked at Tagovailoa's mechanics.
Mechanics, production and winning football have Tagovailoa up for Pepsi Rookie of the Week honors for the second straight week. Fans can cast their vote for Tagovailoa here.
Run Game Emphasis
Playing strong defense and winning the special teams battle affords the quarterback the opportunity to play efficiently, maybe even a little more conservatively. The final piece of the puzzle for the complementary style of football the Dolphins are looking to play is the running game, an area of emphasis this past week.
"(The run game) has been a big emphasis," Dolphins Offensive Line Coach Steve Marshall said. "I thought we were very productive running the football this week and I think we're trending in the right direction. Each week we need balance in our offensive attack."
Rookie running back Salvon Ahead chewed up 85 yards in his second career game, the second-highest total for a Dolphins back this season.
"When he comes in the room, he's ready to go," Dolphins Running Backs Coach Eric Studesville said. "He's highly motivated. He's asking questions. When he gets on the field you see he can run. He's got some speed, quickness, good eyes, good feet and I think he catches the ball really well."
Miami's balance on offense has produced 27.9 points per game – ninth-best in the NFL. The defense has put a few of those points on the board in their own right while pitching the fifth-lowest scoring unit in the league at 20.2 points allowed per game.
The pressure looks referenced by Jeremiah are all part of the goal, according to Defensive Coordinator Josh Boyer.
"Any time we can put pressure on the offensive line, on the quarterback – which hopefully in turn puts pressure on the coordinator – just get them off balance. That's always the goal," Boyer said.
Takeaway-Minded Dolphins
The Dolphins' third-down defense ranks third in the NFL allowing a paltry 33.9 percent conversion rate on the money down. Miami's 15 takeaways are tied for fourth-best in the league – an emphasis by the defensive staff since training camp.
ESPN's Cameron Wolfe detailed the Dolphins focus on the football back in August. The defensive backs selected two captains (safety Bobby McCain and cornerback Byron Jones) and the two picked teams. Throughout camp, they tracked interceptions, fumbles, scoops on loose balls and anything that could help the team become more turnover-focused.
Now, with nine games in the rearview mirror and seven more to play, Boyer and the defense's focus remains unchanged.
"We put a good amount of time in creating turnovers," Boyer said. "Scoop and score, cradle a fumble, there's numerous different drills these guys do. They put a lot of time and effort. We only get so many shots at it and for all the effort they put in it, I'm sure they're gaining confidence. Our guys genuinely like playing for each other."
Mutual Trust Mounting
The genuine affinity for one another extends beyond the roster. It permeates throughout the player-to-coach relationships. Monday, Dolphins defensive end and the fourth-leading sack artist in the NFL, Emmanuel Ogbah, detailed the level of trust the coaches have in him to relay information from the field to the sideline on game day.
"When I come to the sideline and say, 'hey, the offensive tackle is giving me this, I want to take this move,' that's why I was telling them like, 'hey, I'm going to take this move, can you have somebody cover me?' or something like that," Ogbah said. "That's the trust we have with each other and he would say, 'okay, I'm counting on you. I know you're going to make that play, so you go ahead and do it."
Boyer confirmed Ogbah's communication and relaying of information in his Tuesday press conference.
"As a coach, there are some things you can't see in real time or from your view at the sideline," he said. "Players give you some information on the sideline and when you can confirm that information as correct, we're all for that. Sometimes it's not even an individual thing, it's a guy saying 'hey if I do this, it could open up such and such.'"
Pro Bowl Voting Now Open