The expectations are high and linebacker Jerome Baker will tell you "why shouldn't they be?"
After all, now in his second season, he has put on a few pounds, gained a whole lot of knowledge and remains buoyed by an impressive list of things he accomplished as a rookie. But that now seems like so long ago. The Jerome Baker you will see this season is a much different player, far more confident in his role, far less concerned about things he can't control and far more important to the overall success of this defense.
This new coaching staff envisions Baker as an every down player, which says plenty right there in the specialized world of NFL defenses. But it's more than just that. He is learning to call signals. He is adjusting to different roles. He is becoming the type of complete player the Dolphins had in mind when they made him their third-round pick in the 2018 draft out of Ohio State.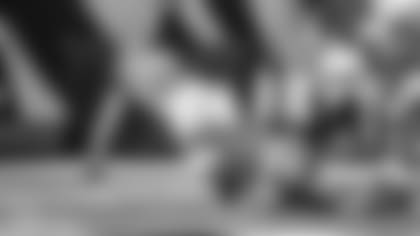 Back then his resume was built on speed far more than savvy. He was the fastest linebacker on the team and it really wasn't very close. But he couldn't use that speed the way he wanted because there was much to think about, so much to decipher.
"It was a cool learning experience," Baker says today. "But now I'm much more confident. Now I don't have to think so much, I can just react."
Watch Baker in the next two preseason games when the starters get most of their playing time, how he might rush the passer on one play and drop back in coverage the next, how he rarely comes off the field and how there are now very few wasted steps. He isn't where he wants to be just yet, but he's well on the way, and this confident young man will tell you, "I'm going to keep working every day to get there."
We saw clear signs of Baker's vast potential last season. He started 11 of the 16 games, finished with 73 tackles and three sacks, two of them coming against Cincinnati. It had been six seasons since the last time a Dolphins' rookie linebacker had registered two sacks in a game.
Welcome to the NFL, Jerome. "I'll never forget it," Baker says. "It was my first pick and I remember saying to myself, 'let's hope it's just the beginning.'"
Baker had been struggling for a few weeks before that play against the Jets. He was admittedly getting a little impatient, wanting so much for that growth process to accelerate and getting frustrated that it hadn't. See, there is an inner confidence in Baker that is impossible to overlook. It's something he's always had, something he could always turn to. But when you're a rookie trying to learn the complexities of a defense, it could tap into that confidence.
"I needed something good to happen," he recalls.
That interception against the Jets was the springboard he needed, the first Pick 6 by a Dolphins' rookie linebacker since a fellow named Zach Thomas did it 22 years earlier. More than anything else, that one play reassured Baker that he was on the right path, a path that has now led him to this season and a chance to take his game to an entirely different level.
So much is different about this Dolphins defense. The coaching staff. The terminology. The mindset. Everything is predicated on versatility and what we have in Jerome Baker is the most versatile linebacker on the team. The extra pounds he added helped in his run defense. The knowledge he has gained has helped in his pass defense. The flat out speed that will always be his calling card makes him dangerous rushing the passer.
Coach Brian Flores saw early on what he had in Baker.
"This is a talented guy," Flores said. "We're going to ask him to do a few things. So depending on what we have called, he may have to win a one-on-one. He may be involved in a scheme or he may have more freedom on a certain play. We want to give him that freedom. That's the style of ball I like to play. Players know that, but they have to earn the right."
Baker has earned that right.
"I'm definitely grateful," he says.
At just 22 years old – he won't turn 23 until Christmas Day – Baker embraces the leadership role that these added responsibilities require. It's not uncommon these days to see him take a teammate aside, offering encouragement, perhaps correcting something he had seen.
"But it's not only about talking," he says. "I want to lead by example and that's what I try to do every day."
Different player. Smarter player. Better player. In so many ways, Jerome Baker's journey is just beginning.