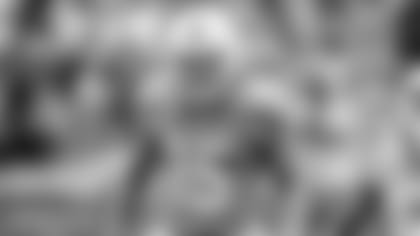 Wilson has been coming on strong over the past month, and had season highs in catches (7) and receiving yards (79) in the 38-35 overtime victory against the Cincinnati Bengals on Sunday.
Over the past five games, starting with the Nov. 24 game at Cleveland, Wilson is tied with DeVante Parker for the team lead in catches with 24 — and that includes the second Jets game when Wilson missed the second half because of a concussion.
"In the last couple of weeks, I think we've really seen where Albert is when he's fully healthy," offensive coordinator Chad O'Shea said Tuesday. "I've been very excited about his opportunities he's had on the field and he's made the most of them.
"I think he's brought energy to the team. I think he's made some plays with the ball in his hands, which is what our expectation is of him. It's been a year in which Albert has really worked very hard to get back to his health. You can see how important that is in a player based off of where he is now and where he was at the beginning of this. I'm just excited that he has the opportunity to go out there and play the way he wants to and obviously his health has a lot to do with that."
Wilson, of course, spent the entire offseason and training camp working his way back from the hip injury that cut short what had begun as an impressive 2018 season.
He didn't play in a game until the preseason finale, but began dealing with more injuries once the regular began.
In fact, the only week Wilson did not appear on the official injury report was heading into that second Jets game.
In any event, Wilson clearly has become a major factor in the passing game in recent weeks. With the exception of his abbreviated appearance in the Jets game, he has caught five passes or more every week since that Cleveland game Nov. 24.
The seven catches against Cincinnati represented the second-highest total of his six-year NFL career, behind only his 10 catches Dec. 31, 2017 in his last game with the Kansas City Chiefs before he joined the Dolphins as a free agent the following spring — it also was the first NFL game for quarterback Patrick Mahomes.
"Where Albert is currently is what my expectation was of Albert," O'Shea said. "Some things you can't control as a player and one thing you can't control is sometimes the health that you have. Albert has worked very hard. The strength and conditioning staff, our training staff, who I think is really good here, I think they've done a great job of getting Albert back to being the player that he really wants to be.
"And I think confidence has a lot to do with this. A player goes out there and has full confidence in not only his health but the quarterback and the coaching staff has a confidence in you and you know that, you play to that. And I think Albert has kind of showed that the last couple of weeks and I look forward to increased opportunities with him here in the future."