DeVante Parker has made big play after big play this season for the Dolphins, but it was his longest gain of 2019 that pushed him over the 1,000-yard mark for the first time in his NFL career.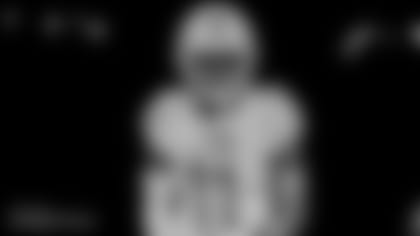 The big moment came in the first quarter of the 38-35 overtime victory against the Cincinnati Bengals at Hard Rock Stadium on Sunday.
The Dolphins led 7-0 and had a first down at their own 42-yard line after Parker had caught a beautifully thrown Ryan Fitzpatrick pass down the middle of the field for a 19-yard gain. Parker had done his part on that play as well, absorbing contact in traffic as he secured the catch.
Parker showed another trait he has flashed throughout 2019 on the play that gave him 1,000 yards for season, adjusting to the ball better than the defender when Fitzpatrick lofted a high ball downfield after taking a pitch from Patrick Laird on a flea-flicker.
The completion was good for 51 yards, put the Dolphins in a first-and-goal at the Cincinnati 7, and put Parker at 1,016 yards on the season.
Parker would tack on 49 more yards in the game to put him at 1,065 for 2019 and give him his third 100-yard performance of the season.
After the game, Parker was low-key about his accomplishment.
"Eventually, one of the seasons I would have 1,000," Parker said. "It happened to be this one. Thank Fitz for that, and the O-line and everyone else."
Parker's previous career high since joining the Dolphins as the 14th pick in the 2015 NFL draft was 744 yards in 2016. He also never had a 1,000-yard season at the University of Louisville, but that's only because a foot injury cut short his final college season after he had put up 855 yards in just the first six games.
As Parker has said many times, the biggest key for him always was staying healthy and, barring unforeseen circumstances, he'll complete his first 16-game NFL season Sunday against the New England Patriots.
"He's definitely shown a lot of determination throughout his career, and he just, he's a playmaker," Fitzpatrick said. "When you put the ball in his area, he makes plays. He wants the ball in the tough situations, and I've been extremely proud of him all year, the way that he's played. But that's a great. As a receiver, that 1,000-mark is a great accomplishment and I was very happy to see him get it today."
Parker has been particularly productive of late.
His three 100-yard performances all have come in the past six weeks, starting with a 135-yard game at Buffalo in Week 11. He also had that monster 159-yard game against the Philadelphia Eagles in Week 13.
Since the start of November, Parker has 722 receiving yards, which ranks second in the NFL behind only the 813 yards by the New Orleans Saints' Michael Thomas, who on Sunday set a league record for most catches in a season.
Parker's 18.1-yard average in the past eight weeks is the highest among all NFL receivers with at least 33 catches during that span.
Parker became the first Dolphins wide receiver since Jarvis Landry in 2016 to reach 1,000 yards in a season and the 10th overall. The others were Mark Clayton, Mark Duper, Irving Fryar, O.J. McDuffie, Tony Martin, Chris Chambers, Brandon Marshall and Brian Hartline.
Parker's total of 1,065 receiving yards currently ranks 13th in franchise history. At his current average of 71 yards per game, Parker would finish with 1,136 yards, which would tie Landry's 2016 total for eighth place.
Furthermore, Parker's 16.6 season average is the highest for a Dolphins 1,000-yard receiver since 1994 when Fryar averaged 17.4 yards while finishing with 1,270 yards.
Parker's average is the highest among the nine AFC receivers who have reached 1,000 yards on the season. His 1,065 yards puts him sixth in the conference.
After catching the 51-yard pass against Cincinnati, Parker finished off the drive with a 7-yard touchdown. It was his ninth touchdown catch of the season, which is first in the AFC among wide receivers and tied for second in the NFL behind the 11 for Detroit's Kenny Golladay.
With a touchdown against New England in the season finale, Chambers would join Clayton, Duper and Chambers as the only Dolphins players to finish a season with at least 1,000 receiving yards and 10 receiving touchdowns.