DeVante Parker is on track for the best season of his NFL career, and it hasn't happened by accident.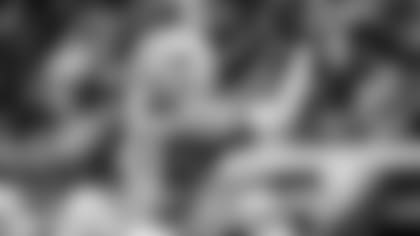 The Dolphins wide receiver has put in the work, going all the way back to the offseason program, and he's being rewarded for his efforts.
Parker leads the Dolphins in receptions (40), receiving yards (604) and touchdowns (4).
"DeVante kind of established early that he was going to be a player who was going to contribute a lot for us in the pass game," offensive coordinator Chad O'Shea said Tuesday morning. "He's kind of continued to progress. (Wide receivers coach) Karl Dorrell has done a really good job with him, spent a lot of time with him individually on working at the finer details of playing the wide receiver position.
"He's really been detailed for us and very dependable. I know that the quarterback has a tremendous amount of confidence in him right now, and so do we as an offense."
Parker set a career high with 135 receiving yards in the game against the Buffalo Bills on Sunday, topping the 134 yards he had at Houston last season. His seven catches came up one short of his career high — he's had eight catches in a game three times.
Over the past three games, Parker has caught 16 passes for 261 yards, the second-best three-game stretch of his career in terms of yardage behind only the final three games of his rookie season in 2015 when he 286 yards.
The 2015 first-round pick needs to average 66 receiving yards to reach 1,000 in a season for the first time in his career, something he had mentioned as a goal.
Parker has appeared in all 11 games this season, and has lived up to his words that he all needed to produce consistently was to stay healthy.
Off the field, he has done everything possible to put himself in position to succeed, from taking care of his body, to maintaining good eating habits, to spending the time necessary to become a student of the game, all the things that go into being a good pro.
"He's been outstanding as far as his overall preparation, what he's done in the classroom, how he's developed, how he's really improved in that area," O'Shea said. "It contributes greatly to his success. I know his preparation right now I would describe as … he's doing a good job. He's really been a great example to the other guys in that room of the importance of preparation and how that can really lead to success on the field.
"I know that DeVante has been somebody that throughout the offseason and up to this point has really been consistent for us in all areas."