DeVante Parker likes to go out or go up and get the ball, and that's just what he's been doing so far this season.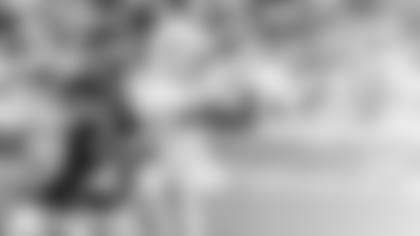 The fifth-year wide receiver has the Dolphins' two longest offensive plays in 2019, and both of them showcased his ability to make contested catches down the field.
"Rosen likes to throw the ball down the field," Parker said during an interview on The Audible. "He's got a great arm. He put the ball where it needed to be on that play and I just had to get a good release on the DB and he put in a perfect spot and I was able to come down with it."
What made Parker's catch even more impressive was that it came despite the cornerback covering him, Chidobe Awuzie, being flagged for pass interference on the play.
"I think he was holding my arm for 5, 6, 7 yards," Parker said. "I just had to have great concentration on the ball and I was able to stick my arm and was able to come down with it."
They're the types of acrobatic plays Parker has produced since he joined the Dolphins as a first-round pick in the 2015 NFL draft. Parker now has nine career catches of 40 yards or longer, topped by 56-yard receptions in 2016 against the Buffalo Bills and the Chargers, the team the Dolphins will face Sunday.
Parker is hoping for more big plays against the Chargers, not just by himself but everybody on offense.
More than anything, Parker is hoping to help the Dolphins get their first victory of the season.
He says the mood on the team is upbeat.
"The attitude right now is just take it one game at a time and coming back and fixing things that we didn't do right in the game, fixing it during walk-throughs and just take it to the next game," Parker said. "The confidence is there (with) everyone in this building. We've just got to bring it to the game."
And if Rosen wants to take a shot down the field to let Parker make a play, the former University of Louisville standout would be perfectly fine with that.
"Give us a chance," Parker said. "It could be a spark for the offense too and some way to put points on the board. … Just gotta make plays when it's our opportunity. They give us a chance, you've got to come down with the plays."