All he needed to do to produce and put up the kind of numbers expected of him from the time he joined the Dolphins as a first-round pick in the 2015 NFL draft was to stay healthy.
Well, Parker has been healthy this season and he's been productive.
Parker is putting together the kind of season that was forecast for him when he arrived from the University of Louisville.
"I never doubted myself," Parker said after the Dolphins victory against the Philadelphia Eagles on Sunday. "I knew my ability, what I can do when I'm on the field and healthy, playing 16 games. Never doubted myself."
The physical attributes always were obvious with Parker, and he's making good use of them this season.
Sunday served as the best example yet.
In one of the best receiving performances in recent Dolphins history, Parker was nothing short of magnificent while catching seven passes for 159 yards and two touchdowns in the 37-31 victory against the Eagles. The two touchdowns set a career high, as did the 159 yards, which topped the 135 he compiled against the Buffalo Bills only two weeks earlier.
"It felt great," Parker said. "I'm still here. I know I still have the ability to make plays and do whatever I can to help the team. … I feel like those (50-50 balls) are like hundreds to me. Every time I'm going to get it. If I don't get it, then nobody else is getting it. That's my balls. That's how I feel every time."
Said Fitzpatrick: "Even through OTAs and everything else, he made a lot of those catches. The physical talents that he has along with his mentality today after he made that first one was he was going to go up and get every ball. It was really impressive and fun to be on his team today."
Over the past three weeks, Parker has 385 receiving yards, which easily is the highest total in the NFL — Atlanta's Calvin Ridley is second with 319.
For the season, Parker is at 854 yards, which already is a career high and puts him well on his way to his first 1,000-yard season. He's also got a career-high six touchdown receptions.
The 854 yards represents the highest total for a Dolphins player since 2012 when Brian Hartline had 891, thanks in large part to a 253-yard game at Arizona. It's the third-highest 12-game total for a Dolphins player in the past 25 seasons.
Again, there is nothing happening now that is overly shocking.
Remember, Parker had 855 yards in only six games in his final season at Louisville before he became the 14th overall selection in 2015.
Former Dolphins head coach Adam Gase, whose Jets team will try to slow down Parker on Sunday, maybe put it best during a conference call with South Florida writers: "That's the player everyone was expecting when he was drafted."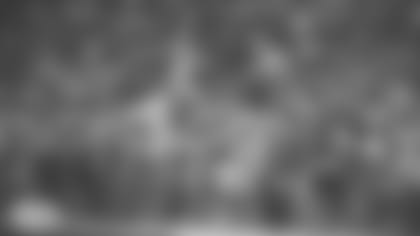 Parker's breakout season also has been his healthiest season.
In his first four seasons with the Dolphins, Parker missed a total of 14 games and never played more than 77 percent of the team's offensive snaps. He has yet to miss a game in 2019 and is playing 87 percent of the offensive snaps.
That hasn't happened by accident.
Parker made it a point in the offseason and ever since then to work on his body to minimize as much as humanly possible the risk of injury and allow himself to operate at peak efficiency.
"I think that he's allowed himself to really use the great support staff that we have here in all those areas to really benefit from that and get him to a point where he's the best version of himself," offensive coordinator Chad O'Shea said. "I think right now that's what you're seeing. Certainly, there are some things that he would like and will improve on, but he's really playing at a level right now that is really good and I think a lot of it is attributed to a lot of those things that he's done in preparation."
"I do more things to keep my body right," Parker said. "Acupuncture, stuff like that. Massages every week. Stuff like that."
And that's just how he intends to keep rolling along.
"Just stick to my routine," he said. "Same things I've been doing. Treatment, recovery, eating right, things like that."
Parker's emergence has no doubt been one of the bright spots for the Dolphins this season and a nice reward for the offseason decision to bring him back.
There was some uncertainty regarding Parker's status heading into the last offseason because he was due a fifth-year option. Instead, the Dolphins reworked his contract and signed him to a contract extension.
Parker said he was surprised to be back with the Dolphins in 2019.
"I was, you know," he said. "I'm just glad I was able to get another chance in and show what I can do. They gave me another chance. They didn't have to. They didn't have to sign me back, but they did."
The new coaching staff knew the kind of talent Parker possessed, but those getting working to with him only were interested in what was going to happen moving forward, not what had happened in the past.
"The first thing I do is put on the tape and I watch every snap they took last season — every player — and I make my notes about where we can improve, where we need to go," wide receivers coach Karl Dorrell said. " 'Hey, this is really good. Let's build on this.' That type of thing. In DeVante's case, I told him, just like this table here was kind of blank before you guys put your microphones down, but you really wipe off whatever has happened to him in the past. I'm a new coach. I'm coaching a new player, and as far as I'm concerned, you're a great player just like I thought when you came out and let's get to work. That's really all I needed to say. He needed to know that I don't have any stereotypes or based any opinion off anybody else, what everybody else has said or anything like that, and I knew of all those things. He has to prove to me that he's that type of player or is he going to be the type of player that I've envisioned him to be when he came out of Louisville.
"So right now I think I'm winning that battle. I think he's developing into the player that everybody thought he could be — at least that I thought he could be — and I know that he's going to continue grow and get better.
"He comes in and he watches tape. I see him in there, we discuss a lot of things and I would say he's been a professional. He's really taken to taking care of himself off the field, making sure he's ready to play by Sundays. He's had a lot of snaps this year. He's still playing very, very well. I think he's feeling this is what it means to be a player, and he wants to be a great player and I want him to be a great player. I want him to achieve his goals."
Parker has mentioned in the past his goal was to reach 1,000 yards, though after the game against the Eagles there were no such specifics.
"It doesn't matter to me, as long as we get the win," Parker said. "As long as we win, I'm fine with that."
The breakout season has been satisfying for Parker, who admitted to previously wondering whether this type of season ever would come.
There's also little doubt he's enjoyed changing the narrative.
"I was perceived as a bust," he said. "The thing has changed now."
Now, he's Parker the playmaker.