Punter Matt Haack was having lunch with his parents Monday before they had to head to the airport after flying to South Florida for the Dolphins' game against the Philadelphia Eagles.
At some point during the lunch, Haack turned around to look at the TV set in the restaurant and saw "Mountaineer Shot" being replayed and analyzed.
Yes, Mountaineer Shot was very cool for Haack, who was part of NFL history as the first punter to throw a touchdown pass to a kicker.
It's a play that Haack no doubt will remember for a long time, and if the memory fades he'll aways have the ball to remind him.
He wound up with it because kicker Jason Sanders gave it to him, though Haack revealed an interesting back story about it on The Audible.
"What a lot of people don't know is when (Sanders) tossed it up in the air (after the touchdown), it actually went into the stands," Haack said. "So the fans technically can keep that ball. But the special teams rule with footballs is you only get three per game and then you have to work on them before the game or whatever. So that was our No. 1 ball. That was the best football we had for kicking. So we actually had to have our equipment guys go get the ball back so we could use it the rest of the game and then Jason gave it to me."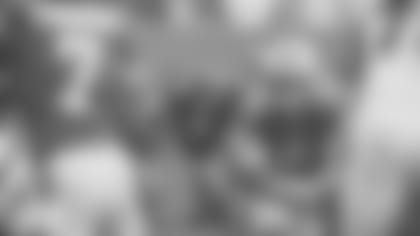 The memory also will live on through photographs, including the one shot of Haack sprinting away from the end zone after delivering his now-famous no-look shovel pass to Sanders, who was wide open after sneaking past a couple of Eagles defenders.
The photo appears to show Haack grinning, though the man himself isn't quite sure that's what he was doing.
"It all happened so fast, I don't remember that at all," he said. "I think it was probably more of a defense mechanism seeing all those guys coming at me. But you never know. Maybe I did see Jason wide open and grinned a little bit. I don't know. But I'll take it that we won and that it worked."
Haack's pass ended up being a soft toss that kind of floated into the end zone because that's what the situation called for.
"The (term) Coach Crossman (special teams coordinator Danny Crossman) used was 'throwing the bunny,' " Haack said. "I was just giving an easy pass for Jason to catch. To be honest, in practice I threw it a few different ways just based on reaction. But honestly never in practice did I throw it like that. That was just kind of the reaction of how the window opened up and how fast they had come on me and just how fast I could get it out. I thought that was the most efficient at the time and it was honestly just reaction to what I saw."
Haack became the NFL 19th punter to throw a touchdown pass in a regular season, though his was the first 1-yard scoring play.
That the receiver was Sanders, for whom he has served as holder the past two years, made it even sweeter because Haack spends more of his time at the Dolphins facility with Sanders and the team's other specialist, first-year long-snapper Taybor Pepper.
"(The relationship has) got to be tight, which makes moments like the Mountaineer Shot even more special because you're doing it with your best friends on the team," Haack said. "We're actually very tight. Jason, me and him lived together for his first year, this past year. Pepper just came in and I think he's been doing a good job and we've all grown pretty close. We got out to dinner every Friday night before the games. I think being close is key to success."
In his third year with the Dolphins, Haack is having another solid season. The left-footed punter is averaging 44.9 yards per kick, after averaging 44.5 yards as a rookie in 2017 and 44.6 yards last season.
Haack has 17 punts inside the 20 against only two touchbacks, which ranks tied for second-lowest amount in the AFC.
"My goal is to always get better," Haack said. "I've had a few good games here and there, a few bad games here and there. The best thing I can do is forget about the last game and try to be better the next game. That's my main focus now. I've felt good about what I've done for this team and as long as I can keep putting our team in position to win and get better every day, that's the goal."
Forgetting about the last game will be easier said than done for Haack because that was one special moment he enjoyed with Mountaineer Shot.