Special teams coordinator Danny Crossman's brain child became an instant national phenomenon when the Dolphins pulled it off magnificently in their victory against the Philadelphia Eagles on Sunday.
The man behind the most creative play in the NFL this weekend — if not the entire season — discussed the play at length Tuesday morning, including its origins, what made it work and what made him most happy about it.
The details of the play are well known, with a routine 19-yard field goal attempt morphing into a crazy formation when five players moving to line up wide to the left, four moving to line up wide to the right, and punter/holder Matt Haack dropping back in shotgun formation as the only player behind center Daniel Kilgore.
Haack then took the snap, starting running to his left, before delivering a no-look shovel pass to kicker Jason Sanders, alone in the end zone after lining up as a slot receiver to the left and sneaking behind a group of Eagles defenders.
The execution appeared flawless, though Crossman didn't want to go that far because, as he said, nothing is flawless.
While everything lined up properly to make the play work, Crossman said he wasn't sure of anything until he saw the officials signaling touchdown.
"The visual of what we got was one of the things we'd looked at," Crossman said. "But then you still gotta execute the play, as we all know. You could do everything right and you get a bad throw or you drop … a lot of things can happen. Once the officials raised their hands, that's when it was … OK."
And this was Crossman's immediate reaction:
"Obviously I'm excited for the team," he said. "Players are the ones that make the plays. I'm going to put them in some bad positions and hopefully they make it at least good and hopefully you give them some good stuff that they can make great and be successful. It's all about the players. I was happy for Matt and Jason because we worked on it a lot and to see them be successful and doing something, that's what's gratifying. But it's after the fact. Now, all I'm worried about is now we've got to protect the PAT."
Sanders indeed would make the PAT that followed his touchdown, giving the Dolphins a 14-13 second-quarter lead on their way to their inspiring 37-31 victory at Hard Rock Stadium.
Quarterback Ryan Fitzpatrick expressed the sentiments of many of the Dolphins players when the trick play first was presented by Crossman to work on in practice.
"Danny Crossman is crazy," he said to laughter from the media fter the game Sunday. "Like, what is he dreaming up? This is the NFL. Like, that's not … that doesn't happen. They worked on it multiple times, so we had seen it, but for it actually to be called in a game, I didn't think it would ever be called in a game. But (it was) pretty cool — pretty cool that it worked."
Jokingly told about Fitzpatrick's "crazy" comment, Crossman deadpanned, "That's one man's opinion."
Crossman did confirm not everybody was sold on the concept of his trick play at first.
"I think some of them looked at … a little bit like, what do you … really?" Crossman said. "Like, OK. I think whenever you present anything in a meeting before you are able to take it onto the field … because when there's no video evidence, it's just on paper. It doesn't always come as easy as, OK, here it is on paper and here it is on the field; this is what we're trying to do."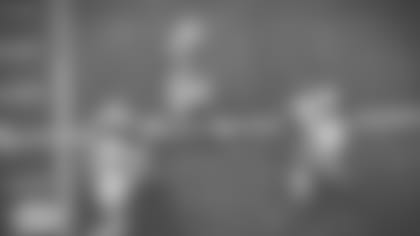 Crossman says Head Coach Brian Flores always is receptive to listening to new ideas, even if he sometimes ends up nixing some of them.
His reaction to "Mountaineer Shot" was a smile, along with a nod to see where the players could take it.
The Dolphins practiced the play for several weeks before they found the right time to call it, with Crossman saying that Sanders always caught the pass.
Crossman said he was anxious to run the play in a game, though he added that applies to everything in the playbook.
"I think you're anxious for any call," Crossman said. "Again, that's part of the understanding of when is right and when is wrong. That just happened to be a good situation in the game where we were, down and distance. There's a lot of things that go into those decisions of when to put it on or when not to put it on.
"You put it on and sometimes you get the bear and sometimes the bear gets you. We liked it, it was a good situation, it was what we thought would give us a spark and we won with it."
And that, ultimately, is what mattered most to Crossman.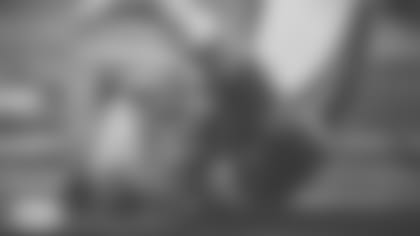 All that stuff is great, but Crossman was rather nonchalant about it.
"Anything that's successful is cool to me," Crossman said. "Whether it's a simple play or a dynamic play, anything that's successful that helps us win … and that's the most important thing: It happened in a game that we won. That's what's most important."
Crossman didn't provide specifics as to exactly when he thought of the idea, which resulted in the first-ever touchdown pass from a punter to a kicker, because he says he's always got things tossing around in his mind.
"The ideas are always floating around for years," he said. "What about this? What about that? But the fruition of it was working with the guys and saying, OK, I like this. Then you get into all the possibilities of the opposition's response and then you have to have things off of that. To me, things take a little time.
"We work on a lot of different things, tinkering with them in practice and seeing what certain guys can do. At the end of the day, every play we play it's the idea of something that's clear and easily understood for us but hopefully cloudy for the opposition."
It was all those things and more for the Dolphins, and the result was a play that became the talk of the NFL.