The avid reader's own story produced a new chapter Sunday, one that included a little humor and one memorable moment.
And in the victorious locker room after the game, he talked about his nickname: "The Intern."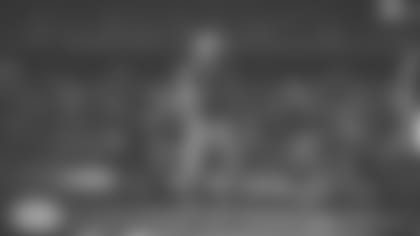 It was brought up during the FOX telecast that some folks around the Dolphins facility at one point thought Laird was an intern, so he proceed to explain the story.
"During training camp it was a late dinner and I was at the facility late," Laird began. "So I had to get in there and grab dinner. That's when all the operations interns during camp are in there. So I sit down; there was no one else there. I'm talking to them, asking them questions. They're telling me what colleges they go to. What they're interested in. And about 10 minutes later, one of them looks at me and goes, "So what do you do here?"
"And so the rookies have to tell a story in front of the team. So I told that story. And everyone laughed. From then on people called me 'The Intern.' "
Some of his coaches still do. Some just call him Patrick.
What all coaches can agree on, however, is that Laird is a perfect example of a player making the most of his ability by doing all the right things off the field. That includes studying, and it should be no surprise Laird would enjoy studying given his enthusiasm for reading.
Besides, it's the only way Laird knows.
That's what got him from walk-on at Cal to scholarship player to starter to Outstanding Offensive Player and finally to two-time captain.
"I'm impressed by his detail, his dependability," O'Shea said. "I've been impressed prior to him playing in his overall preparation and in the classroom. He's a great teammate. He works his butt off on the practice field. I'm glad he's here. He's unselfish. He's a good teammate. I look forward to his opportunities here moving forward."
Laird's playing time on offense has increased his recent weeks because of departures and injuries in the running back corps.
And he could be in line for an even bigger role depending on the severity of the leg injury that knocked starting running back Kalen Ballage out of the Eagles game Sunday.
Laird played exclusively on special teams until the Week 10 game at Indianapolis when he got eight snaps on offense. His snap counts on offense over the past three games were 16, 23 and 43.
"I'm not thinking about the starting role just yet," Laird said after the game Sunday. "I have Kalen in my thoughts right now. His health is the No. 1 priority for the team right now. I started at Cal as a seventh-string running back. So I know what it's like to be deep on the depth chart. So what I learned at Cal, and it's getting cliché, but stick to your process. Stick to your routine. And so when you do get an opportunity you're ready to go."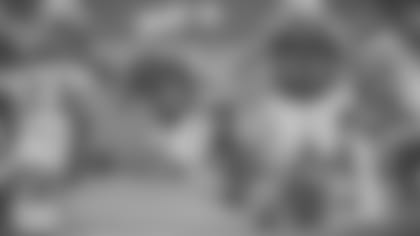 While Laird has had moderate success in his limited rushing opportunities as a rookie so far, he's already demonstrated the ability to make plays in the passing game.
He had six catches in the game against Buffalo in Week 11, and had four for 43 yards plus the two-point conversion against the Eagles.
This should not come as a surprise considering Laird averaged 48 catches his last two years at Cal, to go along with averaging 1,044 rushing yards.
"He did a great job and made a few guys miss on some shorter throws," quarterback Ryan Fitzpatrick said. "He had a couple nice runs, got a touchdown. The catch that he made on the two-point conversion, he ran a great route (and made a) great catch. I think he was a guy that is slowly showing us that we can really rely on him in doing the different things that he does well. He caught a couple screens today and had some nice run after catches. I was proud of the way that Patrick played today."
Said running backs coach Eric Studesville: "I thought Patrick did a nice job the other day. Having to go in, his most extensive playing time, I thought he really did some good things in the pass game, pass protection wise. He's just continued to develop and get better. I wasn't concerned about it. It's just a matter of getting play time, seeing all the different things that happen on defense. But he's done a good job and he's taken advantage of the preparation and the time."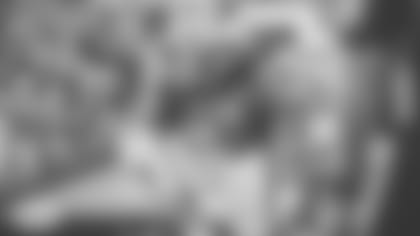 The highlight for Laird, of course, was the touchdown and subsequent two-point conversion, which gave the Dolphins a 34-28 lead in the fourth quarter.
On his touchdown, Laird found a hole on the left side and squirted through with some help from guard and fellow rookie Michael Deiter.
"It felt awesome," Laird said. "It was great. I think I got stood up and the 1-yard line and then Michael Deiter came and pushed me in. And so he ended up on top of me. And so it's a credit to those guys up front. And then Deiter for finishing the play there."
Laird's first NFL touchdown came on the same day his girlfriend celebrated her birthday, which made it a great day all around.
The rookie running back clearly is hoping that was just the first of many days like that.
Not that you'll hear him call for more opportunities or make bold predictions. Laird is very steady in his approach, one that's worked out for him so far.
"I've been sticking to my process, sticking to my routine since Week 1, so if the opportunity presented itself I would be ready to go on offense," he said. "I've been playing special teams for a while. I love that role on special teams. I'll continue to do that. But if they need me on offense, then I'll do what the coaches ask."