General Manager Chris Grier began his media session Tuesday with a similar message from the year prior. When asked about the goal of Year 2 of this building process, Grier intimated the importance of finding the right people to earn the right to become Miami Dolphins.
"[The goal is just] to continue building," Grier said. "Brian and the coaching staff did a great job of establishing the culture. The narrative was out there that we were tanking, and it was clear that was not what we were doing. It's important to establish that culture of winning. The importance of winning and doing things the right way."
Quarterbacks dominate the headlines for the Dolphins and any NFL team. Asked what are some of the most important things he hopes to find out about the quarterbacks, Grier responded, "just getting to know the person. And that's the case for every person. Leadership, mental toughness, character on and off the field. It's important for every position but especially [quarterback]."
Grier didn't shy away from the importance of finding the quarterback. "It's very important. Every team that has one will tell you that, and we want to get to that point. [Ryan Fitzpatrick] did a great job last year, and he'll be a great person to show whoever it is how to be a pro."
That doesn't mean Miami is already engaged in trade discussions to find a coveted signal caller. Asked if the Dolphins have had preliminary conversations about the trading up for the quarterback, "No not yet, because it's still early," Grier said. "No teams have really met with [most of] these guys and so we'll go through our process of finding out what's best for our franchise."
Grier also said he felt good about where the team was at with its current draft position, as well as the team's flexibility this offseason. "We feel good about where we are," Grier said. "A lot of things still have to happen through the draft and free agency. We have a lot of spots to fill and a lot of young players last year that did a good job. We can't rule out any position. You can think you're deep at a position and an injury changes that real quickly. The picks we've acquired and the money we have, we feel good about our flexibility to move up or stand pat."
That flexibility isn't the only perk Miami has in its advantage this offseason. Asked about the sales pitch to prospective free agents and draft prospects, Grier lauded the team's performance at the end of last year. "The way we ended the year, going up to New England and beating them with them playing for something, that was really important and everyone was telling us to lose for a draft pick. It didn't make any sense, and [here] you're going to have a team that's going to be competitive, tough, smart, and we're building it the right way with a coach that's going to lead us to good things in the future."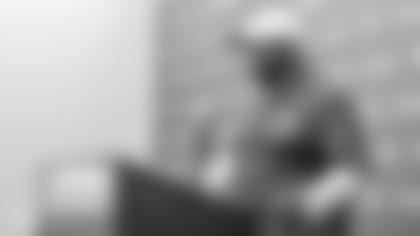 Make no mistake, the available draft capital and free agency budget is an attractive bargaining tool for attracting players to Miami. "It's a big piece. People want to see that you're trying to do things to win. What we've done and what we've acquired for any player, especially a young player, would be excited for the opportunity to know they're going to come in with a lot of picks, a lot of good young players and the chance to grow and build with them and build something special."
Every position on the field is important, according to the Dolphins GM. Asked about the recent devaluation of running backs, Grier – with a wry smile and a chuckle – said, "I think everything goes in cycles in this league. For a while everyone said the position weren't important, then Zeke Elliott and Todd Gurley had big years and [now] running back is really important. Then the year before, New England did a really good job with their backs by committee. I don't really value or devalue any position."
It didn't take long for the conversation to gear back towards the quarterbacks, and more specifically, Alabama's quarterback. Asked if Tua Tagovailoa is a prototypical quarterback, Grier admitted, "No he's not, but the game has changed. You're getting a lot of players that aren't the old model. Kyler Murray last year, Baker Mayfield. You're getting a lot of guys that are good football players and that's what teams are looking for. Are they good football players? Especially at that position with all the intangibles."
Coaching the quarterbacks will be new Offensive Coordinator Chan Gailey. "I worked with Chan previously," Grier said. "He was a little bit ahead of the RPO (run/pass option) game early on before it became in style for the league. He's a great guy, a good football coach. When we made the hire, we had many people around the league texting us saying it was a great hire both for the guy and the football coach."
It's a busy week ahead for the Dolphins. Player interviews and medical evaluations will all be on the docket ahead of the on-field workouts, which begin Thursday at 4 PM EST, starting with the quarterbacks, tight ends and wide receivers.