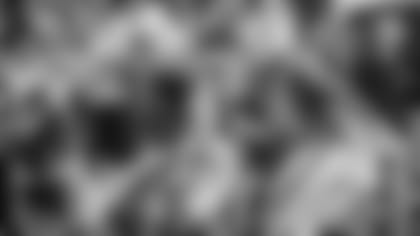 Walford was back at Dolphins practice after being re-signed Wednesday. He was in Dolphins training camp but was waived in late August with an injury settlement.
"It's great to be back with my guys," Walford said. "I had to get healthy, so I got healthy and just been training, been waiting on my opportunity."
Walford spent the past few months in Miami rehabbing his injury and working out. He said he felt back at 100 percent about two weeks ago.
The former University of Miami player had signed with the Dolphins as an unrestricted free agent in March.
"You've just got to keep a positive mind," Walford said. "Unfortunately, there's nothing you can do because you're injured. I just was doing my part to get healthy, train at the same time and put myself in position for when I do a phone call I'll be ready."
Walford joined second-year players Mike Gesicki and Durham Smythe in the tight end room. He essentially replaced Nick O'Leary, who was waived Tuesday.
At 28 years old, Walford is the old man in the tight end room.
Walford has 70 catches for 786 and six touchdowns in four NFL seasons after entering the league as a third-round pick of the Oakland Raiders in 2015.
Asked what he can bring to the Dolphins offense, Walford said: "Just leadership, grit, grime, work ethic. I'm a veteran. Hopefully, I could help the younger guys get it going."
As fate would have it, the first game on the schedule for Walford in his return to the Dolphins is against the Jets, the team for which he ended the 2018 season.
That's just added motivation for a player who already is excited about getting his 2019 season going.
This is what he said when asked how much he's looking forward to playing in a game: "You'll see when I get out there. I'm going to let my play speak for itself."